We've just released a new version of Zakeke, everything good is staying and we're adding some amazing features and some improvements to help make you even more successful with Zakeke. The release includes several bug fixings.
Multiple Variants for one order
We are constantly working to offer the user the best customization experience. Today we introduce Bulk Variation Forms: a tool for purchasing multiple variants. When the user select a product with Zakeke he can now choose multiple variants for the same design.
Let's us explain. User personalizes a T-shirt with Zakeke, before checkout he can choose to buy 5 yellow T-shirts in size L and five red T-shirts in size M. The purchase order will be only one. Let see our guide, click here.
Please note: Bulk Variation Forms is now available for Shopify and WooCommerce. It will be available for the other eCommerce platforms in coming weeks.
TextArt
We are pleased to announce an important enhancement of the text tool. TextArt now allows users to customize the text to offer a 360 degree personalization experience. With TextArt users can give a new shape to the text, add a border or a three-dimensional effect, change the curvature and much more.
Please note: for all products created so far, TextArt is not active by default. You need to activate it product by product in the "printing method and settings" step, under the tab "settings".
Undo and Redo Keys
Zakeke is always here to give you the best. We listen to your requests. Now, the customizer is enriched with the Undo and Redo keys to speed up the whole process. Your customers can repeat and cancel the last action with a single click.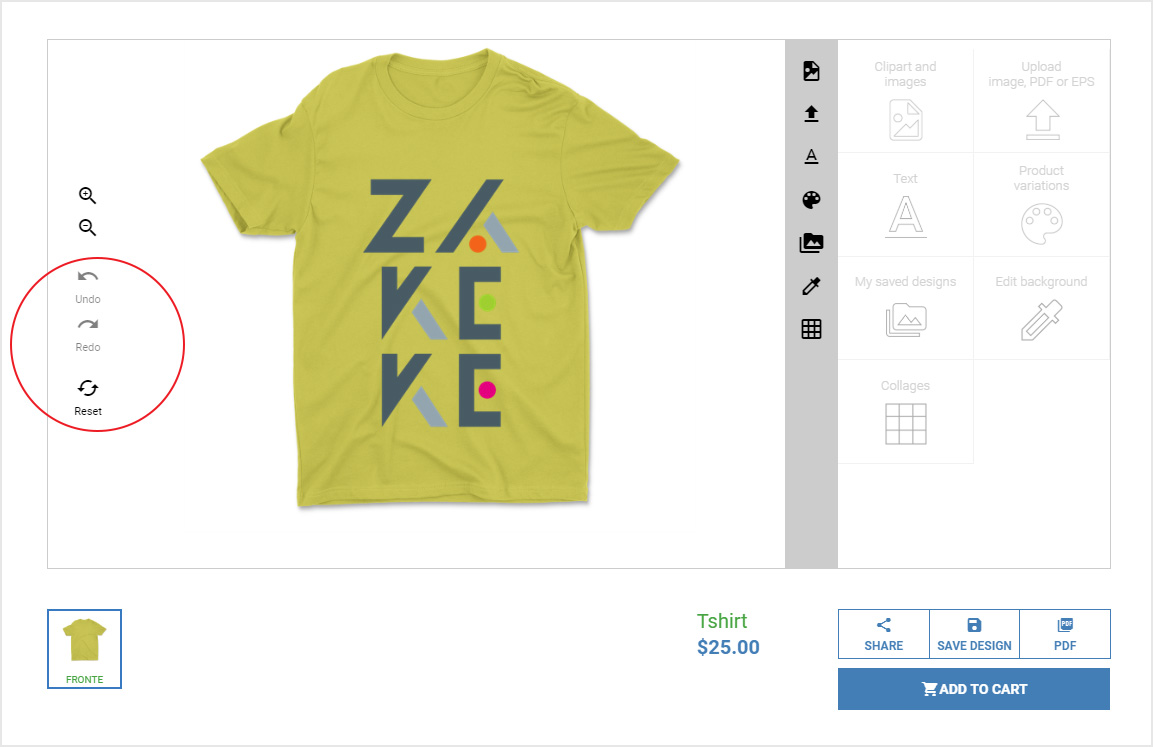 No More Automatically Downscaling of image
Until today, Zakeke automatically downscaled images that you use as product images to ensure high performance with any device and internet connection. This automatic process sometimes causes lower quality image.
That's why, from now on, Zakeke no longer automatically downscales the product image. A warning message will notify you if the image is too large. You choose.
Minor Updates
Faster sign up process. We announce the integration with third-party services as Facebook, Google and LinkedIN to sign up in Zakeke.
Stay up to date and follow us on LinkedIn, Facebook and Instagram