Custom packaging refers to the process of personalizing the container's design instead of buying commercial, cookie-cutter boxes. In other words, you can design the box that ships your items to your customers completely from scratch.
Custom packaging is an easy way to enhance the customer experience and help your brand stand out from the rest of the pack. This is true whether you run a third-party packaging company or a retail store that directly sells items.
Here are some ways custom packaging can help your business in the long run:
Save on shipping cost — When you order bespoke boxes for your items, you can be sure to maximize every inch of the space. If you are still shipping your products in ready-made boxes, you might have a harder time finding a shape that best fits your product. You will be forced to upgrade to a bigger box even if you are shipping a small item. Some logistic companies will charge by size instead of weight. In the end, the shipping costs computed through the dimensional weight of your box will eat into your profits.
Enhance your brand — Custom packaging with your brand logo embossed on the front can look more professional compared to a generic box anyone can buy from a store. A beautifully crafted box can show that you are serious about promoting your brand. If the custom box is well-made, the customer may even reuse it, which means free promotion at no cost. Even before it has reached your customer, you can already ensure brand recognition as it passes through the delivery chain.
Protect your products — Custom packaging is made even more necessary if you deal in fragile products. If the item is snug inside the box, this lessens the chance of it moving around and getting damaged in transit. Protecting your packages means you will minimize returns and save in the long run. E-commerce is notorious for having a high return rate, with 30% of the items shipped back by unsatisfied customers compared to less than 10% rate in physical stores. Another way you can save is through the labor cost. If your workers are spending too much time stuffing tissue paper into too-big packaging, you may need to rethink your strategy.
Enhance the unboxing experience — If you've seen any of the viral unboxing videos online, you will understand that some customers assign as much value to the packaging as they do to the products themselves. Therefore, it is not a surprise that unboxing videos are very popular and can generate thousands, if not millions, of views. If you have a beautiful box, your customer may likely share it on social media and attract more potential customers for you.
Create a connection – If you have stiff competition, you need to work harder to ensure customer retention. Custom packaging will tell your customer that you care enough about them to create a good impression. It will be affirmation in their minds of they chose you in the first place. Happy customers will likely buy from you again, which means you do not limit the sales value to a one-time transaction.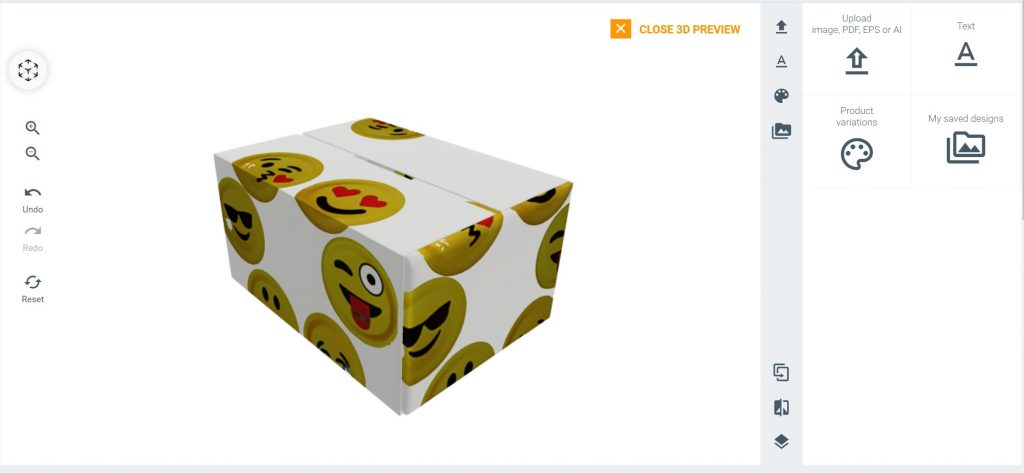 One thing that may scare businesses away is the associated cost of custom packaging. You might be surprised to find out that the finished cost is less than the number in your head if you go with a reputable provider like Zakeke.
Zakeke can offer many affordable ways to customize packaging for a wide range of products, from soap bubbles to rifles and even golf equipment. If you order by bulk, you drive down the cost even further, which can help you save in the long run.
More importantly, customized packaging is an effective way to attract more customers, drive up your sales and increase your company's bottom line. It is a valuable investment that all companies can make, whether in conventional business like pizza making and plastic cup manufacturing or more non-traditional enterprises like coffin dealers.
As a rule of thumb, the packaging budget should be 1-3% of the total product cost. It can be tricky to estimate the cost of custom packaging if you're dealing with multiple variables. For example, you may have to spend more on shipping for perishable products compared to non-fragile goods.
However, it is harder to quantify the cost of brand awareness and customer experience. If you want your customers to take you seriously, you should invest in custom packaging.
Need more info? Contact us today or visit Zakeke demo to learn more.
Stay up to date and follow us on Linkedin, Facebook and Instagram.