Etsy is the marketplace where artisans and creatives find a place to sell and make known their products and their art. If you design your own products, make them customizable and the orders begin to increase, there is only one thing you have to do: optimizing the work by reducing manual work. And that's exactly what 1801&Co did by choosing Zakeke Product Customizer for its shops on Etsy and WooCommerce.
About 1801&Co
1801&Co is a printing studio offering full-service printing and laser cutting for home decor, wedding, and event needs with a focus on acrylic goods. All their items are designed and created at their facility in Minneapolis, MN, where they craft pieces for special events, both big and small.
It is a success story of a family business. Founded in 2016, 1801&Co was called Paper Supply Station. The name changes in 2019 following a stroke of luck that led them to success.
"A famous lifestyle blogger bought one of our party banners for her beautifully styled bachelorette party—and posted a professional photo with it in the background. The banner was uniquely risqué, so the picture became an internet meme… sporting our company name!".

1801&Co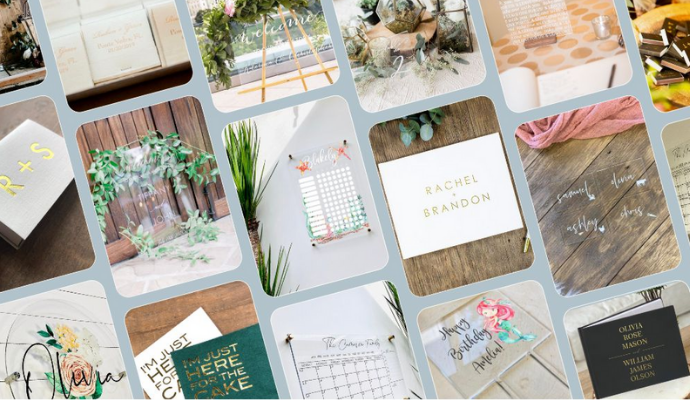 The Challenge
Manual work was drowning 1801&Co
One of the problems to be solved in any company is the reduction of manual work. Even more if you sell customizable products. In this case, you can put most of the work into client's hands, leaving him to create desing by himself.
Before choosing Zakeke, the 1801&Co team was overwhelmed by customer requests for product customization. Then, there are also particular customers, with special needs, with whom you have to spend a lot of time discussing before finding the final design.
While our team was stretched thin with custom design requests we wanted to be able to offer our clients another alternative. Many of our clients also were very particular and we had an inkling they would have just preferred to do it themselves. Partnering with Zakeke allowed us to give this option to our clients.

Amanda Cameron – Owner
1801&Co started looking for a tool to lighten the team's work.
The Solution
An intuitive & user-friendly tool
A product customizer must make customization easy and intuitive, not only for the seller but also for the customer. This is one of Zakeke's added values, compared to other solutions.
We tried other solutions before Zakeke. They were very cumbersome and difficult to work with. They were not intuitive or user friendly at all. On the contrary, Zakeke is intuitive and user friendly on both ends – for us and our clients.

Amanda Cameron – Owner
A responsive and helpful support team
1801 & Co immediately realized that Zakeke was the tool they were looking for: easy to use, continuously updated and with a responsive and helful support team.
I knew pretty quickly the software felt different. It felt intuitive and in the first couple times I talked with the Zakeke team I could tell they were dedicated to continuing to make the product even better. Updates and feature expansions are frequent and the support team is fast to respond. Zakeke's team is really dedicated to how their users are using the software and making sure that it actually functions properly to be user friendly for the user's client. That is what I was looking for.

Amanda Cameron – Owner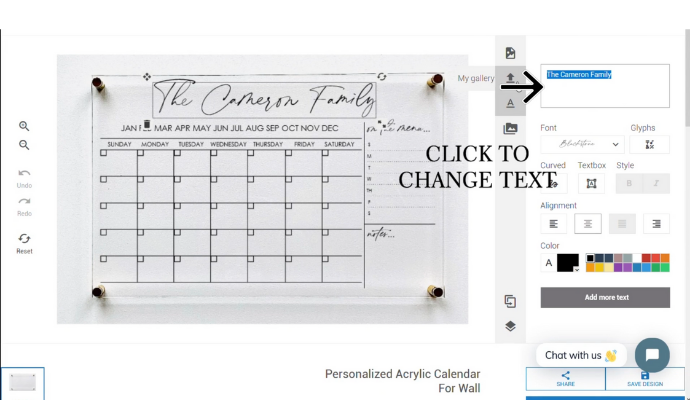 The Result
1801&Co immediately saw better results using Zakeke. With a tool capable to put power into the hands of customers, the team can focus on the most important tasks while spending less time discussing with the customer.
Zakeke allows our team to focus on what they love, which is designing. Without the pressures of doing it individually for each client. Our team can design freely as they feel inspired and then put those designs out there as templates to hopefully inspire our clients.

Amanda Cameron – Owner
This results in satisfied customers, happy to use a cutting-edge tool that allows them to have fun creating the design they want.
How much our clients actually love just doing it themselves! We receive feedback all the time on how much fun they had and it was such a cool feature.

Amanda Cameron – Owner
Work automation allowed 1801 & Co to cope with the increase in demand and to double sales.
We have a lot more sales! Because we aren't having to work on each design individually with our clients we have been able to keep our prices very low and take on a higher order volume than we could have before. Since using Zakeke our revenue has doubled. Our team has been able to focus on the pieces of the business they love which has shown in our growth. Our team is overall much happier and so are our clients!

Amanda Cameron – Owner
Stay up to date and follow us on LinkedIn, Facebook and Instagram