Boost your sales, turn any item in your store into a customizable product with real time 2D, 3D & AR
With Zakeke anything is possible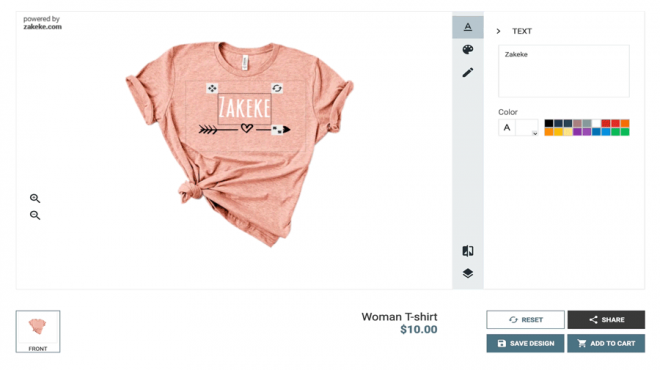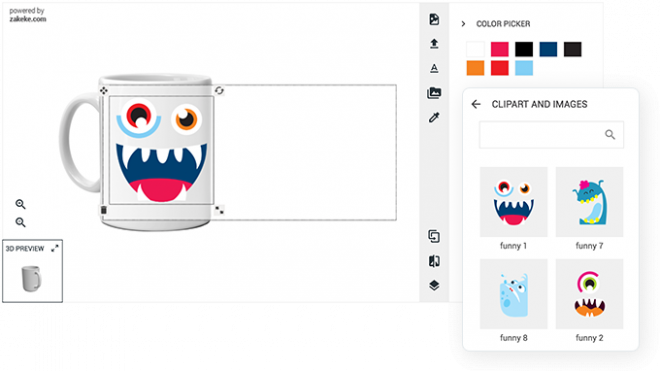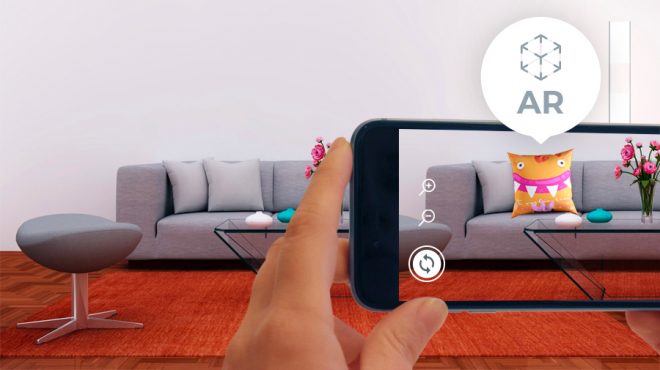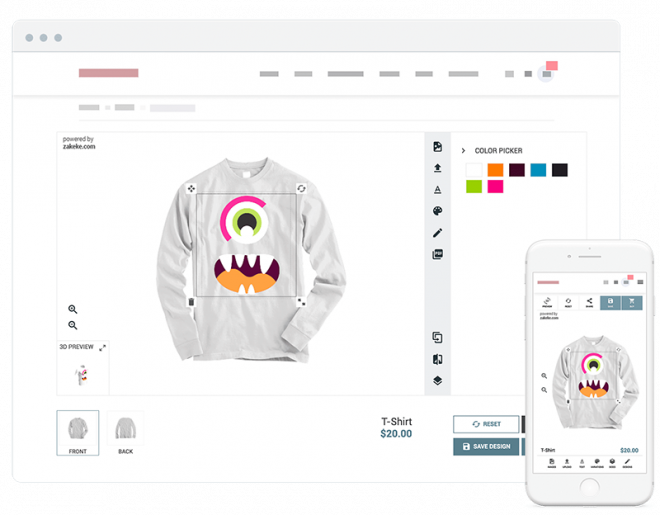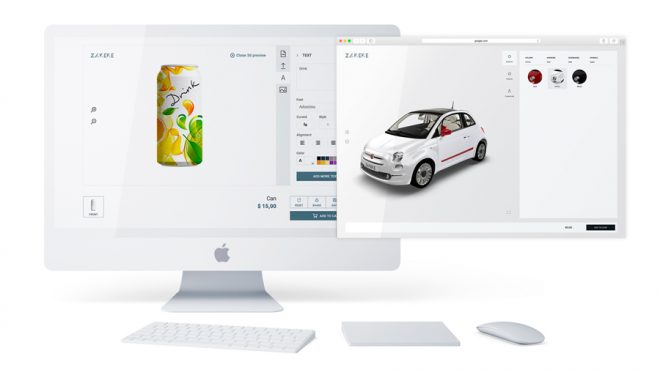 Text Customization

Let customers change font, colors, dimensions, orientation, rotation and curvature with our cutting-edge tool

Image Customization

Upload a catalog of pre-selected artwork for customers to pick and create new design in few minutes. Let them to upload their own pictures

Realtime 3D Preview

Your browser does not support the video element.

Let customers see a live and realistic 3D model of their customized products that they can zoom in on, rotate and interact with.

Augmented Reality

Get a fast and intuitive mobile experience. Let customers see the customized product in their real world

3D Product Configurator

Your browser does not support the video element.

Let customers build their own versions of your products choosing component, changing elements and customizing colors and materials.

Receive print-ready files

Simply get print files in different format (PDF, PNG, SVG and AutoCad DXF) and go to print.

Much more

Fast and easy installation process, Print-on-Demand services integration, fast customers support, live pricing, +50 currencies supported and much more.
How Zakeke Works
Install Zakeke in your store
Zakeke supports all major eCommerce platforms
Create your product inventory
Our team will guide you, if you need help
Publish your products live
Set a free trial order and then enjoy your sales growth
Integrations with
third-party apps and services
Zakeke is a product customization tool compatible with
services and apps mostly used to manage eCommerce store.
Print-on-demand services
Add hundreds of products from several suppliers' catalogs to your eCommerce store. Have the orders fulfilled and drop-shipped to your customers automatically. Zakeke supports Printful, CustomCat e Invition.
Automate your workflow
Save time and trigger workflows whenever a new customized order is received in Zakeke.
Use tools like Zapier, Order Desk or WebHooks to automate your eCommerce workflow.






... Sellers Already use Zakeke
"We love this app… Very easy to use… and you can setup your products quickly. Customer service is very fast to respond, always within 24 hours or less. And I'm sure they will even improve the app even further. We have used many Customizer apps in the past and like this one best because the look is very professional, and the service is outstanding…"
"Best One! This product designer plugin is cleary the best one: simple and clean. I had a display problem with my theme on mobile devices, and the dev team solved it really fast. All the best for you guys."
"We are very happy with the Zakeke product customizer! Everything works smoothly! A fair price / performance ratio. Handling is clear, for both sides, administrators and users. If there are any problems or questions, a great customer support is available and actively supported. We are very satisfied."
"I just wanted to give feedback on what an excellent product and service you have provided my business! Zakeke product designer is a miracle and magical!! you have taken so much stress and frustration out from the hassle of using plugins that just don't work. Most have the processing on the server the plugin is hosted on but having the chance to use a service like this is a major change and certainly a breakthrough for this industry! When I first set it up was easy and super functional. Your team is incredible and I really truly appreciate the quality work you put into this software thanks!"
"We searched high and low for a customize product plugin that worked well on both mobile and desktop and THIS IS IT! Most product designers work great on desktop, but really struggle on mobile. The Zakeke product designer on mobile looks just like an app – it's amazing."
"Very pleased with this app highly recommend it great customer service and the software is absolutely fantastic for what we need.
"
"The real reason why I'm switching several of my stores over to this? The price. It is priced fairly and in a manner that they want you to grow and succeed. They aren't just trying to recoup their money, they see a long term investment in your functioning business as the better option than large outlandish fees. Massively impressed with this app, I would recommend anyone who is currently using another personalisation app sets aside an hour to test this out – It's all you'll need!
I genuinely want these guys to become the biggest custom product app because they've done such a good job."
Try Zakeke free for 14 days.
Install it in your store.
Zakeke makes product customization easy.
Go from selling to printing in one single and simple step.