How Zakeke helps Sleefs drive 10% of their sales, without any paid or organic campaigns
10% of sales are custom orders
Moving to a fully self-serve model
Added retail to their offer

Sleefs sells sports apparel for gym and sports lovers in the US. They went from taking custom orders for wholesale purchases — and fulfilling them at a factory in China — to setting up an in-house production team that ships custom individual orders within 24 hours.
INDUSTRY

Sporting goods and apparel

ANNUAL REVENUE

$3,500,000

EMPLOYEES

12

CUSTOMIZABLE PRODUCTS

39

CART ABANDONMENT RATE

15%

CLV

$300

AOV

$40
THE CHALLENGE
Meeting sports fans' growing demand for custom orders.
When Sleefs launched their store they weren't doing any custom orders for retail sales. They only allowed buyers to add details or numbers to their products when it was a wholesale order. But Jaime anticipated a growing demand for personalized products so they wanted to have the right systems in place to meet that demand.
"We sort of anticipated what demand was gonna be because we were doing it for big orders. So we knew we had to do it for our 1-on-1 customers as well. We just needed to find the right solution to do it.."
Sleefs's factory in China produced their custom orders. Each order had to go through design, approval and printing. There was a lot of back and forth so Sleefs could only offer this service to customers ordering 10 or 20 pieces and up.
"It was just one single sleeve, we wouldn't be able to satisfy that order. They will send us an email with their logo and colors, we will produce the design and send the proof to them. They approve it and we go and produce the order. Not scalable, not fast."
Jaime and his team were actively looking for tools that would help them automate fulfilment and scale. But getting started was proving difficult as finding the right tool for their store wasn't easy.
"We would find very expensive solutions that would cost us $2,000 a month. So we sort of put them away until we find something that would be cost effective for us."
Jamie kept getting requests for customized products. He knew Sleefs needed to allow customers to design their own orders if they wanted to grow in that space. They were very picky in how they wanted things to look. The look and feel of a new tool needed to match their brand and website.
"We started to allow customers to basically do it on their own. A single arm sleeve or a single headband right through the website. We set up production in-house to tackle those orders. And that's how we started growing."
THE SOLUTION​​​​​​​
Automated product customization for online stores.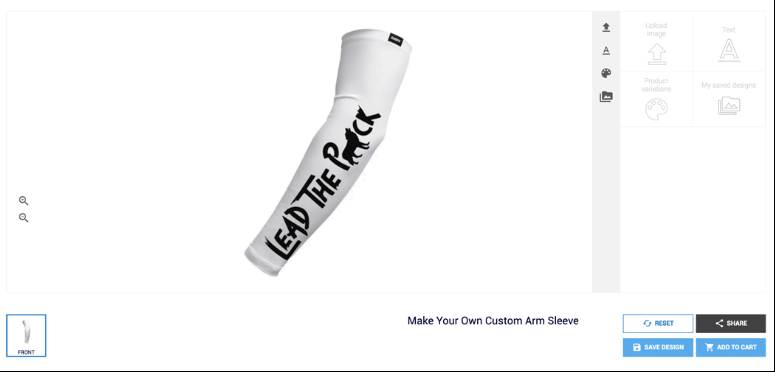 It took a bit of effort from Sleefs to get their whole inventory of customizable products online. They reached out to Zakeke's support team to get help during their initial set up.
"One of the things that drew us to Zakeke was their support. If we email and ask questions, the guys are right there to help us figure it out. We did ask for a lot of help to set up new products. We're very picky in how we want things to look."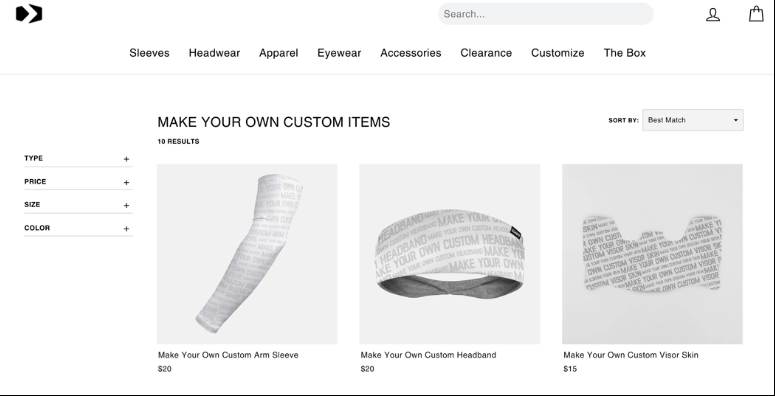 Smooth sailing once the zero-code installation is don
Jamie wanted a tool that wouldn't need much tweaking and upkeep once it's running. That would have only meant trading time spent on custom orders to time spent fussing with technology.
"We got your help in the backend setting up the products. Once we did that, basically it's up and running. There's nothing else that we needed to do to install or you know, add scripts or anything like that."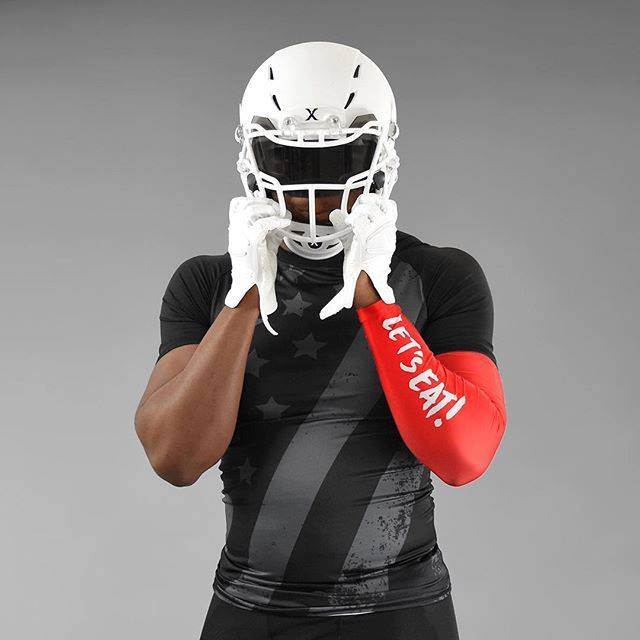 Zakeke does the hard work so Sleefs can focus on their customers
Sleefs goes the extra mile to deliver exceptional design to their customers. Jamie's team still takes time to review orders and make sure customers get awesome-looking products — even when Zakeke generates print-ready files. The only affordable way they can spend time working on orders in the back end is by saving precious time getting designs ready in the front end.
THE RESULTS
10% of sales come from custom orders — and that's just the beginning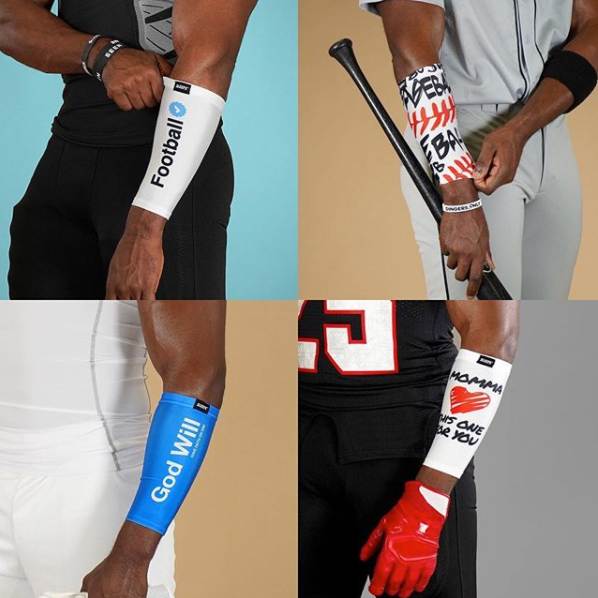 Sleefs has solid traffic going to their site and they started seeing results right away after implementing Zakeke. They have active paid campaigns driving traffic to their site, but none of those are targeting custom products. Still, personalized orders jumped to 10% of their total sales since 2018.
"We don't have advertising campaigns for custom products. We're going to do a little bit more this year. When users see that they can make their own custom products on our website, they really go and do it."
Why Sleefs loves us
"It allows your customers to build their own custom products. And it provides you with the ready-made files for print."
"Even if we still get a request for a custom product, we just point them to the product customizer and then they do it themselves."
Drive more sales for your online store
Get customers to create personalized versions of your top products. Drive sales and AOV up, even without paid campaigns to your store.
Top rated in all major
e-commerce platforms