Zakeke, the leading cloud-based visual commerce platform that allows anyone to easily customize and configure products online, at their retail location, and everywhere in between, today announced a new product update to its platform. Take a look at them:
New Orders page with Tags and individual print-ready file downloads
We know how important is the orders management task inside your team and business, that's why we're always updating our core features to provide you the best tool for daily management. In this case we revamped our orders page, adding the possibility to create and manage Tags for them, for example, to group on-hold orders or orders not yet payed or more variables for you and your team to use and personalize (see screenshot below).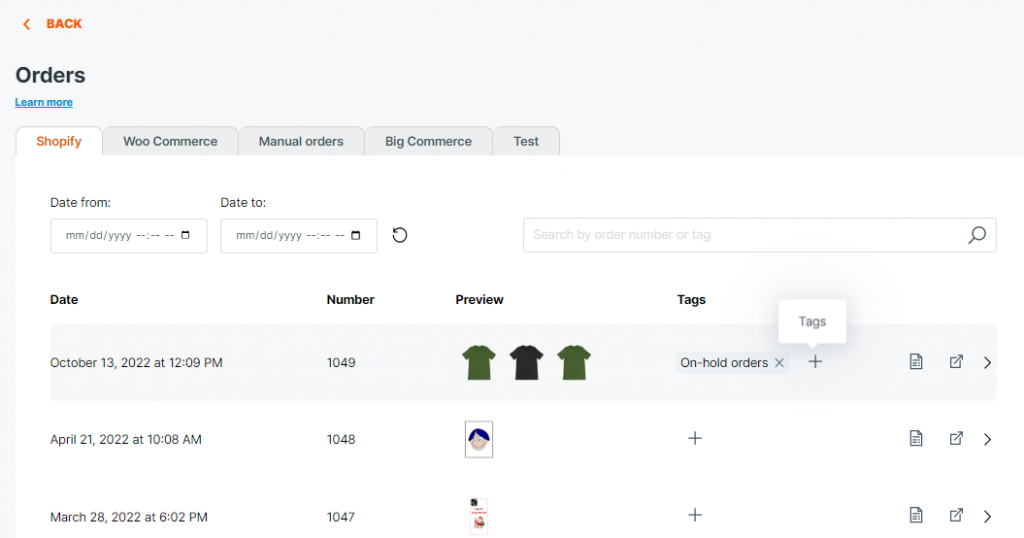 Another important update refers to the individual print-ready files download that lots of you asked for products with one or multiple sides. We listened and we delivered.
You can now enter inside the Order details of your Zakeke account, see the common order's infos plus the chance to download all individual customized areas for all product sides. You can still download the full zip by just selecting the option, it's up to you.
Discover all details and info here.

Duplicating Pre-designed templates
Zakeke lets you to copy a configuration that you've done on a product to another or more products, and also duplicate pre-designed templates as well. That means that you can copy a pre-designed template from one product to another or more products, but up until now this was possible just for duplicated products as well.
The update we made lets you duplicate templates for products that have different print areas and don't need to be duplicated at first. Zakeke will try to adapt the template as best as possible, improving your template and catalog management.
Read this guide to check all settings.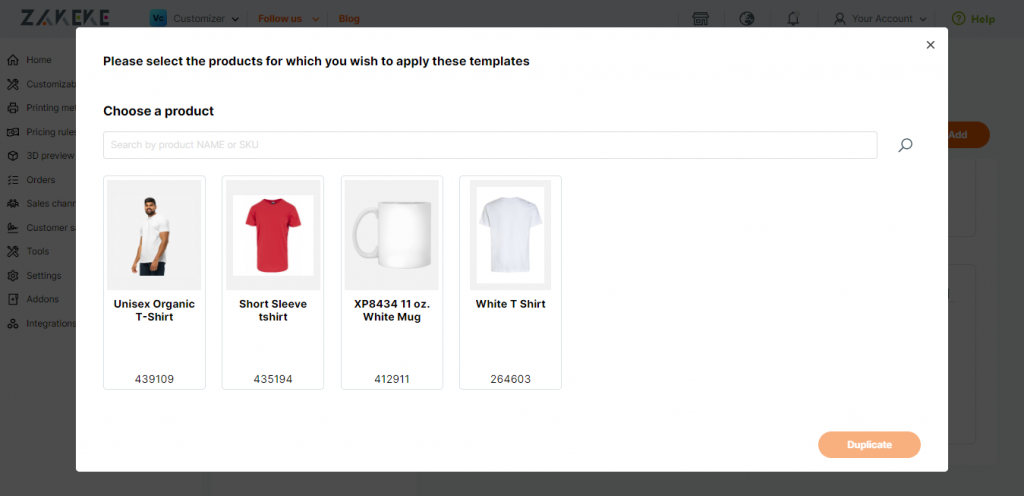 Preset options for Text size
We always believed that both the merchant and the customer need to have all the options and possibilities to create and engage the best visual shopping experience ever, even when customizing texts and fonts.
Today we have implemented an additional option on how customers can interact with the text size, allowing you, merchant, to decide if you want to:
create non-resizable texts
create unrestricted resizable texts
manage resizable text only within certain limits
resize text only by choosing pre-defined text sizes (i.e. 10pt, 20pt, 40pt).
Cool, right? You find this new option inside your Printing Methods, in correspondance with the Allow text resize section (see image below).
API's update
Zakeke is the most complete and easiest to implement Visual Commerce Platform in the market, even with the use of APIs. Today, even more so, thanks to the upgrade of our APIs integration with the most updated versions of the Pricing Rules, the Bulk Variation form tool that allows customers to buy multiple variations of a product with just one design, the Names & Numbers feature, plus the Share and re-order tools.

Learn more about Zakeke's APIs in this guide.
New way to publish product with Zakeke's Configurator on Shopify
Integrating our Configurator inside your Shopify store and publish your made-to-order products in 3D and AR has become way more easier and faster. You don't need to go inside your liquid theme, modify the code, maybe ask support for the task, not anymore. The way Zakeke Configurator will interact with your store is exactly the way our Customizer does, so, whenever a configured item is added to the cart, a new product from that configured item will be created in your Shopify catalog.
Why? Because Shopify does not allow third-party apps to change the price of a product or to change the check-out page, that's why the creation of a new product is required.
Check all the settings related to this topic in this guide.

IMPROVEMENTS
More power to Translations inside the Configurator
We're global, just like your business, and we speak your tongue, so we're happy to say that it's now possible to be more independent managing and adding languages to your Zakeke account, translate pre-existing text elements of our default Configurator Back-Office and UI, and also translate custom text elements added by you, such as product materials, textures, placeholders etc..
Multilanguage power, coming to you at full speed! Read more here.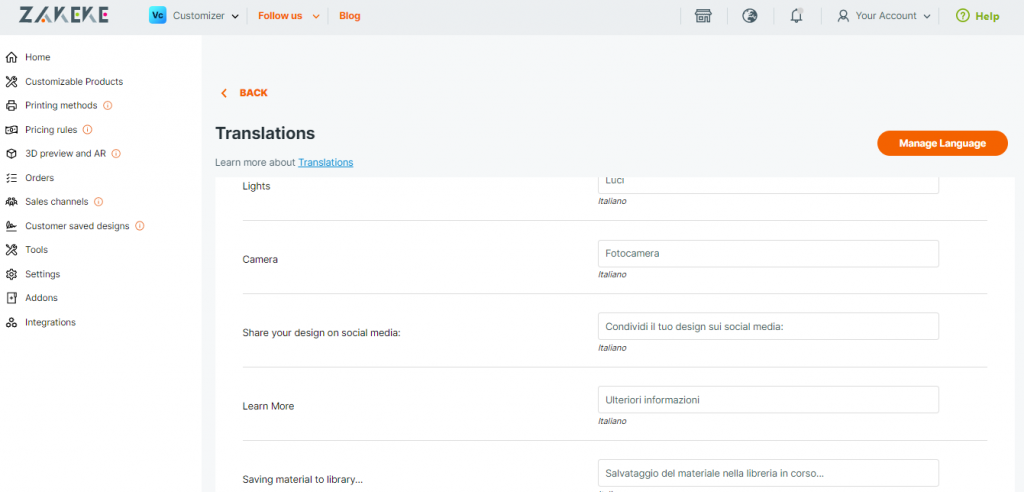 Names & Numbers now available on Magento / Adobe Commerce
Names and Numbers, the feature released in October of 2022, that allows your buyers to add multiple variations of a product to their cart and customize some fields while using the same design is now available on Adobe Commerce. Other platforms where the feature is available are Shopify, Woocommerce, BigCommerce and Prestashop.

Read this guide to learn how to setup this feature on your store.
Direct link for pre-designed templates on Prestashop and BigCommerce
Zakeke provides you with the ability to set a default pre-designed template for your product, and also allows you to generate a direct URL or create direct pages for a specific template thanks to the unique IDs templates have.
Up until now you could only make it if your store was built on Shopify or WooCommerce, but we've expanded this option to BigCommerce and Prestashop as well.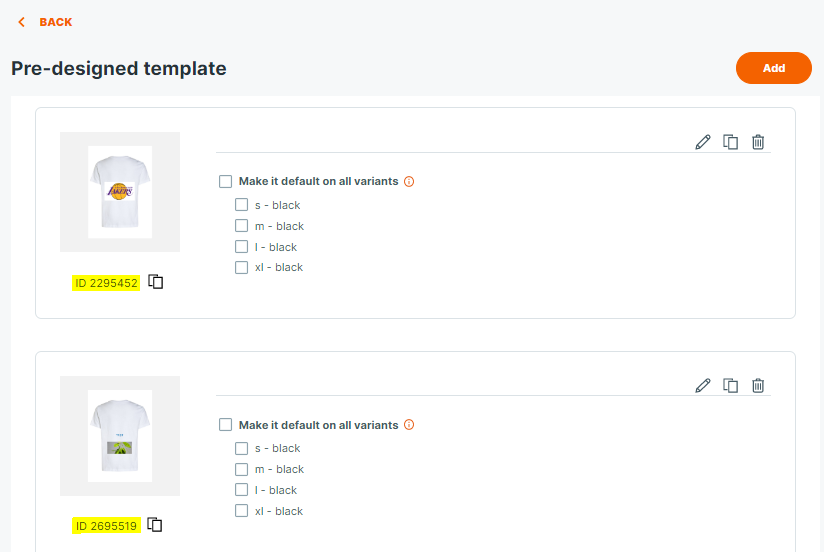 Attributes and re-orders in Bigcommerce
BigCommerce merchants, listen up, these 2 major improvements are tailored just for you, you better be ready:
you can now associate a Configurator attribute with a Modifier in BigCommerce, not just with a product option. Modifiers are specific to BigCommerce and are extra-options that can be created on products.
We applied this very specific solution to have one more option to bypass the limit on the number of variants imposed by BigCommerce.

We have also adopted a custom solution to manage the re-order on BigCommerce. Until today, the re-order only worked for the last orders received from the merchant, while now it works for all orders received.
Stay up to date and follow us on LinkedIn, Facebook and Instagram