Deja que tus visitantes personalicen los productos de sus sueños con Zakeke.
Convierte cualquier artículo de tu tienda en un producto personalizable con vista 3D y Realidad Aumentada en tiempo real
Ofrece a tus clientes una experiencia de personalización simple, divertida y inolvidable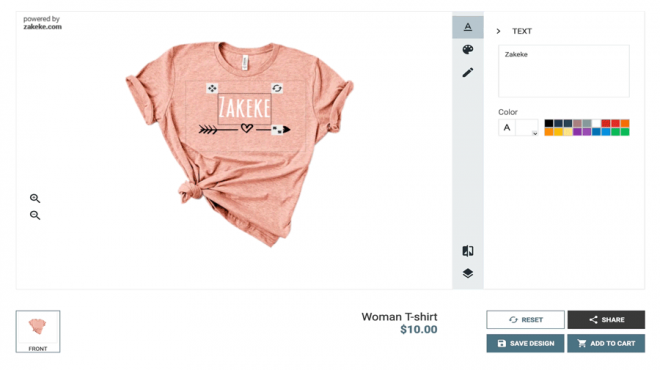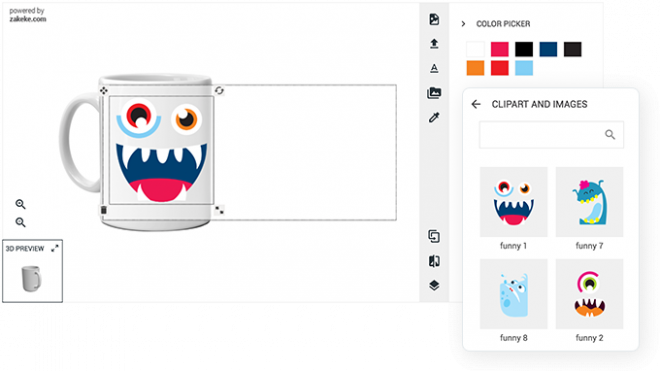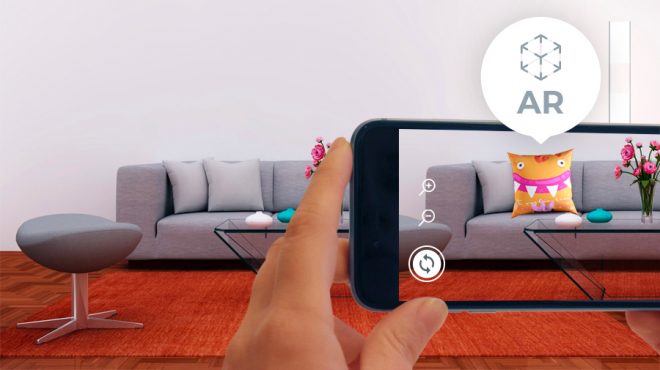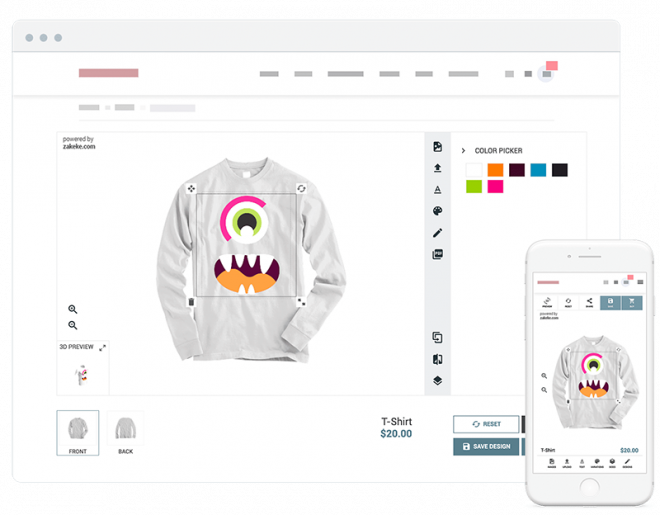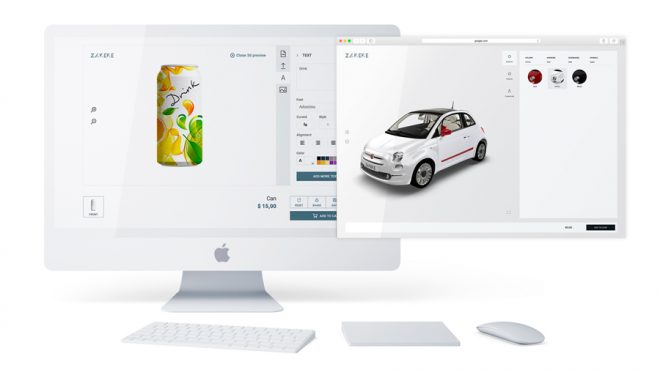 Personalización de texto

tus clientes pueden añadir texto a sus productos, cambiar el color, tamaño, orientación y elegir sus fuentes favoritas

Catálogo de imágenes

ofrece un catálogo de imágenes prediseñadas para que tus clientes elijan y armen nuevos diseños en unos minutos

Imágenes propias

Your browser does not support the video element.

tus compradores pueden cargar sus propias imágenes para crear objetos 100% únicos y personalizados

Variaciones de producto

permite a tus usuarios cambiar el color, tamaño y estilos de producto hasta obtener exactamente lo que están buscando

Vista 3D en tiempo real

Your browser does not support the video element.

tus clientes verán un modelo 3D de sus productos personalizados que pueden rotar, acercar, alejar y ver desde todos los puntos de vista

Realidad Aumentada

tus clientes podrán ver sus productos personalizados con realidad aumentada, como si estuvieran ya en sus manos

Creador de Productos

tus compradores pueden crear sus propias versiones de tus productos, eligiendo componentes, cambiando elementos y personalizando colores y materiales.
Cómo funciona
Instala Zakeke
Personalizador de Productos en tu tienda – Zakeke se integra con las mayores plataformas de comercio electrónico
Crea tu inventario de productos personalizables
Nuestro equipo está listo para asistirte desde la implementación hasta el lanzamiento de tu tienda personalizada
Publica tus productos en vivo en tu tienda
Consigue clientes satisfechos…y compras recurrentes
Las integraciones con aplicaciones y servicios de terceros
Zakeke es una herramienta de personalización de productos compatible con servicios y aplicaciones de administración de tiendas en linea.
Servicios de impresión bajo demanda
Añade a tu tienda en linea cientos de productos de los catálogos de varios proveedores. Haz que los pedidos se procesen y se envíen a sus clientes de manera automatica. Zakeke soporta Printful, CustomCat e Invition.
Automatiza tu flujo de trabajo
Ahorra tiempo y optimiza los flujos de trabajo cada vez que recibes un nuevo pedido personalizado en Zakeke. Utiliza herramientas como Zapier, Order Desk o WebHooks para automatizar la gestión de tu de tienda en linea.






Más de ... negocios ya usan Zakeke
"We love this app… Very easy to use… and you can setup your products quickly. Customer service is very fast to respond, always within 24 hours or less. And I'm sure they will even improve the app even further. We have used many Customizer apps in the past and like this one best because the look is very professional, and the service is outstanding…"
"Best One! This product designer plugin is cleary the best one: simple and clean. I had a display problem with my theme on mobile devices, and the dev team solved it really fast. All the best for you guys."
"We are very happy with the Zakeke product customizer! Everything works smoothly! A fair price / performance ratio. Handling is clear, for both sides, administrators and users. If there are any problems or questions, a great customer support is available and actively supported. We are very satisfied."
"I just wanted to give feedback on what an excellent product and service you have provided my business! Zakeke product designer is a miracle and magical!! you have taken so much stress and frustration out from the hassle of using plugins that just don't work. Most have the processing on the server the plugin is hosted on but having the chance to use a service like this is a major change and certainly a breakthrough for this industry! When I first set it up was easy and super functional. Your team is incredible and I really truly appreciate the quality work you put into this software thanks!"
"We searched high and low for a customize product plugin that worked well on both mobile and desktop and THIS IS IT! Most product designers work great on desktop, but really struggle on mobile. The Zakeke product designer on mobile looks just like an app – it's amazing."
"Very pleased with this app highly recommend it great customer service and the software is absolutely fantastic for what we need.
"
"The real reason why I'm switching several of my stores over to this? The price. It is priced fairly and in a manner that they want you to grow and succeed. They aren't just trying to recoup their money, they see a long term investment in your functioning business as the better option than large outlandish fees. Massively impressed with this app, I would recommend anyone who is currently using another personalisation app sets aside an hour to test this out – It's all you'll need!
I genuinely want these guys to become the biggest custom product app because they've done such a good job."
¿Qué esperas?
Prueba Zakeke gratis durante 14 días.
Instálalo en tu tienda.
Zakeke es la herramienta de personalización de productos en linea más sencilla y rapida del web.