The way of shopping is changing. From in-store purchases we moved on to online purchases. The rapid development of new technologies affects the way customers shop. The pandemic then accelerated a process that would have been longer. eCommerce results were better than ever. And, online retail sector is destined to be transformed by a new technology: 3D visualization.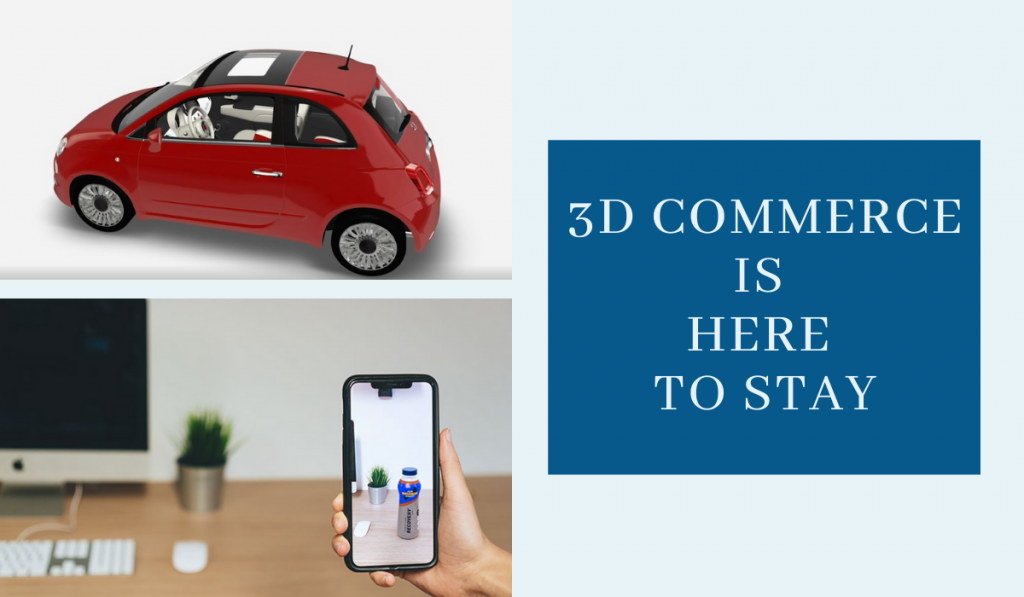 3D Commerce: definition
3D Commerce is the new way of shopping. Here 3D models integrate with augmented and virtual reality experiences to show the customer a graphic and interactive representation of the product. It is a pleasant consequence of visual commerce. Most online buyers base their choices on graphical representation. 3D technology allows customers to get in touch with the product, exactly as it happens in store. It offers a new way to interact with products. Customers can view them from any angle, rotate them, zoom in and so on. They can do everything they would do in real life.
It is a bridge between in-store experience and online shopping. Customer engagement and interactivity are not the only aspects positively influenced by 3D Product Imaging. It has been shown it increases sales and conversion rates.
3D is a (current) future of eCommerce. Before there was shopping. Then came the Internet and online shopping. Now is the time for 3D.
Moving from simple product photos to high-quality three-dimensional models is a trend retailers cannot ignore. This is especially true if market research reveals that consumers prefer to interact with 3D models, even through augmented reality technology. A study by Shopify reveals conversion rates increase by up to 250% on product pages with 3D models and AR technology.
Why is it important?
In a recent report, Deloitte wrote: "The pandemic is rapidly changing our behavior toward online channels, and the shifts are likely to stick post-pandemic. While many companies are challenged to survive in the short-term, the crisis also presents opportunity; bold companies that invest ambitiously and timely in their online business are likely to emerge as market leaders… Companies that invest courageously and timely in pivoting their businesses toward the behavioral changes can capture market share and emerge as market leaders post-pandemic."
By 2026, multi-generational consumer groups will demand 3D retail experience. The spread of the Internet and smartphones with augmented reality capabilities will lead customers to completely abandon traditional shopping in future. This is one of the reasons why you should choose 3D Commerce today.
What is the first thing you do when you walk into a store? Looking at a product. It is the same in online stores. Humans are oriented by sight. 90% of the information brain processes is visual. The higher the quality of the image, the higher the conversion rate and customer satisfaction will be.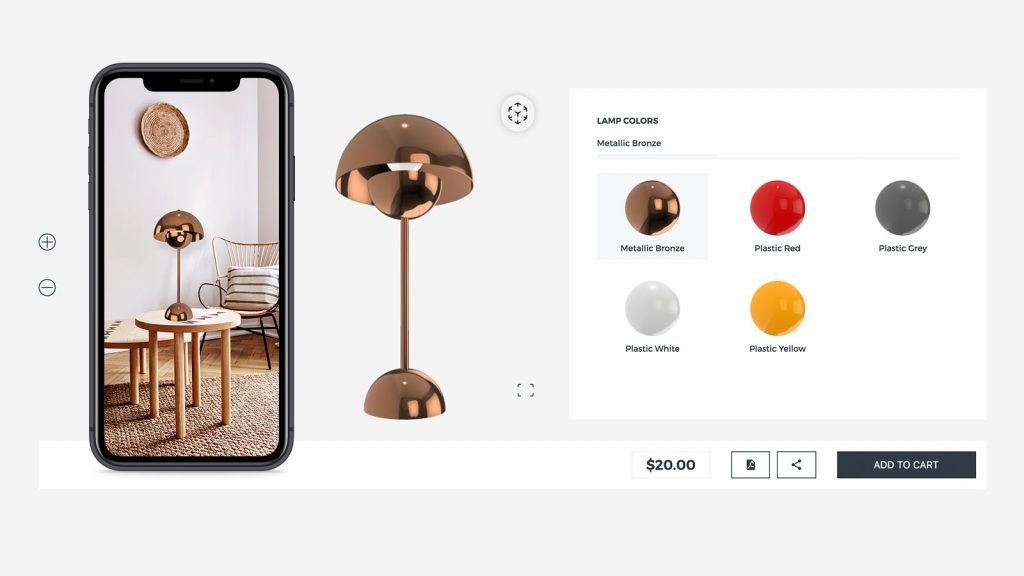 Whatever business you're carried out, the fixed point is always the customer with his wishes and needs. According to Marketing Land, internet users expect to find more and more images in the product sheet of an e-commerce. If until three years ago people were settled for an average of three product images, today the number is eight. This means that people are increasingly looking for eye contact with what they want to buy online.
Eye contact is even more important online, as the senses of touch, taste and smell are absent. Visual content works best for remembering. People tend to remember 80% of what they see or do versus only 10% of what they hear and 20% of what they read. 67% of consumers say high-quality visual content is more important than product description or customer ratings.
The 3D and AR shopping experience is not only for online store. In fact, the trend is to mix traditional shopping with digital shopping in an omnichannel perspective. In other words, creating a unique customer experience, which integrates online and in-store services. Omnichannel campaigns build user loyalty.
In brief, 3D Commerce increases customer engagement and reduce returns. Most returns are currently caused by the mismatch between real product and images in online stores. Thanks to photorealistic 3D models and augmented reality technologies, customers can examine the product. They become more aware and the return risk drastically drops down.
3D Product Imaging for eCommerce
Almost overnight, the number of customers who carry in their pockets the technology needed to view AR experiences exploded with the releases of Apple's ARKit in 2017 and Android's ARCore in 2018. Today, standards-setting organizations like the Khronos Group are working quickly to open a smoother path for 3D to be used across multiple platforms, including WebAR, that is the possibilità to view AR via the web with no need to use an app.
Retailers must find efficient ways to develop and use 3D models, the basis for any AR experience.
There are three ways to create 3D images:
Photogrammetry: this technique combines overlapping images of the product from any angle. A specific software combines photos taken by a digital camera to reconstruct the 3D model of the object
3D Scan: a scanner scans the shape and dimensions of objects, down to the smallest detail, putting millions of points together to create a dense vector point cloud
3D modeling: this technique refers to the manual creation of a model by a 3D artist. It is not necessary to have the object in your hand. The designer can use digital prototypes and other data to recreate the 3D model.
According to Deloitte, many retailers have found a surprise benefit to investing in 3D models of their products: significant cost reductions for product catalogs and prototyping, compared to using physical models and photography.
For making high quality 3D models, you need to allocate financial and human resources if you want to manage the entire process internally. However, you may not have all the required skills and resources. That's where a SaaS company comes into play.
In this case, a tool like Zakeke can help you. It is an innovative cloud platform for online and offline stores that enables 3D product customization and configuration. Thanks to Augmented Reality function (compatible with iOS and Android) and photorealistic 3D models, buyers can create the product "as they want", see it in their real world and interact with.
Best Product Categories for 3D Commerce
3D and AR shopping is not just seeing an object in your room but being able to view every single detail. For example, the size can be the most important point for a piece of furniture, while the brightness of the color for a dress.
Although some products are perfect for 3D Product Configuration, it can fit any product category:
Home goods and furniture: 3D and AR are becoming a standard in the furniture industry and customers expect retailers to deliver this virtual shopping experience. Home goods can be customized by changing colors, patterns and styles.
Beauty and make-up: convincing customers to change their look is not so easy and AR and 3D can convince them during purchasing process. Indeed, L'Oréal AR makeup experiences conversion rates tripled conversions.
Automotive: As with furniture, the customization options can be potentially endless. AR sales experiences help to show all the characteristics of a vehicle, often not tangible even in dealerships.
Shoes: In this category 3D and AR functions include both personalization and virtual try-on. The Made-To-Order services create the right synergy between virtual and real, making the product unique with details that cannot be found elsewhere, like engraving your name on the sole. One of the biggest brands in the world chose Zakeke for the 3D configuration of its high fashion shoes (3D model represented below). It is the same for fashion and apparel sector.
Zakeke 3D Product Customization helps you keep up with the times
Creating digital twins of the product will soon become a standard. The pandemic has accelerated a development process that would have taken much longer. Those who do not adapt now will unfortunately fall behind. Retailers must start now to keep up with the times and to define an omnichannel strategy, where real and virtual coexist both online and offline.
Zakeke helps you during this transformation process. It is a product customization tool for both online and offline stores. Integrating Zakeke into your sales process makes the shopping experience more engaging and interactive by increasing the conversion rate.
Thanks to AR and high-quality 3D models, you can bring to life 3D and Visual Commerce. Customers will be able to interact with the products, see them in real space and analyze every single detail. All of this is possible thanks to a realistic 3D representation of the object. The Zakeke team will help you in the design, modeling and development of the 3D model.
If interested, book a demo call here. Meanwhile, learn more about Zakeke here.
Stay up to date and follow us on LinkedIn, Facebook and Instagram