Want to boost sales on your e-commerce portal? Reduce your product returns? Or perhaps gain more loyal customers and brand advocates? Start using Augmented Reality in retail and create immersive experiences!
Augmented Reality (AR) has revolutionized the shopping experience in retail. With AR, retail customers can interact with products as they'd in a physical retail store.
The result? Increased customer engagement and interaction. 68% of customers say they would spend more time at a retailer if they could shop with AR. Brands like Nike have been using AR in their stores and are seeing a quantum leap in revenue.
But what exactly is AR technology, and how AR and VR are used in fashion retail?
In this guide, we'll explore the benefits of AR in retail and explain how it has changed the retail industry. We'll also provide examples of brands extensively using AR to boost retail experience and how you can implement it in your store.
What is Augmented Reality (AR)?
Augmented Reality is an emerging technology that enhances the real world by superimposing digital content on real-life objects.
When someone points their camera-equipped device at an object, the built-in AR software employs a combination of computer vision and depth tracking techniques to analyze the video, recognize the object, and add digital content on top of it.
This way, AR bridges the gap between the physical and digital worlds, improving Customer Experiences and unlocking new ways for shoppers to interact with products in real time.
How AR is redefining Retail
AR has revolutionized the retail experience, ushering in radical changes that have truly redefined the future of retail. More and more brands are leveraging AR in their retail stores, and the industry is projected to grow at a CAGR of 13.72% from 2023 through 2027.
From virtual and AR shopping and in-store displays to AR packaging and virtual try-on features – augmented reality is everywhere in retail industry.
For example, AR technology allows users to try on products virtually without touching them. Through AR, a shopper can try lipsticks virtually without the need to physically apply the product. This allows customers to learn more about the product before purchasing, leading to informed decisions and increased customer satisfaction.
Retailers like Adidas, Nordstrom, Macy's, and Ralph Lauren have already added virtual fitting rooms and AR experiences to their stores, giving consumers new shopping options while increasing sales and reducing returns.
How retailers are using AR in marketing and sales
What are the most common use cases of Augmented Reality in reatil stores and e-commerce? Here are 5 examples:
Virtual Try-On: AR technology allows customers to virtually try on clothes, accessories, and even makeup before making a purchase. It saves time and gives customers a clear idea of what they're buying;
AR Fitting Rooms: AR technology lets customers see how clothes would look on them without physically trying them on. They can see how different colors and sizes would look on them, making the shopping experience unforgettable even in-store;
Interactive Product Visualization: AR lets customers interact with products in a more engaging way. For example, furniture retailers can use AR to give customers a 360-degree view of a product and showcase their catalog from every angle in real environments;
Augmented Reality Store Navigation: AR Apps can guide customers through the store, helping them find products and promotions, improving the Customer Experience and reducing the time spent inside the store;
AR-Enabled Product Information: AR technology can also be used to provide customers with more information about products. For example, a customer can scan a product label with his smartphone to access detailed product information, videos, and reviews.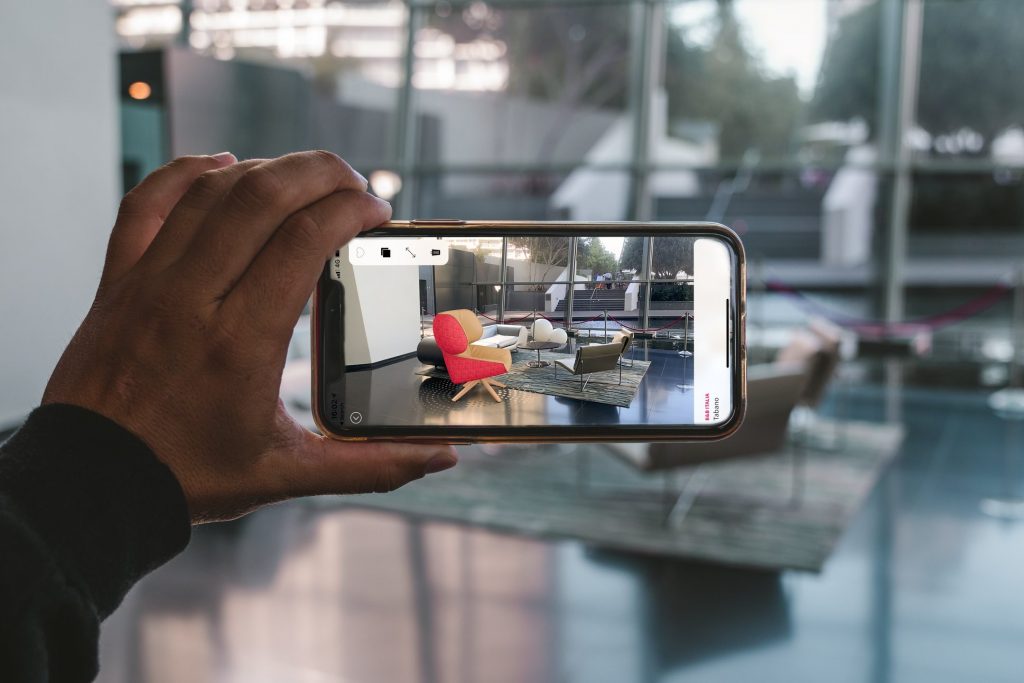 Benefits of Augmented Reality in Retail
AR offers shoppers a completely new Customer Experience. With the help of AR, shoppers can virtually touch, move, spin and view products from all perspectives. This has resulted in many benefits for retailers, including:
1. Enhanced Shopping Experience
The most obvious benefit of using AR in e-commerce is the enhanced customer experience. Studies have shown that more than 96% of customers will leave a brand due to poor customer experience. AR ensures this doesn't happen!
By bringing products to life virtually, AR allows users to get a sense of what they're buying without seeing or touching the product physically.
The increased user experience results from how this technology brings everything to life. Rather than viewing static images, AR allows you to virtually touch, spin, view products from all angles, and even try the product.
In other words, it allows shoppers to get a better sense of what they are buying without taking a trip to the physical store.
2. Increased Engagement and Customer Satisfaction
AR in retail offers piques customers' interest in products while providing all the additional info they might need.
By interacting with products virtually and trying on new products, customers engage more with a brand and its products. In fact, Augmented Reality leads to the discovery of more products.
Additionally, Augmented Reality in retail stores ignites that emotional bond between customers and the brand. And when customers are more emotionally involved with a brand, they're more likely to make repeat purchases, leading to customer loyalty.
One of the biggest problems shoppers face is trying to visualize a product in their lives. Whether it's a cosmetics item or a piece of furniture, many shoppers struggle to visualize how the product will look on them or in their homes.
With AR, consumers are able to visualize a product in real life. Many furniture and home décor companies are leveraging AR to help shoppers get more conversions.
With AR, consumers can test whether the furniture will fit in their space and have a better feel of how it will look in their home.
4. More Sales and Revenue
Augmented Reality improves the in-store experience, which, in turn, boosts sales.
This is because consumers who have a positive experience with a brand are more likely to make repeat purchases. Better still, the product try-on feature boosts the buyers' confidence in the products, encouraging them to purchase.
5. Less Returns
Merchandise worth approximately $102 billion was returned to stores in 2020. According to Chargebacks911, 37% of returns are the result of the shopper not liking the item, while 67% are due to a mismatch in the product description.
AR in retail can help avoid these problems. With AR, customers can try on the product before buying and only commit to buying if the products virtually fit them or look great in their homes.
Rather than relying on the static images displayed on Amazon, shoppers can try out the product, zoom, spin it, and even view it from all angles. This reduces the likelihood of product returns.
Augmented Reality retail experiences: some examples
Here are some examples of brands reaping big from AR implementation in retail.
IKEA is a highly recognized home furnishing retailer with more than 300 stores worldwide. In 2017, the company introduced the "IKEA Place" app that allows shoppers to experience the power of AR through their phones.
The app allows consumers to virtually place pieces of furniture in their homes, so they can imagine how the furniture will look and feel in the space.
Sephora, a French multinational retailer of beauty products, uses AR in its marketing campaigns to increase sales through its Virtual Assist app.
The app leverages 3D facial recognition technology that allows shoppers to try different makeups by scanning their faces. This app boosts shoppers' confidence in the product by demonstrating how the products will look when applied. Shoppers can try out different products and only buy the ones that look good on them.
ASOS, one of the most popular fashion retailers, now employs AR technology on its website, featuring simulated models that customers can dress up. This cutting-edge technology allows shoppers to see how apparel and accessories look on different body types, providing a more realistic and immersive experience.
How to start using AR in retail: Zakeke for your e-commerce
Advancements in technology have made it easy for brands to implement AR in their online stores. Some brands implemented it years ago, others are still on the fence.
The truth is, it's never too late to implement this game-changing trend! At Zakeke, we offer the world's simplest yet impactful Augmented Reality solutions for e-commerce stores of all sizes. Zakeke empowers e-commerce brands by providing their customers with Augmented Reality and Virtual Try-On solutions.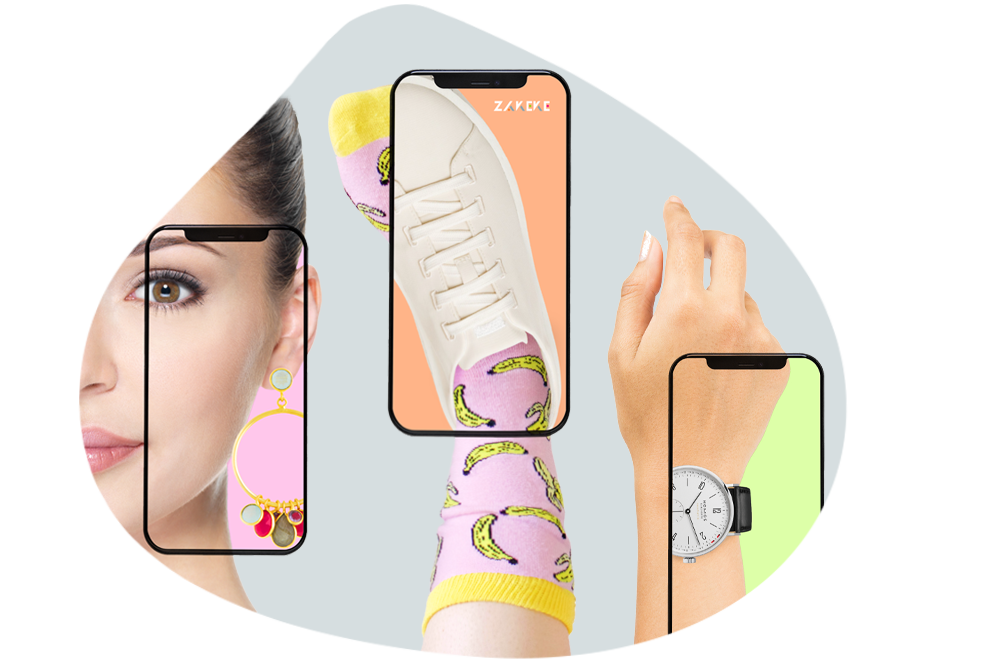 How to start using Zakeke? Zakeke is a plug-in that integrates seamlessly with all leading e-commerce platforms. Get in touch with us today, or take advantage of our 14-day free trial to test it for your business.
If you are wondering what you can do with Zakeke, check out our DEMO STORE.