Over the past few years, consumers have gotten used to the convenience of shopping from the comfort of their own homes. Even before many countries and states were experiencing mandatory lock-downs and instilling stay-at-home orders for the prevention of the spread of the coronavirus disease, consumers were enjoying the ease and comfort of shopping online for their essentials and decorations.
However, since the COVID-19 pandemic has been affecting countries all over the world, this desire to utilize online shopping methods far outweighs many people's desire to shop in stores. This has led to a dramatic increase in the number of businesses on the online market and this number is continually increasing as more and more businesses are building their own online presences in order to keep up with their competition.
Whether you are a large chain corporation or a small single-person-run business, there are important trends to keep up with if you don't want to risk falling behind your competitors: 3D Visualization and 360 product view are among them.
New e-commerce trends
Let's find out which are the main new trends that are driving e-commerce:
The replacement of traditional brick-and-mortar stores with online catalogs. These catalogs allow customers to shop for their desired items online and have those shipped to them or have them gathered and placed at a front desk for pick up;
Another example of a very impactful trend in the digital marketplace is the use of 360 product viewers. Essentially, rather than offering your customers a simple 2D image of your product, 360 products show a full, intractable view of the product in a 3-dimensional space.
What is a 360 Product Viewer?
A 360 product viewer is a tool which enables e-commerce businesses to present their products in an interactive and engaging way. It provides customers with a 360-degree product view, allowing them to zoom in or check every detail from all angles.
With a 360 product viewer, customers can really experience the product with a more realistic and customized shopping experience.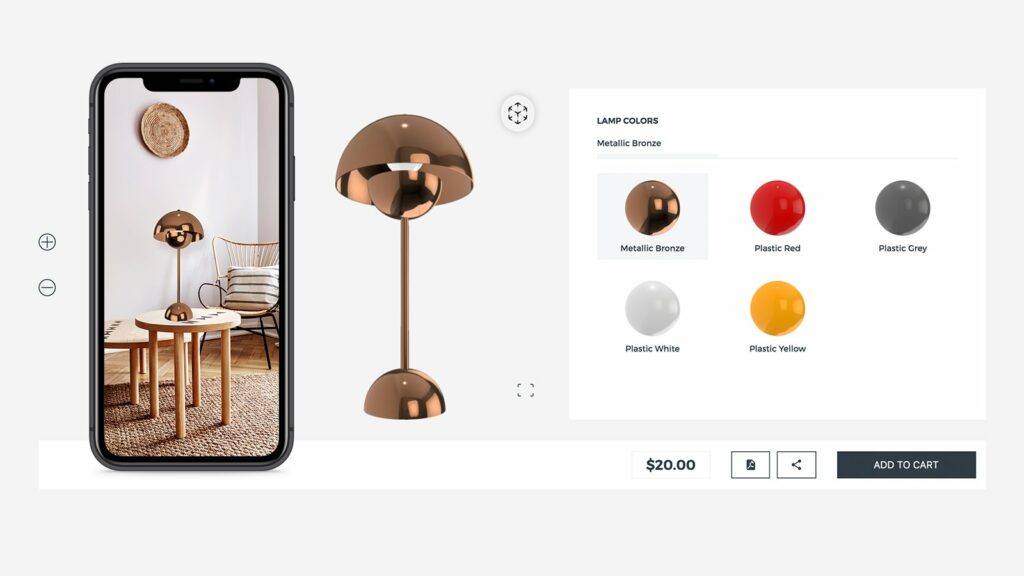 Why choose 360 Viewer Software? All the benefits
The use of 360 product viewer software is incredibly helpful for customers who are purchasing a product. What are all the benefits of a 360-degree product viewer?
Faster decision-making process
A 360 product viewer helps customers to see a more detailed view of the features and dimensions of the item. It allows them to feel more confident in their decision to purchase the product and therefore increases the likelihood of a customer making a purchase.
Another advantage of 360 spin images is that they are much more engaging for the customer. They also allow the customer to feel more like they are in a traditional brick-and-mortar store without actually having to leave their homes. By providing them with the ability to zoom in and "turn over" products virtually with a 3-dimensional model of the product, customers can feel like they are interacting with your products like they were in a store.
A 360 viewer also helps businesses to reduce the number of returns and unsatisfied customers that they have due to products not being what the customers think they are.
Enhanced product presentation
360 product viewers present products in an attractive way, making them stand out from the competition: that's why a 360 product viewer can improve product visibility and attract more customers to the website.
Boosted sales and improved Customer Experience
With a better product presentation and an improved Customer Experience, it will be easy to boost e-commerce sales.
Since these 360 images can be so much more engaging for customers, it can be a great idea for businesses to implement an easy 360 product viewer software solution, like Zakeke 3D & AR Product Viewer, that can help them to offer these more interactive product descriptions to their customers.
With Zakeke's software, businesses can see up to a 250% increase in conversion rates and appeal to the 70% of customers who prefer interactive 3D models to video or static photo product advertisements.
How to make 360-degree product images
Customers want to know what they are buying when they are purchasing something. Unfortunately, with the majority of shopping happening online where things can often be difficult to accurately assess, this can be challenging for customers who are looking for something that will fit in a space or something that simply has the features that they are looking for.
Because of this, it is extremely important to be attuned to the evolving technology that can help your business give your customers easy access to the information they need to make informed and confident decisions.
After all, businesses today are more focused than ever before on customer satisfaction and customer experience. With so many competing products and brands on the market today, creating a loyal and satisfied customer base is an essential part of running a business.
So, how can you make your customer experience better and give them a more realistic view of your products? Simple, use 360-degree or 3D product viewing options for the products you offer. This technology can also be a great way for businesses to promote custom-made or customized products and it can help your customers not only see what exactly they are buying but also how it will look once it is in their homes.
This allows customers to get a better connection with the product and can help to improve the chances of a sale. A 360 product viewer with hotspots can be a great way to help your customers feel like they are getting a more interactive and enjoyable experience while still not requiring them to leave their homes when they are looking for a new product.
3D or 360 Product Viewer: what's the difference?
When it comes to 3D commerce, you may be wondering if a 3D or 360-degree viewer would be better or if there even is a difference between the two.
This is a challenging question because oftentimes these two types of views will be used interchangeably within companies and software solutions. This means that it is hard to give a concrete answer on what exactly defines a 3D view and what exactly defines a 360 view. That being said, there can be some differences between the two and so it is important to know what type of view you are looking for when you are looking for a software solution that offers the tools that you need to achieve that type of view.
From a strictly definition-based perspective, a 360-degree view would be limited to a single axis and allow you to have a completely rounded view of the product so long as you stay on that axis. A 3D view, on the other hand, would provide a completely rounded view of the product from any axis — therefore allowing you to see the product from any angle.
Now, while these are definitely different types of views, however, not all software solutions will use these terms correctly. Because of this, it is important to look into the solution and ensure that it is the right solution that you are looking for. For example, if you do a web search for "3D model viewer WordPress — WooCommerce plugin" the results may turn up with 3D view solutions but they may also include some 360-degree view solutions that are called 3D but do not offer the same level of view angles as a full 3D view would as well.
From 360 view to on-demand product configuration
There are a number of software solutions and tools on the market today that can help your business to create and upload 3D and 360-degree images and interactive views of your products to your website. These solutions may come in many different formats and they likely will have different features and tools included, depending on the type of tool that you are looking for.
For example, if you are looking for a tool that helps you to create 360 spin image online for your product, then the features that the tool offers may not be the same features that a tool that helps you to upload that content onto a website will offer. There are likely to be many different types of tools because each of these tools may serve a different purpose when it comes to getting your products easily viewable online in a 3D space.
For example, Zakeke not only offers a 3D Viewer. We also offer a 3D Product Configuration tool that allows businesses to easily get started with creating 3D interactive product views of their items without needing to have any expert knowledge beforehand.
Zakeke's team will help you throughout the entire process of creating your 3D configurations and with the help of this software, you can create easily customizable views that allow customers to change components, elements, and materials of the product. You can also view the advanced pricing rules that come with those customizations. This is, of course, only one of the many options for 360 view or 3D product view options on the market today, and the type of tool that you are looking for will depend on the needs of your business.