Innovation and customization are the two main trends driving modern e-commerce: product pages with 3D models and AR technology generate a +250% conversion rate and by 2026 over 60% of consumers will require a 3D shopping experience.
For this reason, eCommerce businesses have to consider introducing solutions that can build a unique and interactive shopping experience, which can best present their products. This is where eCommerce Product Configurator comes in: this software provides many benefits, allowing customers to customize and configure products according to their needs and preferences, improving product visualization and increasing customer engagement and satisfaction.
To get started with product configuration, simply choose a high-quality tool that integrates easily with your eCommerce platform. In this article, you will find a comprehensive guide to the best Shopify Configurators you can use to take your e-commerce to the next level.
How to choose the best 3D Configurator?
Before getting into detail about the best Shopify Configurators, let's talk about the main factors to consider during selection:
Easy integration with Shopify (or any other e-commerce platform): the 3D configurator should integrate seamlessly with the platform and your back-office;
Ease of use: the tool should be easy to install for the company and easy to use for customers to ensure a seamless shopping experience;
Customer Support: the provider should guarantee constant support to fix any issues (especially during the onboarding stage);
Number of features and updates: it's better to choose a tool with considerable features that are constantly updated to suit your customers' needs;
Scalability and flexibility: your business is global, growing and you're willing to increase automation, so the tools and the partners you choose need to support you in your development, being omnichannel, multilingual, with a variety of solutions for your specific needs.
Top 7 best Shopify Configurators
Here is a comprehensive guide to the best Shopify Configurators. We recommend reading it to the end to choose the one that best suits your store's needs:
Angle 3D is an exclusively Shopify-based 3D Product Configurator. It allows businesses to design and configure their products using an intuitive and easy-to-use interface. Angle 3D allows you to choose a product and make it fully customized.
Thanks to its advanced 3D graphics engine and 3D modeling features, Angle 3D offers a highly real-time product visualization, allowing customers to see exactly how they will receive the product at home. Angle 3D is a 3D configurator, but it isn't a Visual Product Customization software, so it may not be suitable for printing industries seeking customization and doesn't offer a Virtual Try-On for made-to-order products.
Expivi is a cloud-based Shopify product configurator with advanced 3D visualization and configuration features. It offers a wide range of customization options with a user-friendly interface that makes the configuration experience simple and interactive.
In addition to 3D configuration, Expivi also offers an external AR product view App, a CPQ tool, and a 3D Viewer. Unlike Angle 3D, Expivi integrates not only with Shopify but also with Magento, WooCommerce, LightSpeed, and SAP (but is not available on marketplaces).
Vectary is a 3D product Viewer, not really a 3D Product Configurator. It allows businesses to create interactive and highly realistic product models with a user-friendly interface. The tool can create 3D models from scratch or use pre-loaded assets from its library.
Vectary's advanced visualization features help businesses present products in an engaging and interactive way, increasing conversion rates. It is not suitable for visual product customization.
Threekit is a cloud-based 3D Product Configurator that provides dynamic product visualization experiences. It offers Visual Photography solution (for visual product customization only) and Augmented Reality.
Threekit provides high-level 3D product rendering with the VRay technique and allows you to create 3D models of products directly within the platform. It integrates with Magento, Shopify, BigCommerce, and Salesforce CPQ but doesn't offer Plug&Play integrations, so you might find it difficult to install and with a longer onboarding process.
LevAR is a Shopify Product Configurator that allows businesses to provide an interactive shopping experience to customers. Customers can configure the product as they wish and preview it using Augmented Reality before purchasing thanks to LevAR's advanced product visualization and customization features.
The company must request the creation of the 3D model directly from their account and LevAR provides a quote proposal that can be accepted or discussed again.
InkyBay is a product customization and configuration software only for Shopify. It has many customization options and works exclusively on Shopify (the dashboard is integrated into the Shopify back-office).
InkyBay is a 2D customizer and the configurator is part of advanced settings, so all configuration options and attributes are managed in 2D. The interface is customizable (even through CSS) and rich in graphics features for the printing industry, but InkyBay does not integrate with POD services or Dropshipping services or even Marketplaces.
Zakeke is more than just a Shopify Configurator: it's an all-in-one Visual Commerce Platform.
Zakeke improves the eCommerce shopping experience and boosts sales and conversion rates by using 2D customization, 3D configuration and Augmented Reality. It's easy to install for the company and user-friendly for the customer, as it is a plug-in that integrates seamlessly with all leading e-commerce platforms, including Shopify and Shopify Plus, and can be easily used by anyone without design or custom coding skills.
Zakeke offers four different solutions to meet different market needs: Visual Product Customizer (for companies looking for visually customizable products), 3D Configurator (for a complete on-demand configuration), 3D & AR Viewer, and Virtual Try-On.
Zakeke 3D Product Configurator offers an immersive and unique 3D shopping experience with AR and a leading-edge 3D model. It allows for unlimited configuration options and can define simple or advanced pricing rules for your products. Additionally, Zakeke allows B2B companies to get automated quote requests for custom products.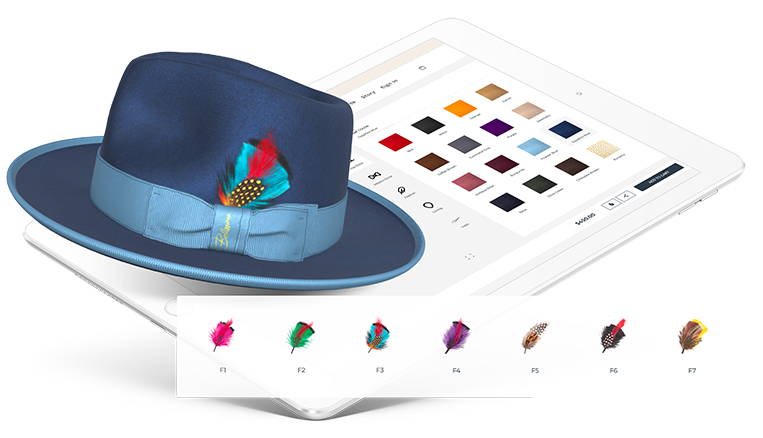 In conclusion, when choosing an online product configurator for Shopify (or any other eCommerce platform), you should consider all the features of the tool. Zakeke, with its deep but easy-to-use features and customer-oriented solutions, could be an excellent choice for your needs.
Ready to start using a Product Configurator on Shopify? Start now: try Zakeke for free for 14 days (you can install it yourself within your e-commerce) or request a demo to discover all its features.