Have you ever wanted to try on clothes, shoes, or cosmetics without heading over to a physical store? Virtual try-on technology could be the solution!
Despite the growing popularity of online shopping, brick-and-mortar stores have one distinct advantage that, for ages, has given them an edge over digital channels — the ability to try on products before buying. But things are changing!
As the shift to online shopping intensifies, brands are striving to offer a holistic customer experience on digital channels, especially in the apparel industry.
Virtual try-on technology has been at the epicentre of the new user experience, allowing customers to virtually try-on products before buying. But what exactly is virtual try-on tech? How does it work? And most importantly, how does it benefit your business? Let's dive into Virtual Try-on for clothes and accessories.
What is Virtual-Try On?
Virtual try-on, also known as digital try-on or virtual fitting, is a technology that allows shoppers to explore and try products digitally using a computer or mobile device. With this technology, shoppers can virtual-try on clothes or beauty products without physically touching them or visiting the retail store.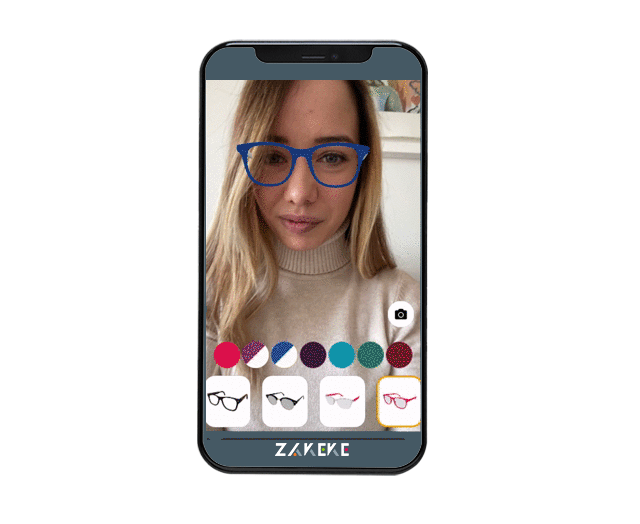 How Virtual-Try On clothes work?
There are 3 ways to access virtual try-on clothes as of now. These are:
1. Using Camera on Smart Devices
Using the camera on smartphones, tablets, or laptops is the most widely used technique to access try-on functionality. Customers may try on new clothes via the internet at home using 3D virtual fitting technology and a camera-equipped device.
As the camera captures the consumer, the underlying Augmented Reality (AR) technology superimposes a realistic virtual version of the product over their real-world image to demonstrate how the item would look on the customer's body. Customers can change colors, styles, and other parameters with a tap through the virtual try-on app.
2. Through AR Mirrors
Another way of experiencing virtual try-on clothes is through AR mirrors in retail stores. These "magic" mirrors capture the shopper's appearance and overlay it with a virtual wearable product like clothes, shoes, jewellery, or makeup. 
AR mirrors combine Augmented Reality and Virtual Reality, computer vision, and advanced sensing technologies to create a simulation of how a piece of clothing would look on the customer, helping them attain a high level of customization. Several big-name brands, including Lacoste, Ralph Lauren, Zara, and Burberry, are using AR mirrors in their stores to improve user experience.
3. Creating 3D Digital Avatars
You can also access virtual try-on clothes by creating 3D digital avatars through body scanning technology, currently exclusive to Apple devices.
The iPhone 12 Pro, iPhone 13 Pro, iPhone 14 Pro, and newer iPad Pro models feature inbuilt LiDAR technology that can be used to measure the dimensions of real-life objects. Customers can use it to create accurate 3D avatars and try on clothes. This gives the exact look of the item as it would look to the user in the real world.
Benefits of Virtual Try-On clothes for the Fashion Industry
Virtual try-on technology provides many benefits to the user and the business owner. We'll briefly go over these benefits.
One key benefit you get from implementing virtual try-on technology is increased conversions and sales. According to Shopify, using virtual try-on software can increase conversions by up to 250%. This is due to increased user engagement and experience.
Did you know that at least 20% of online-bought products are returned?
Online retailers can significantly reduce product return rates using virtual try-on for clothes and accessories. With virtual try-on software, shoppers can visualize themselves in various styles and sizes before making a purchase, helping reduce costly returns.
Increased Customer Satisfaction
Customers can truly enjoy the virtual try-on experience when they use apps to try on clothes and other products the way they would in a physical fitting room. This satisfaction builds loyalty, leading to repeat sales and brand advocacy.
With virtual try-on, customers are not only able to resolve issues related to size, style, and fit but also explore more options and try out a wider selection of clothes in less time. This increased personalization leads to increased engagement and conversions.
Virtual Try-On clothes and sustainability
Virtual try-on technology is not only good for business. It helps save the planet by reducing the carbon footprint. Around 17 billion purchased items are returned each year, which equals roughly 4.5 million metric tonnes of carbon dioxide.
Virtual try-on also helps save fuel and reduce emissions that could have resulted from the trip to the retail store to try out the items.
Fashion brands using Virtual Try-On technology
Here are examples of brands using virtual try-on clothes with good results:
1. e.l.f Cosmetics
e.l.f Cosmetics, an American best-selling skin care products company, has seen great success with its AR campaigns on YouTube.
Their AR try-on feature allows customers to see how a product, like lipstick, cream, or mascara, suits their face without buying it. The result? Increased traffic, reduced return rate, and a 63% lower cost per user than previous campaigns.
2. Wacoal
Choosing a bra that holds well and fits perfectly can be challenging for online customers. AI tech company, Sizer, made it possible for users to fit bras online.
It partnered with Wacoal, a renowned manufacturer of women's lingerie, to improve the experience for online shoppers. Together, they created the mybraFit app that allows customers to take photos of themselves and virtually try on bras online. This has resulted in increased traffic and engagement, driving more sales for the brand.
Wrapping Up
Virtual try-on apps are changing the clothing industry.
The market is growing rapidly as retailers look for innovative ways to improve the shopping experience and keep customers happy. Virtual try-on technology helps achieve this by allowing customers to try on products in their homes.
Businesses also benefit from it through increased sales, reduced returns, reduced costs, and increased competitiveness.