Did you know that 55% of consumers say they'd stop buying from an online store due to poor Customer Experience?
As competition in the online marketplace grows fiercer by the day, you must provide exceptional Customer Experience (CX) to win new clients and retain your existing customers.
Forward-thinking CX leaders are achieving significant revenue growth by creating memorable experiences and catering to their customers' needs. And you can do it too!
But what exactly is Customer Experience? And why is it important for ecommerce businesses? Most importantly, how can you build a memorable ecommerce Customer Experience? Keep reading to find out.
What is eCommerce Customer Experience?
Customer Experience is your customers' holistic perception of your brand based on their interactions with it. Simply put, CX is how you make your customers feel.
In ecommerce, Customer Experience revolves around the online experience that anyone finding your website or landing pages go through. It encompasses every touchpoint customers have with your brand – from the moment they land on your site to their interaction with the products and sales staff to the checkout and post-purchase experience.
Why does ecommerce Customer Experience matter?
When you give your customers a great experience, they'll buy from you again, be loyal to your brand, and become your brand advocates. They'll share their experiences with their family, friends, and colleagues online and offline, increasing your brand reputation and creating Brand Awareness.
As a result, you'll see improvements in:
Sales;
Referrals;
Brand loyalty;
Customer lifetime value (CLV);
Customer retention;
Product reviews;
Revenue and growth.
Studies show that companies with superior ecommerce Customer Experience generate 5.7x more revenue than competitors that don't invest in their CX.
How to improve ecommerce Customer Experience? 10 tips
Without further ado, here are the different ways to improve your ecommerce Customer Experience.
Understand your customers
The first step in improving your ecommerce Customer Experience is to understand your customers. What does your ideal customer look like? What do they like? When do they shop? What challenges are they facing? How can you meet their needs and expectations?
You can conduct in-depth customer surveys to identify their needs and preferences, then create customer personas that will help you understand their expectations.
Simplify the buying process
It's backed by data — companies that provide a streamlined shopping experience are 62% more likely to win a sale. Here's how you can simplify the buying process:
Simplify the checkout process;
Make website navigation easier;
Optimize your website for mobile;
Reduce the number of form fields;
Allow orders without accounts;
Create an easily modifiable shopping cart.
Provide excellent Customer Service
Since consumers are buying your products online, they'll want exceptional customer support. This can easily be achieved by offering multiple channels for customer support, like live chats, phone, email, forums, and even social media. 
Build trust and credibility
Every ecommerce owner knows the importance of building trust and credibility for their online businesses. It helps establish the business as legit and reliable. Here are the various ways to build trust and credibility for your brand:
Include customer testimonials on your website;
Provide secure payment options;
Add social proof;
Be transparent and honest.
Enhance the post-purchase experience
An exceptional customer experience (CX) doesn't end once the customer completes the purchase. It goes way beyond the checkout, ensuring goods are delivered on time and in excellent condition. Here are the various ways you can improve the post-purchase experience:
Provide shipment tracking and delivery updates;
Offer free shipping;
Make the return policy easy and transparent;
Follow up after purchases.
Utilize technology solutions
Technology has revolutionized every aspect of our lives, including our shopping experiences. There are many ways you could use technology to improve CX.
For instance, you could use AI and machine learning to improve product recommendations. You could also implement Augmented Reality solutions to allow your customers to try on products before they buy and visualize how certain products will look in their homes. 
Customers want more from brands they interact with online. Building a community gives them a place they can hang out and voice their opinions and concerns.
Community members are advocates of your products and services. Social media is the most powerful channel to build a community since most of your fans and loyal customers have active accounts on these platforms. 
Provide more payment options
Nothing can be more frustrating than finding a quality product only to realize your payment method isn't supported. To improve the ecommerce Customer Experience, it's highly recommended that you make the checkout process easier by providing multiple payment options.
Beyond PayPal and Card payments, you can go the extra mile to include digital wallet payments, like Apple Pay, Samsung Pay, and Crypto payments.
Build a user-friendly website
Your website can either make or break your business. To succeed in the ever-competitive e-commerce world, a user-friendly website is a must-have.
What do we mean by user-friendly? The website must be responsive and easy to navigate and search, with advanced filter options. Most importantly, it must be fast. As research has shown, a slow website will chase visitors away. 
Don't forget Product Customization
As mentioned, forward-thinking ecommerce owners are using Augmented Reality to increase their users' experiences.
But it doesn't end here: the next step to improve your ecommerce experience is Product Customization! You can give customers the ability to create their own products, choose colors, materials, and details… What could be better to meet their expectations?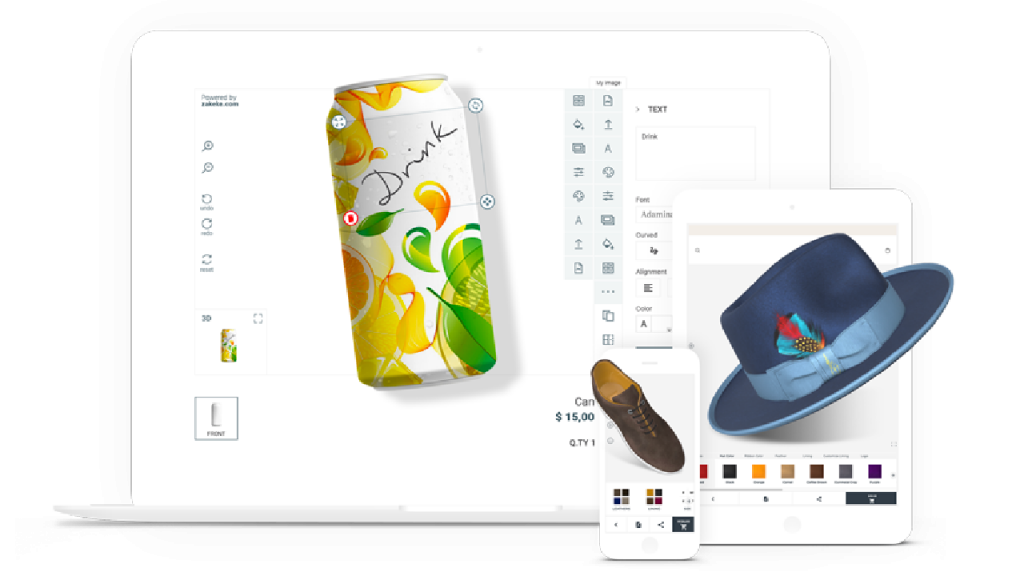 Get started with Product Customization
Personalization is a key element of the ecommerce CX. An overwhelming 80% of customers say they're more likely to do business with a company that offers personalized experiences.
What are the benefits of product personalization in ecommerce? It increases user engagement, which often leads to an increase in sales. If you have a product customizer in your store, your customers will spend more time engaging with your website. The result? Increased Customer Satisfaction!
They can personalize any product while seeing a live preview, so they'll play around with it and try out different options to see which one works for them before buying. Offer them a fun shopping experience, and they'll surely come back for more.
How do you get started with product customization in your store? By simply investing in a software solution designed for product customizations! Zakeke Visual Customizer allows customers to customize any product (clothing, jewellery, shoes, watches, custom gifts, etc.) and visualize its appearance before buying.
Ready to get started with product customization? Our product customizer integrates well with all major e-commerce platforms and is easy to use for both the customer and the merchant. Contact us today and take advantage of our 14-day free trial.