Most consumers today still prioritize value, product, and convenience while making their purchasing decisions. They want to feel confident that they have found the right product, for the right price, and that it's not too hard to obtain.

What's more, these attitudes seem to have held steady for generations of consumers in the United States, no matter what technology or social trends we may be in the thick of. This can provide a vital foundation as retailers look to integrate powerful and innovative new technology into their customer journey.
In our latest "Consumer Shopping and Personalization" report, we uncovered what US consumers are shopping for, how often they utilize virtual 'try-on' technology, and the ways in which they want a more personalized shopping experience online. Conducted with third-party research firm YouGov, we revealed what matters most to consumers when it comes to online shopping.

From this research, it's clear that despite the technology advances made over the years to generate an engaging, visually appealing eCommerce experience, there's work to be done before this kind of technology is utilized by the masses.
The concept of personalization is not new – 41% of Americans want a personalized shopping experience. But when it comes to building brand loyalty, the kind of personalization does matter. When looking into the products for which consumers want a personalized experience, apparel (30%), shoes (30%), home goods (25%) and furniture (19%) lead the pack.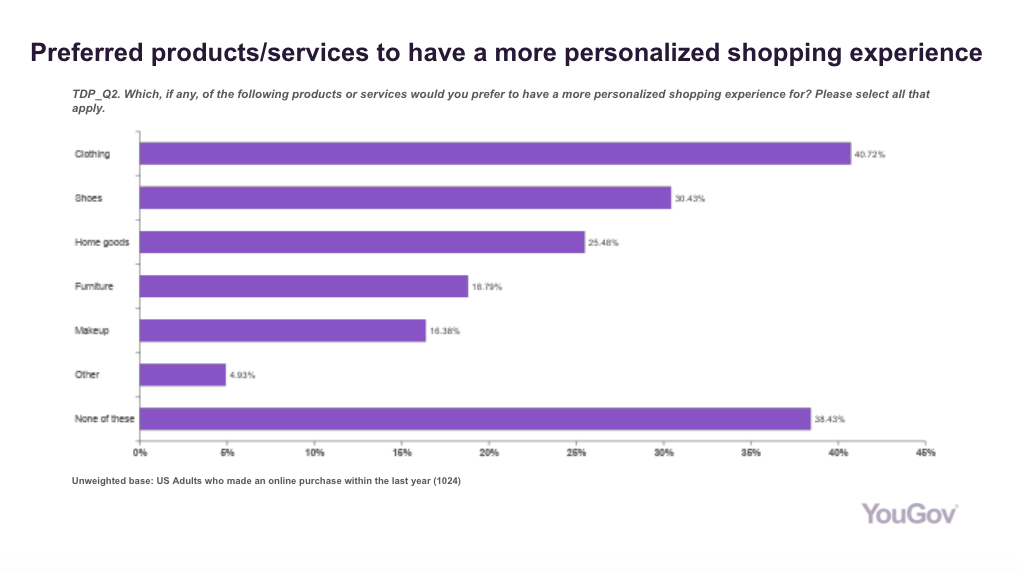 Millennials and Gen Z shoppers are less likely to stay loyal to a brand, but this demographic does want a personalized visit (46% of Americans between the ages of 18-34) so there's an opportunity for retailers to build brand loyalty by offering more personalized options to these shoppers and increase their chance of repeat visits.
Today's personalization leaders have found proven ways to drive 5 to 15 percent increases in revenue and 10 to 30 percent increases in marketing-spend efficiency — predominantly by deploying product recommendations and personalization and triggering targeted communications.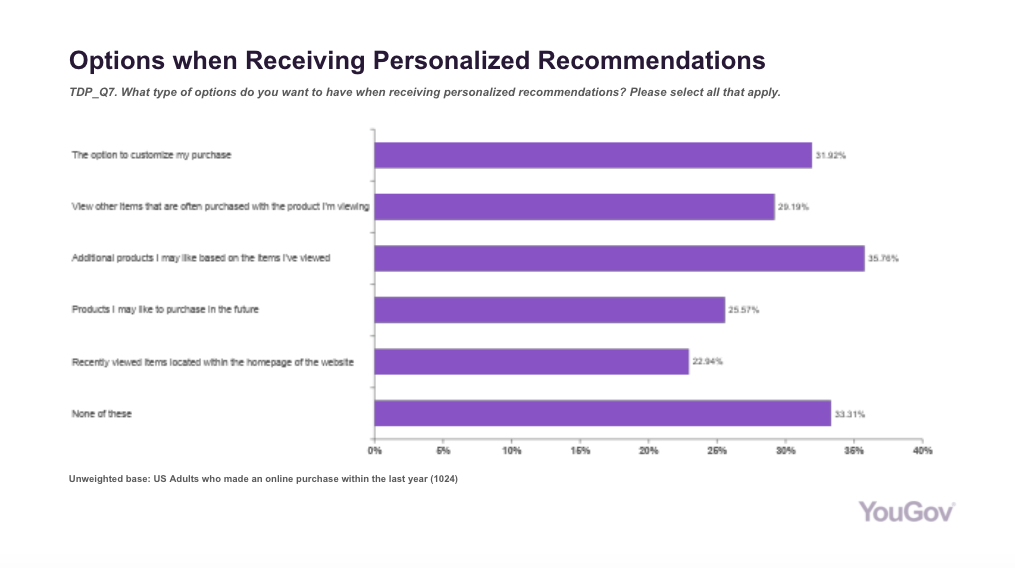 Retailers have made strides in providing a more personalized shopping experience, but now is the time to elevate the ways to offer both personalization and customization. Consumers want retailers to understand their shopping habits and them, and the only way to do this is to offer more personalization options.
According to the research findings, consumers want options when it comes to shopping, and noted they need to interact with certain products more than others before purchasing. Apparel (35%), shoes (34%), and household furniture (29%) are ones consumers need to visualize/interact with before buying online.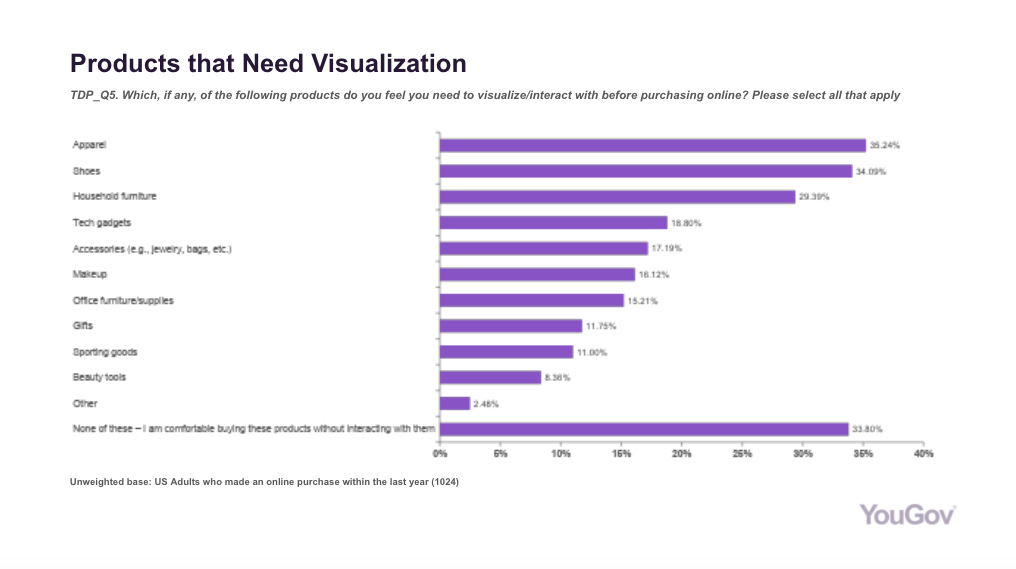 Furniture, which has in recent years, started to become more popular to shop for online, continues this upward mobility, so retailers in this space must ensure they have the tools (2D, 3D, AR) necessary for customers to interact with that will better inform their purchase.
Moreover, 1 in 6 Americans over 35 years old listed furniture as something they need to visualize before purchasing online. Specialty retailers who offer products like clothing and shoes need to invest in technology that makes it easy for consumers to "see" what their possible purchases will look like, as it will foster increased sales and reduce the number of returns.

"We know more people are turning to online shopping – it's convenient, there are endless options and with the right technology, consumers can have a nearly identical experience to shopping at a physical location, so it's surprising to see that most consumers aren't using these tools," said Angelo Coletta, CEO of Zakeke. "One respondent noted that if they are going to buy something online, they'll go into the physical store to try it on/interact with it, then go home to purchase the product online. This should be a red flag to retailers that something needs to change. To drive sales, increase repeat visits and build a loyal customer base, retailers need to invest in the right kind of technology that's easy to use, both for the retailer and for the consumer."
Today's shopping experiences are happening in many different contexts: at-home, on-the-go, and in-store. Delivered effectively, virtual shopping can help customers feel more confident in their product selection—whether through richer product information or interaction, the ability to personalize or configure unique product designs, or via the deeper emotional connection from immersive brand storytelling.
The most successful experiences today tend to be delivered by retailers that have highly standardized product sets with high opportunities for customization. Virtual shopping provides a new opportunity for customers to see and interact with unique products like never before. The more customizable, the more valuable these experiences become to build trust and confidence along the shopping experience, giving an edge to those who offer a seamless experience, for everyone.
Developing a personalization capability is a journey to get to the full suite of capabilities needed for true dynamic personalization: always-on, real-time, one-to-one communication across the consumer ecosystem. Often, the hardest part is just getting started. The first step is to determine which use cases to focus on (converting new customers, increasing spend of loyal customers, reducing returns etc.) and put an agile team on each of them to rapidly test & learn which offers and interactions best deliver.
Personalization is becoming more pervasive and urgent. Only by acting today, however, can businesses hope to be in a position to deliver high value to both their customers and their own brands.
Methodology
All figures, unless otherwise stated, are from YouGov Plc. Total sample size was 1,127 US adults who have shopped online in the last year. Fieldwork was undertaken between September 13- 14, 2021. The survey was conducted online. The figures have been weighed and are representative of all US adults (aged 18+).
About Zakeke
Zakeke empowers brands and retailers to provide consumers with seamless customization options and product personalization through 2D, 3D and augmented reality. Its suite of tools can be integrated into any eCommerce platform or a brand's back-end to enhance the consumer shopping experience while increasing sales for customers across industries ranging from fashion and jewelry to gaming, gadgets and sports equipment. Founded in 2017, Zakeke has over 7,000 customers globally in 400 industries looking to engage consumers with an interactive, visually appealing shopping journey. Zakeke is cloud-based, cross-platform and multi-lingual, making it easy for customers of all sizes to easily adapt and grow sales.