In the last year, the E-Commerce industry hit an inflection point as lockdown restrictions forced consumers into their homes. During this time, while other economies suffered, E-Commerce's share of global retail trade hit 17% in 2020, as compared to 14% the previous year. Global online retail sales hit a whopping 4.28 trillion dollars in 2020 as consumers started buying their goods online instead of brick-and-mortar stores. While a main driver for the E-Commerce boom could be the onset of the coronavirus pandemic, there are many reasons why customers turn to online stores instead of their physical counterparts when they are in need of a shopping spree. Emerging technologies like virtual reality (VR) and augmented reality (AR) have made their way into the retail world. These new advancements have augmented shopping capabilities that are able to enhance the customer experience and mimic in-person traits of shopping in a brick-and-mortar store.
That, and they are able to do it within the comfort of their own home.
Innovation in retail to deliver the ultimate customer experience
In the modern world, customer experience has moved to the forefront of every branding and business strategy. In a nutshell, customer experience encompasses all the touchpoints that an individual has with a business and how it forms their relationship with the brand.
Optimizing the customer experience can go a long way in finding sales opportunities, promoting customer loyalty and word-of-mouth marketing. 52% of customers say that they have made repeating purchases after a positive customer experience. Retail brands need to do more to provide a pleasant experience, one of which takes place during the shopping process.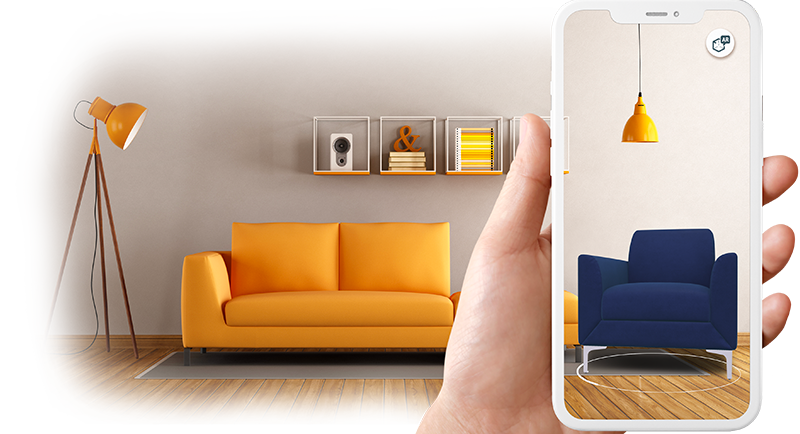 Augmented shopping as a strategy to drive sales
The opportunity to visualise a product prior to purchase or a visit to a brick-and-mortar store is a massive advantage to retailers and customers alike. On the other hand, digital commerce sites have a massive impact on time saved shopping, an impulse desire to buy, and how the customer interacts with products. This will enable marketers and retailers to really understand who, when, and what purchases are being made. However, the caveat is: customers are not able to actually hold the product in their hands, or see it in real life. As a result, there could be disappointment when they receive the actual product in the mail or during delivery.
By addressing these potential challenges in E-Commerce, product visualisation through AR and 3D modelling on websites and mobile apps are a game changer for e-retailers everywhere.
Bringing the products to customers with Augmented Reality
To tap in on sale opportunities, retailers need to help their customers visualise the way they will use the product. For instance, furniture buyers can leverage augmented reality to see how certain furniture will look in familiar environments. AR technologies make this possible by imitating home environments and altering the design and aesthetic of each presentation. To put things in perspective, this experience is similar to that of a furniture showroom where shoppers are put in familiar settings like the bedroom or living room. This makes them more likely to make an impulse purchase online, while also avoiding the "it looked better in pictures" conversation. According to Apple, AR has the ability to increase the likelihood of purchases by 11 times.
Another product where a physical try-on has a significant impact on the purchase decision is clothing. Previously, clothing buyers could only imagine what a certain dress, or a pair of pants, would look like on them based on a modelled version. However, given the diverse body type, this was limiting people's options. Now, retailers can create a live prototype of the buyer's body type based on their individual measurements. Shoppers can have a better visualisation of how clothing will look on them, similar to a try on at a physical store, through a 3D and Augmented Reality viewer.
Getting retailers up to speed
When consumers experience AR technology such as this, which allows them to try on products with ease, they begin to expect this experience in different brands. Because of these expectations, retailers need to work to meet this new standard.
The new era of consumers means higher expectations and new preferences. As more consumers move online, e-retailers need to leverage on this consumer shift to get ahead of the competition. Their customers will continue to expect shopping experiences that are equal to, if not better, than that of a brick-and-mortar solution.
Zakeke works with online businesses to deliver the ultimate augmented shopping experience. With seamless integration to major e-commerce systems like Shopify, Woocommerce, Salesforce, Opencart, Etsy and Bigcommerce, Zakeke enables retailers to offer personalised product visualisation. Whether it's clothing, shoes, jewelry or watches, shoppers are able to know what they're going to get before checking out, which means fewer refunds, complaints, and a lot more satisfaction.
If you are wondering what you can do with Zakeke, check out our DEMO STORE or start the FREE TRIAL.
Supported Platforms:
Stay up to date and follow us on LinkedIn, Facebook and Instagram