Today's consumer is more savvy and has higher expectations for brands than they did in the past. They want personalized experiences and products that meet their wants and needs.
What better way to provide personalization than to use a Shopify product customizer? As the name suggests, a product customizer allows customers to customize a product to suit their unique tastes.
Here, we'll cover what a Shopify product customizer is and how it can be a great addition to your Shopify store.
What Is a Shopify Product Customizer?
A Shopify product customizer is a custom product design software for e-commerce stores. It allows customers to customize products according to their needs and tastes. You can integrate a product customizer tool into your Shopify application.
Products that allow customization using product customizer software include:
T-shirts
Hoodies
Sweatshirts
Hats
Mugs
Signs
Banners
Phone cases and more..
When a customer shops for your products, a product customizer allows them to change various elements of that product.
For example, they can choose from different fabrics, color variations, and more. And for certain products, customers can also add text as well as change shapes, font size, font type, and font color to truly make it their own.
Whether a customer is shopping for a gift or for themselves, they want the luxury of personalizing it to their preferences.
Being able to customize products improves customer satisfaction, which in turn, reduces cart abandonment. This is just one of the many benefits of a product customizer, which brings us to our next point.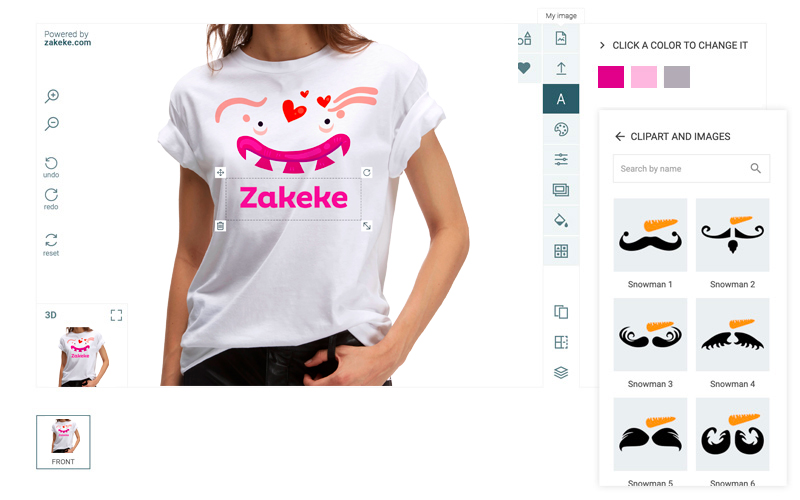 Benefits of a Shopify Product Customizer
You can easily integrate a product configurator or customizer into your Shopify store. This allows you to provide shoppers with online customization options for your products. You can upload different text, images, and clipart customers can use to create a personalized experience.
A product customizer makes this process more seamless as it connects right to your Shopify store, allowing you to fill orders based on a customer's choices. This also minimizes the manual process of having to figure out what to print out for each item. A product customizer does all that for you when you connect it to a print-on-demand (POD) service.
This allows you to pick a product from catalogs and sell them as customizable products. Then, the product customizer allows you to automatically fill these orders and ship them out to your customers. You can do this by creating a workflow to automatically send the print-ready files to your preferred POD supplier.
Below are some of the print processes a product customizer helps automate:
Resizing images to fit the entire print area
Generating a print-ready file when customers place their designs to personalize your product.
Sending requests to web applications every time the event "new order received" occurs
Besides POD integration, a product customizer also allows for easier inventory management. So, it can make it easier to track, view, and adjust your Shopify inventory in real-time. This, in turn, helps streamline the sales to inventory to shipping process.
That's because Shopify product customizers allow you to manage your e-commerce store inventory with 3D product design, providing you with a better way to keep track of items. It does this by offering a more organized catalog of goods to sort, stock, backorder, and track. A more visual representation of your products allows easier, faster processing
Give Your Customers Visual Customization with Zakeke's Product Customizer
When you download Zakeke's Shopify product customizer, you can turn any item in your store into a customizable product with real-time 2D, 3D, and augmented reality (AR).
With our turnkey app, you can install and deliver customizations in a few short steps, which means minimal manpower.Are you ready to turn your products into customizable items your customers can't resist? Get a 14-day free trial now.
If you are wondering what you can do with Zakeke, check out our DEMO STORE.
Supported Platforms:
Stay up to date and follow us on LinkedIn, Facebook and Instagram