Over the past couple of years, the interior design world has experienced two major challenges. First, the prevalence of TV programs focused on home design has raised the bar on home furnishings, and made consumers more interested in custom decor. Second, the worldwide pandemic has reduced the role of in-person shopping for furniture and décor. Both of these events have forced even mainstream furniture manufacturers to encourage shopping online, increase flexibility in manufacturing, and help customers "see" a piece of custom furniture in their home.
Of course, some people in our industry think that product customization is a trend. After all, the pandemic will end, and people will return to showrooms. In addition, personalized furniture may not always be fashionable. Certain fashions come and go, so people might return to buying what's in the showroom without customization.
At Zakeke, we would argue that product customization is here to stay. One reason for this is that customization isn't as new as some people think it is. It's just that the old is new again. And, people love to customize things themselves, with instructions on how to do this all over the internet. Plus, there are situations where custom furniture is the best option, and not just a fashion statement. Finally, new technologies such as 3D and augmented reality have made customization easier than ever. Let's take a look at each of these points.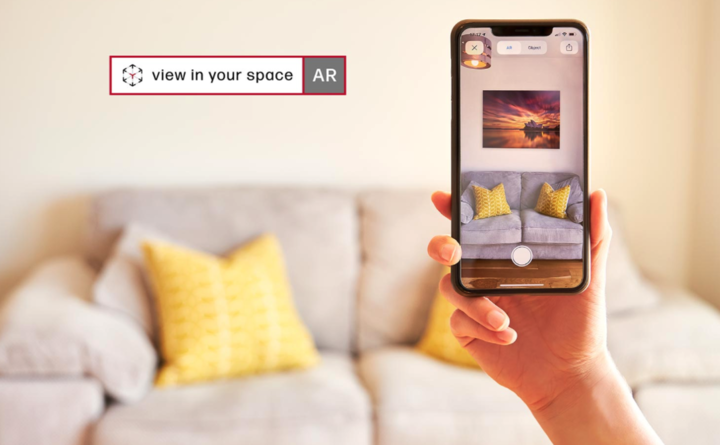 What's old is new again (sort of).
The desire to customize the inside of our homes isn't new. A century ago, people would compete on décor by purchasing exotic rugs and other handmade pieces from overseas. In addition, many people would purchase a piece of furniture and then put their own upholstery fabric on it. Many furniture shops and repair people would perform this service. This went far beyond the "pick your color" that most of us are used to in modern furniture showrooms: the fabric was often purchased from a different supplier than the furniture.
In addition, most of us know about interior designers. These professionals survey a building and decide what will look nice in there. Designers consider an owner's sense of style, contemporary tastes, and the overall room ambience. Sometimes, they'll order an unusual product configuration to fit the room, or even commission fully custom décor.
Nowadays, custom furniture and custom décor is once again easy for consumers to buy directly. Not only do ecommerce sites like Etsy offer custom designs made by hand, but modern technology allows the production of customized items at scale. While you can always purchase a ready-made couch at a furniture showroom and have it delivered the next day, custom usually requires going through a professional. Now, people can order a particular product configuration online, and it'll arrive in a couple of weeks.
DIY feeds the customization trend.
A quick browse of custom décor ideas on Pinterest shows one thing: There's a huge amount of creativity in everyday consumers. People will take an old, junky thrift store dresser and turn it into a glossy, gorgeous painted piece of customized furniture. Or, they'll turn an old vase into an awesome lamp. Finally, decals and other accessories easily transform ordinary Target or Walmart finds into something unique.
Here's the thing. Not everyone has the time or know-how to do their own customization. This is one reason why product customization is becoming so popular on a commercial scale. People love to make a statement with their furniture, whether it's a centerpiece for their room or just a cute accessory. By purchasing customized furniture online, people can achieve that lived-in look that suits them, without all the work.
Sometimes custom is the best option.
Besides the DIY revolution, many people need custom solutions to maximize the space in their homes. There are many reasons for this, such as a small space or an antique home. Or, they might have an antique piece of furniture that they want to use.
Small spaces? There's a custom option
Small spaces are a constant problem for two main customer groups: those who live in smaller homes, and owners of antique houses. For instance, someone who has a loft apartment in New York City must maximize their space, often with loft beds that double as storage space. Or, they might opt for a foldaway option. Often the ready-made options in stores aren't good for their space, suggesting a piece of custom furniture will perform best.
Likewise, people who have antique homes might benefit from product customization. Many older homes have low ceilings in some rooms, such as a pitched roof upstairs. In these situations, a high bed won't work well. Worse, there might be very little wall space to work with. For these consumers, maximizing their space is key to comfortable living. One example might be a shorter head board that will fit under the ceiling, or underbed storage that helps maximize the space.
Matching an heirloom sometimes requires custom
Finally, people often have a family heirloom or existing statement piece that they want to make the center of their room décor. Sometimes it's as simple as a custom chair. In other cases, they might want to buy custom furniture that complements what they already have. This can include custom configuration, special upholstery, or other extras. Either way, customers want to be certain that an addition to the room will "work" before purchasing.
New technology feeds the custom trend.
Now that we realize custom furniture and décor aren't going away soon, let's look at how modern technology makes it easier and more economical. Probably the biggest innovation is custom manufacturing technology. In particular, machines can be easily adjusted to create the perfect design quickly. 3D printing technology also helps.
However, new technology also helps with the design and sale process. For instance, a 3D viewer can help a customer visualize a design and be certain that it's what they want-or make adjustments until they're happy. Likewise, augmented reality makes it possible for customers to "see" a product in their room. This can be used for custom furniture and ready-made designs alike. For instance, you can see the piece in a room with the help of a cell phone camera. Here, you'll use an AR viewer app to create the picture.
With Zakeke, it's easy to start using ecommerce personalization. We have native integrations with all of the major ecommerce site platforms, allowing you to enjoy a plug and play setup. Our AR viewer lets customers see the possibilities with what you have to offer. Likewise, they can test drive customization options before they buy. This increases sales and reduces the return rate.
If you are wondering what you can do with Zakeke, check out our DEMO STORE.
Supported Platforms:
Stay up to date and follow us on LinkedIn, Facebook and Instagram