In our increasingly competitive and customer-centric market, every e-commerce store must find a way to stand out from the competition. How? It's no longer the products or the prices that make the difference, but the experience your e-commerce offers to customers.
Consumers are increasingly looking for smarter and more tailored shopping experiences: this is where the benefits of product customization come in. Offering your customers the ability to customize products improves the Customer Experience and increases the perceived value of the product and Customer Satisfaction.
How to add product customization to your e-commerce? By choosing the right Product Customizer App. Let's discover together what are the 8 best Shopify Product Customizers and how to choose the best one to take your store to the next level.
How to choose the right one?
How to choose the best Shopify Custom Product Builder? Here are 5 features to consider:
Considering the tool's features is crucial to make the best choice. The Product Customizer should have features suitable for your business and product type. For example, a web-to-print business should consider the presence of POD integrations and print-ready files to streamline its processes.
Easy setup and easy to use
A good Shopify App for custom products must be easy to install and easy to use for both merchants and customers. A user-friendly interface can improve Customer Experience making it smart and interactive.
You should go for a Product Customizer App which offers quality Customer Service: having access to the support of a dedicated Team allows you to avoid problems, especially during the setup and onboarding stage.
Live preview of custom products
A Shopify Customizer that offers a preview of custom products reduces lead time and returns. Customers can see how the product will look before purchasing, speeding up the checkout stage and avoiding returns.
Easy integration with store and other applications
A quality Product Customizer should not only easily integrate with Shopify (and any e-commerce platform), but it should also integrate easily with other Apps used within the store.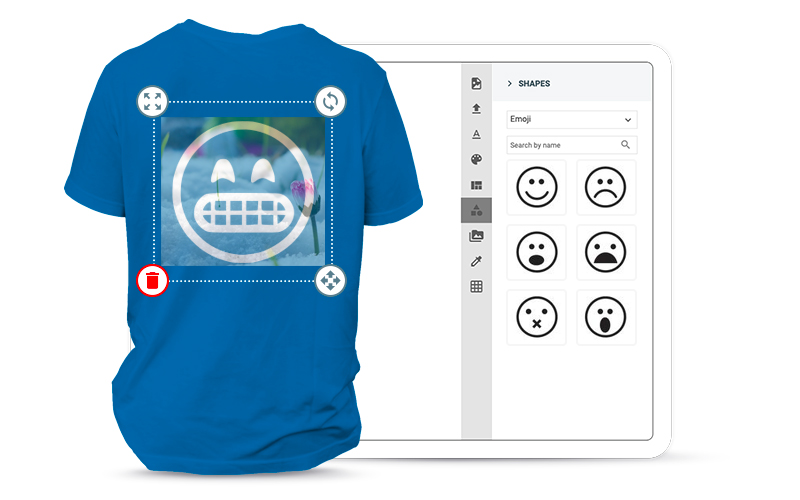 8 Best Shopify Apps for Product Customization
What are the best Shopify Product Customizers? Here's a selection guide:
Product Options & Customizer
This App is one of Shopify's historical customizers. It's easy to implement for e-commerce and easy to use for customers.
It supports many customization options that fit any type of business, including colors, images, templates, and text. It allows you to combine variants with product variations across multiple products and to show/hide product options based on predetermined rules.
Unlike other Shopify customizers, Product Options & Customizer doesn't offer features and solutions specifically for the engraving industry.
Zepto Product Personalizer
Zepto Product Customizer is another particularly used Shopify Customize Product App. Zepto offers fewer customization options than other Apps and mainly works with text customization.
Zepto allows the customer to view a live preview of the customized product directly online. It also allows you to set pricing rules based on the customization options chosen by the customer.
Compared to other customizers, Zepto's interface doesn't offer a significantly good User Experience.
Customify is a fully-responsive Visual Product Customizer available only on Shopify. This App offers a wide range of customization options, including images, designs and especially text. For example, Customify allows customers to translate text into their own language thanks to a high-quality translation tool.
Like Zepto, Customify also allows customers to preview the product before making a purchase. Customify is easy to use thanks to its user-friendly interface and integrates perfectly with the entire Shopify ecosystem.
Qstomizer is a Shopify Product Customizer with a range of customization options. Like all the best Apps, Qstomizer also allows the customer to have a live preview of custom products before making the purchase. It also allows you to use AI for removing the background and improving the image editor.
Qstomizer offers over 200 pre-designed templates to easily start customizing any product (alternatively, you can always choose to customize the product from scratch).
Posterly Product Personalizer
Posterly Product Personalizer is a Shopify Customization App that allows customers to customize their products with text, images and designs, viewing a live preview before purchase.
Posterly automatically generates print-ready files without having to work on Photoshop or InDesign. Like Qstomizer, Posterly also offers a large library of pre-designed templates.
It integrates with POD providers like Printful and also with Zapier. It focuses mainly on customizing canvases and gadgets.
Kickflip is a Product Customizer that integrates natively with Shopify, WooComerce, PrestaShop and Wix. It has many customization features, allowing you to add and remove product parts and try out different combinations. It has a user-friendly interface for both merchants and customers.
To simplify pricing management, Kickflip allows you to set dynamic pricing rules that change the product cost based on the customization options chosen by the customer.
Like other customizers, Kickflip also offers real-time product previews from multiple angles to help consumers complete their purchases faster.
Customily is another online customizer available for Shopify stores. It offers a live preview of custom products and it is easy to use thanks to its user-friendly interface.
Customily offers ready-to-print files in different formats with the order's designs ready for fulfilment. It also creates print-ready files for engraving and laser-cut. It integrates perfectly with POD providers such as Printify and Printful and is available for all major e-commerce platforms.
Zakeke is much more than a Shopify Customizer: it's an all-in-one Visual Commerce Platform which helps online businesses grow and increase sales through the use of product customization, 3D configuration, Augmented Reality, and Virtual Try-On.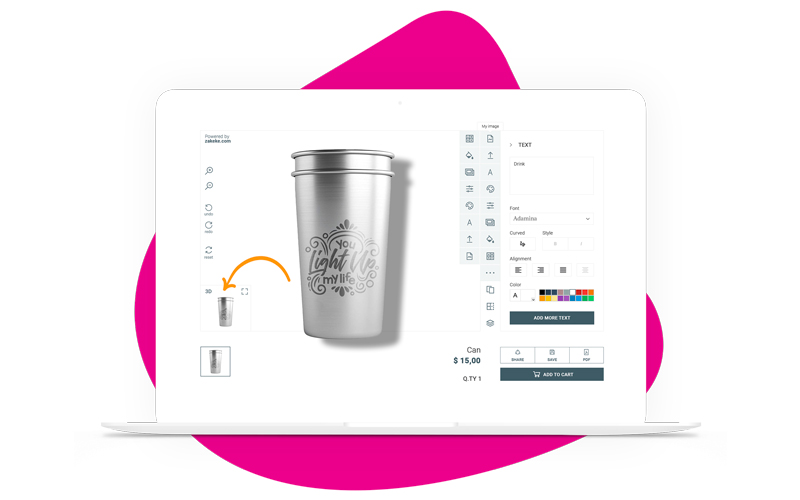 What are the distinguishing features of Zakeke Product Customizer?
Plug&Play integration with Shopify and all major e-commerce platforms and easy integration with POD and Dropshipping services;
Easy setup (with ongoing support from the Customer Care Team) and a user-friendly interface for both merchants and customers;
Infinite customization options that improve Customer Experience: customers create the product exactly as they want it, customizing every aspect (images, colors, sizes, textures, etc.). Customization can be done from scratch or using multiple pre-designed templates;
Advanced pricing rules: Zakeke lets you create pricing rules to add a markup price to your customizable products. It shows dynamic prices which change based on the customization chosen by the customer;
Fulfilment Automation: Zakeke allows the e-commerce store to reduce manual design work by automatically creating print-ready files with the right resolution (also for engraving) that are available directly in the back-office;
3D & AR Preview of custom products: Zakeke reduces lead time and e-commerce returns by showing a preview of the customized product with realistic 3D models and Augmented Reality. This way, customers can see exactly what they're buying before making the purchase;
Multiple Sales Channels management: you can manage multiple sales channels from a single Zakeke account to boost sales.
How to add custom products to Shopify? Zakeke, with its advanced features for Visual Customization and its easy Plug&Play integration, could be an excellent choice for your Shopify store.
Start now: try Zakeke for free for 14 days (you can install it yourself within your e-commerce) or request a demo to discover all its features.