Zakeke, the leading cloud-based visual commerce platform that allows anyone to easily customize and configure products online, at their retail location, and everywhere in between, today announced a new product update to its platform. Take a look at them:
AI- Powered Configuration Generator
Zakeke's AI-powered Configuration Generator enables you to provide customers with a personalized and seamless online experience, by automating the product configuration process.
No manual option selection, our intelligent system handles the permutations and delivers a tailored configuration that precisely matches your customers' preferences.
This provides customers with a dynamic and immersive experience, where they can see how each configuration option impacts the final product, reducing the likelihood of dissatisfaction and errors with the final configurated product.
Discover all details and info here.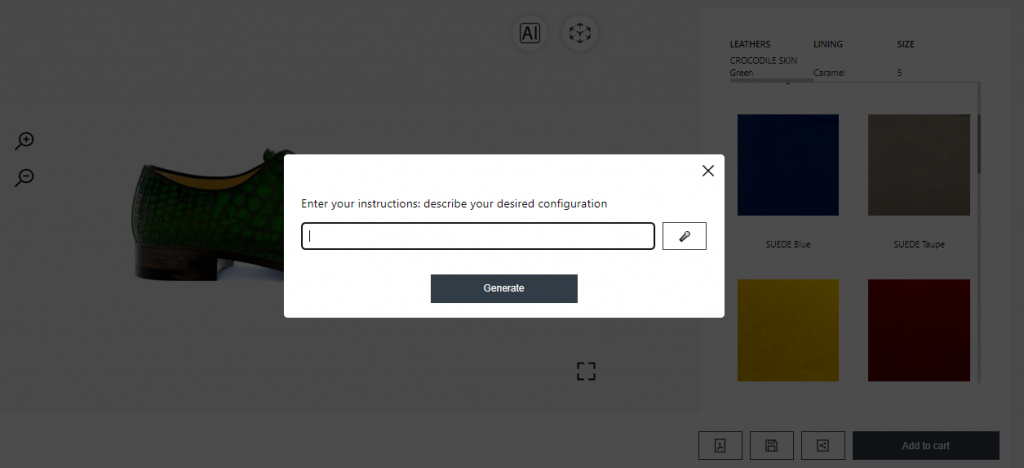 Advanced Print File Builder
The Advanced Print Files Builder allows you to create custom advanced print-ready files, like the nested and stacked ones, or simply enhance single print-ready files with dynamic or fixed data like PDFs, Codes, Texts, placehorders for your customizable products.  
This tool is specially useful for Sublimated products, like custom apparel, bags, mugs, accessories, home decor and more.
The tool allows you to create a nested file with all print areas positioned in the order your machine require, letting you save material and create the exact placement you require during production.
Also, stacked file are available, meaning print areas and sides can be placed one on top of each other, for bulk processing, printing layers of material all at once.
Finally, the tool comes with fixed and dynamic options, like placeholders, text, codes and PDFs, all available for you to be placed in a specific and custom way.
Read this guide to check all settings.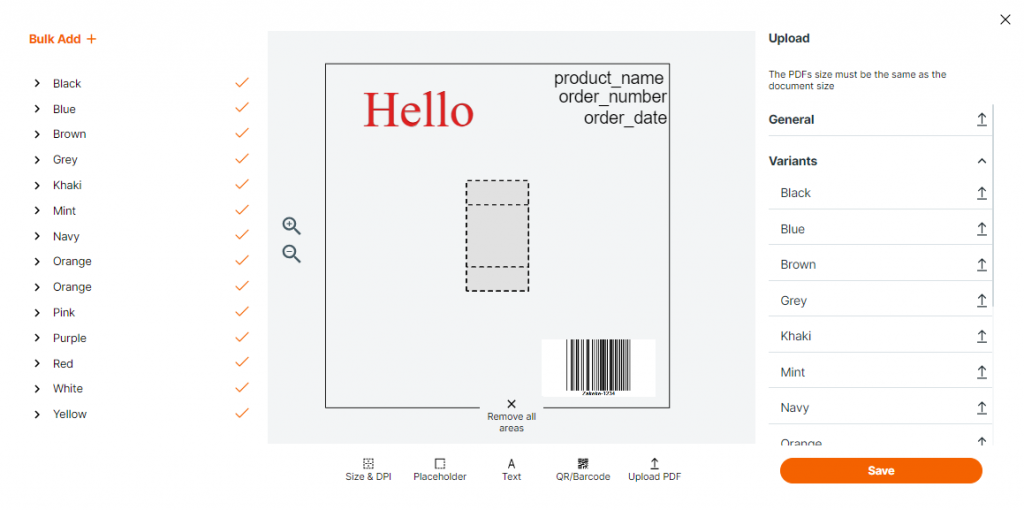 Sales channels – Products with Variants
Sales Channels allows you to connect and manage multiple commerce channels to your Zakeke account. Sales channels are the different platforms where you sell your customizable products, such as Shopify, WooCommerce, Etsy, …
This feature allows you to share all customizable products, now including the ones with VARIANTS, among several platforms and manage all your orders and stores from a single Zakeke account instead of creating a separate account for each platform. Hurray!
Get a Quote – New Approved / Rejected status
Say hello to new statuses inside the Get a Quote tool, merchants, and rejoice!
When a customer sends a request for quotation to you, it generates a request in your Zakeke back-office. You can see and manage the requests you receive from Quotes > Quotations. Right? Now you can change the quotation status yourself from a specific menu, approving or rejecting the quotation received from your customers. You've got the power!
Discover more here.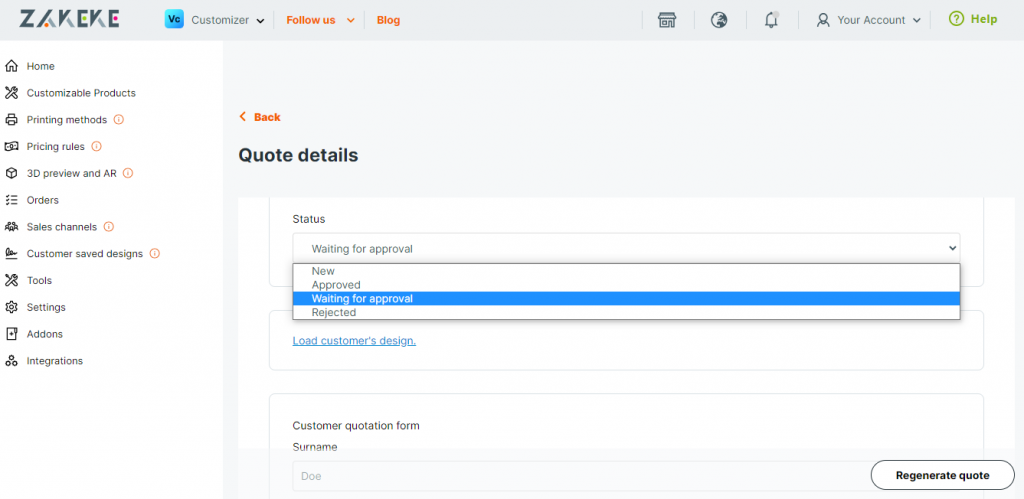 New Bulk Variation Forms outputs: Separate or single print-ready file
This is huge deal, believe us.
You can now choose if you prefer to have different files for each variants or if you want a single preview file valid for each variation, when using the Bulk Variation Form. Selecting the individual Print-Ready Files option you will receive separate print-ready files for each variant purchased by your customers in bulk.
This will also show a different thumbnail for each variant in your store's cart for a better user experience during purchase.
That's not enough. If you choose the other output, the only one Print-Ready File option instead, you will receive a single print-ready file, regardless of the number of variants purchased. This file will be based on the variant initially selected on the e-commerce page.

Also, the variant selected on the product page now automatically shows as pre-selected inside the Bulk Form as well and customers will see the correct thumbnail inside the cart, creating a more seamless and engaging customer experience.
For those of you with many variants, keep in mind that from now on column/row headers remain fixed even at scroll. High five!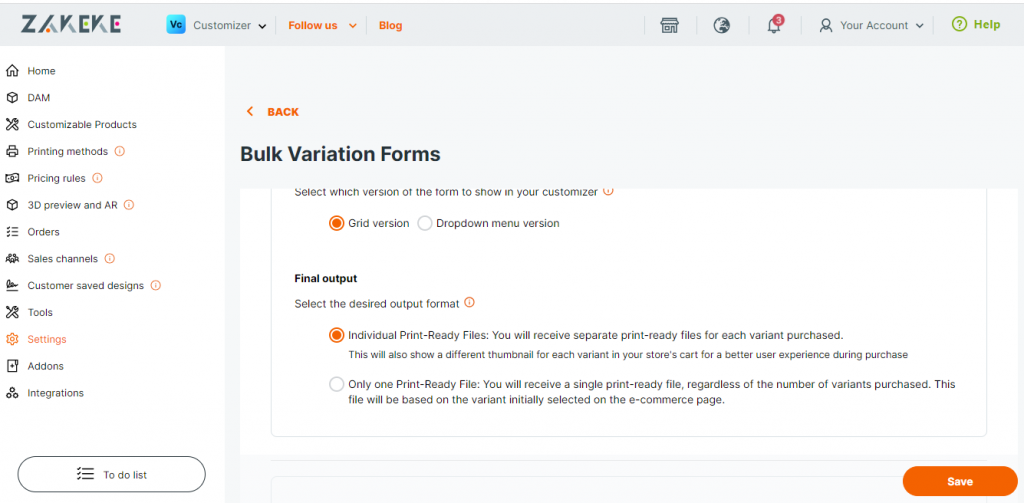 Pricing rules for vector or raster images
Make your life better, and your customers much better, that's our goal. That's why we've released the opportunity to assign a specific price rule to only vector or only raster images used in a design. This allows you to create and apply rules specifically based on your color management for images, easing your processes and daily activities load.
Find all details in this guide.
New Order's Details
Knowing all information about orders is fundamental, it's about easing your daily routine, prioritizing your processes and helping you and your team focusing on important tasks. We've updated our Order detail page, giving you more info related to the sides that have been customized, showing you the thumbnail with the designs preview, with the opportunity to download files for each of the sides. Details, details..the success is in the details!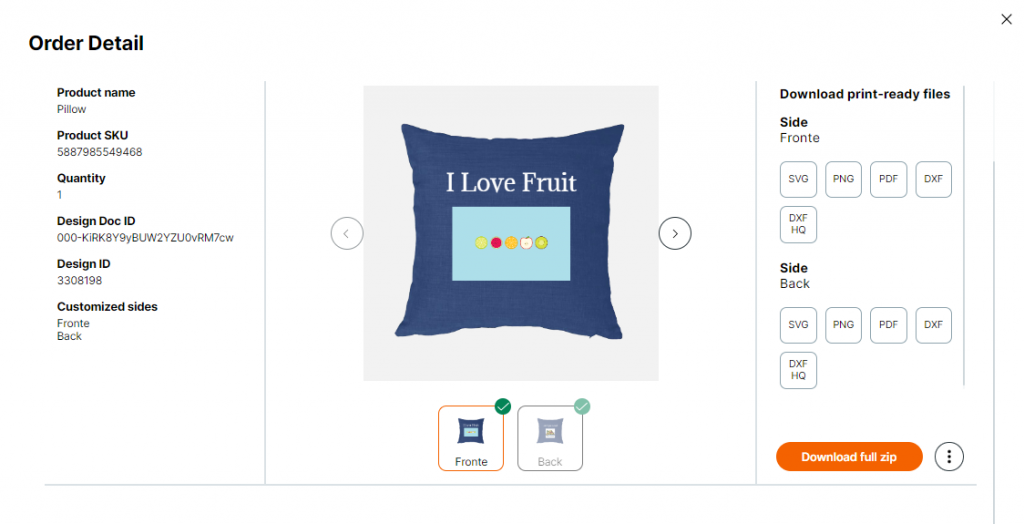 Improved performances of Configurator
You know that we are focused on improve the performances of our platform, day in and day out. We've concentrated our effort to improve drastically our configurator engine, optimizing the charging processes with a new loader icon, beautifully designed by our team.

Another important update on the Configurator is related to API and Woocommerce customers, managing out of stock orders. When the customer selects an out of stock combination, the Add to cart button becomes "Out of stock" and on hover Zakeke will show a message that says: "The configuration you have done is out-of-stock, please select different options to purchase this product."
Stay up to date and follow us on LinkedIn, Facebook and Instagram