Zakeke, the leading cloud-based visual commerce platform that allows anyone to easily customize and configure products online, at their retail location, and everywhere in between, today announced some new product updates to its platform. Take a look at them:
Name & Numbers
Names and Numbers allows your buyers to add multiple variations of a product to their cart and customize some fields while using the same design. From identifying players on sports jerseys to showing off bridesmaids' funny nicknames on mugs at a bachelorette party, customers can find a creative way to use Names and Numbers on your products. Take a look at this video where you can see the tool enabled for a T-Shirt. Discover how to set it up here.

Single price per image
It is now possible to set a price for images inside your Zakeke dashboard. This gives you the opportunity to charge different prices for cliparts, images whenever customers add them to your products. Setting the price for a single image or multiple images can be applied at the time of upload or by going back to the Clipart and images gallery and clicking to edit them. Learn more in this guide
Sales channels in Magento/Adobe Commerce
We just added Magento/Adobe Commerce to the available platforms where you can add more sales channels to your Zakeke account. Check all details here

UX improvements
New Labels for customized products
From now on, whenever you add a product to make it customizable, you'll be able to see, thanks to a specific label called Already Configured, all the configured products, giving you the ability to understand immediately which ones are not yet configured to ease the customization process.
New Pre-Designed Template Page
We just revamped the Pre-Designed Template page where you can easily create Categories, Templates, make them available to all product variants, edit them and all of the options that you always had available.
Check how to create a Pre-Designed Template here.
New Printing Method page
Another important improvement for your experience refers to the Printing Method page, where you can now add, find, edit and delete with a simple clic your printing methods, all in one redefined page. If you want to dive into the Printing Methods setups and options, click here.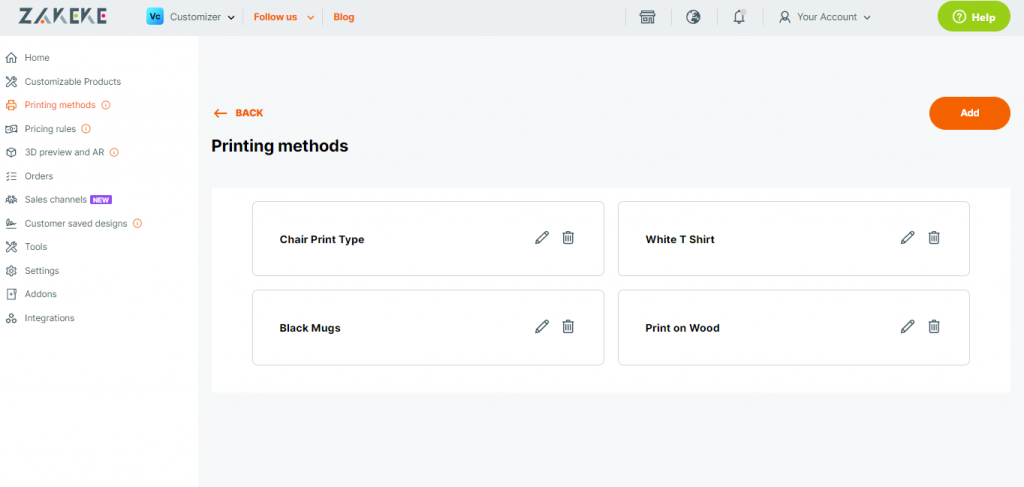 Stay up to date and follow us on LinkedIn, Facebook and Instagram.