Shopify Tools: The 7 Best Tools To Blast Your Sales Into The Stratosphere
Running a shop used to be difficult. First, you had to scout for a good location, sign a lease, and renovate. Then, you had to coordinate with suppliers, train employees, and advertise your business. You'd be stressed out and thousands of dollars in debt—all before opening day!
But thanks to Shopify and other ecommerce platforms, the barrier to entry is lower than ever before. Setting up an online shop is almost as easy as ordering a pizza.
And just like pizza, you can customize your shop to your preferences using Shopify apps!
What Are Shopify Tools?
Shopify is a pretty powerful e-commerce platform on its own, but what really seals the deal is its apps. These apps are developed by third-party programmers to add features and functionalities that the base Shopify doesn't offer.
There are literally thousands of apps, with each one promising to do something unique and different. You can find apps that add floating notification bars, change the look of your contact form, audit your site's performance, set up a rewards program for loyal customers, and much, much more.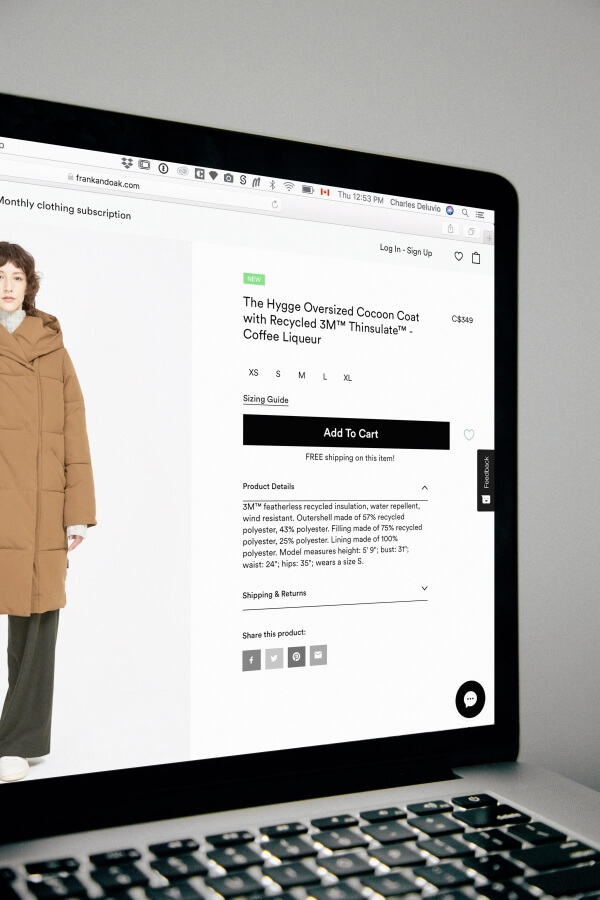 What To Consider When Choosing A Shopify Tool
With thousands of apps on the market, it's easy to get overwhelmed. To help you make the right decision, you can reference this buyer's guide!
Features
We've covered a little bit of what Shopify's third-party apps can do, but we've barely scratched the surface. If there's a particular feature you want for your site, someone has most likely already developed an app for it. So the problem isn't finding the apps you want, it's narrowing it down to the apps you really need.
It might be tempting to get all the bells and whistles, but each app adds to the loading time of your website, so you have to choose carefully. The right tools will measurably increase your sales, making it worth the slower speeds.
When deciding which Shopify tools to get, you need to think of it from your users' standpoint.
Is the customer journey seamless, or is there a part of the sales process that turns people away?
Is there something you could add to the site to make it easier for your customers to buy from you?
Once you have answered those questions, you can narrow down your choices to the apps that actually address those concerns.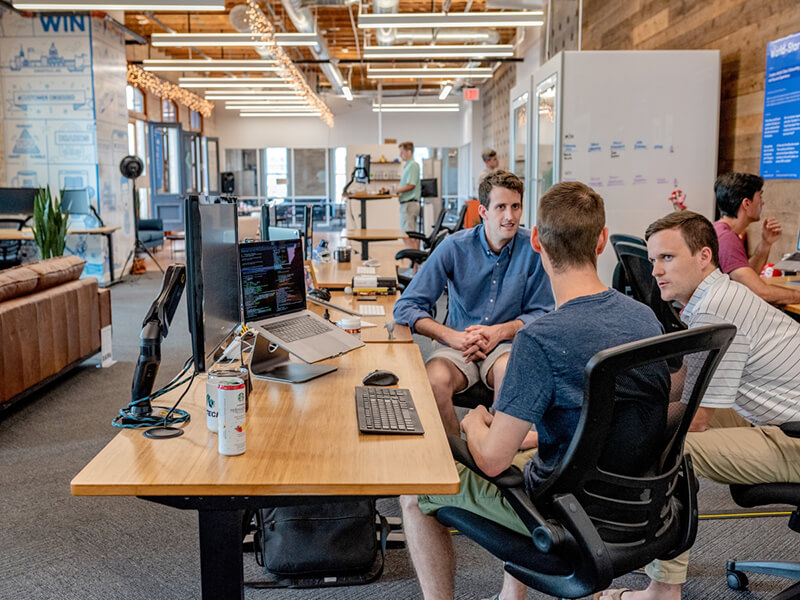 Reviews
Technically, an app can claim to do anything. The real question is, does it actually deliver on its promises? Before signing up for a free trial or paying a subscription fee, you should always check out what other customers say about the app.
Reviews will help you gauge whether or not an app is actually worth the time and money. You'll learn its biggest strengths and its most glaring flaws. You'll also gain some insight into how the developers handle critiques—do they snap back at customers (red flag), or do they learn from their mistakes, apologize, and work on the app to make it better?
Price
We could go on and on about how anything you spend for your shop is an "investment", but let's be realistic for a moment. As a small business, you have a limited budget. By spending on Shopify apps, you're potentially draining resources from another aspect of your business.
This doesn't mean you shouldn't invest Shopify tools at all. While there are many great Shopify tools available for free, there are some that may charge an affordable amount for access to some pretty incredible features. It all boils down to the app's value for money. If the app can make you back what you spent (and then some), it could be an option worth considering.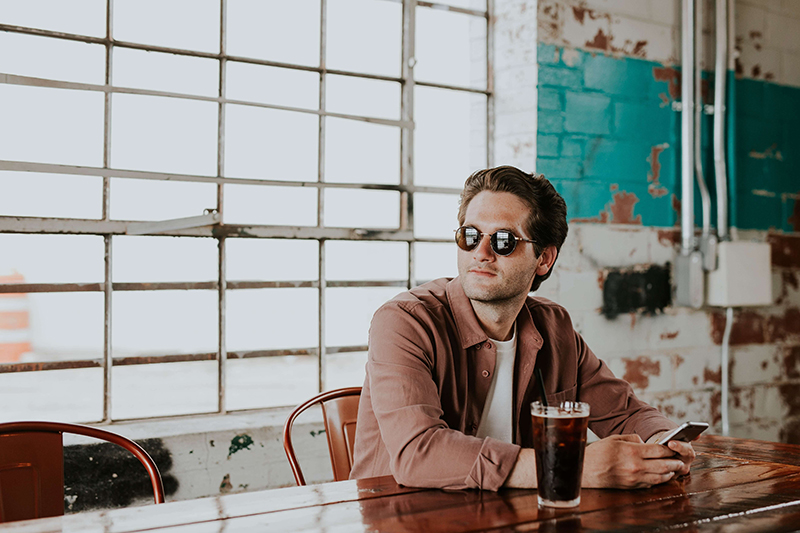 Best Shopify Tools To Increase Your Sales
7. Kit
Marketing is one of those necessary evils of having an online shop—after all, your products aren't going to sell themselves! But posting on social media, crafting emails, and monitoring your marketing efforts take up a lot of time which you could be spending actually running your business.
Enter Kit, your very own virtual marketing assistant. Creating powerful marketing campaigns is a few texts away; simply "chat" with Kit, and the app will give their recommendations and even create the materials for you!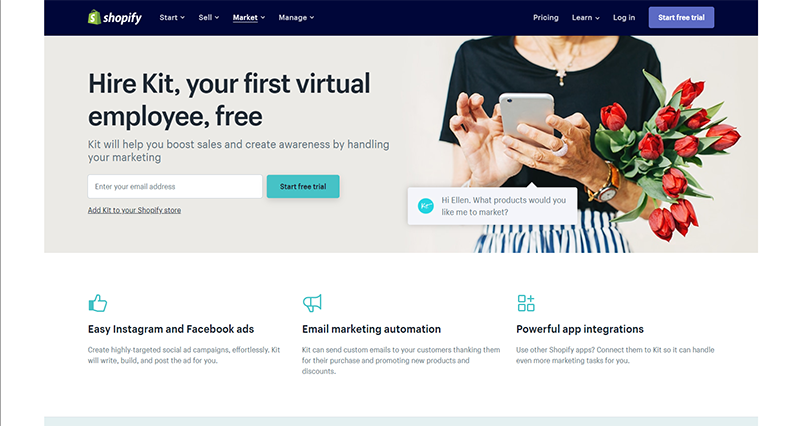 Tool Features
Smart, targeted social media ads
Discount codes and other promotions
Personalized marketing emails
Reports and insights on performance
Integrates with Facebook, Instagram, Yotpo, and more
Tool Pricing
Free, but running ads on social media platforms will be billed accordingly
6. OptinMonster
An email list is crucial to hooking in prospects, targeting repeat customers, and increasing your sales. OptinMonster is one of the leading Shopify tools that help you collect customer email addresses through pop-ups in strategic locations on your website. You can even program a pop-up when a user is about to leave your site, thanks to OptinMonster's unique Exit-Intent tech.
If that doesn't convince you just yet, just look at the data. Real companies report real results, such as a two-fold increase in conversions and a three-fold increase in leads.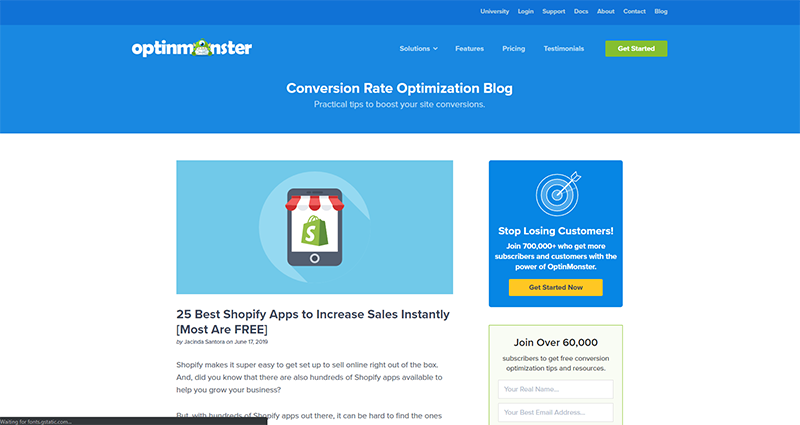 Tool Features
Unique Exit-Intent Technology and InactivitySensor
OnSite Retargeting
Targeted promotions based on location, device, referral source, and others
Integrations with other marketing, CRM, and content management apps
Tool Pricing
$ 49 per month
5. Smile.io
Acquiring new customers can cost up to five times more than retaining one. So if you're seeing more money go out than in, it might be time to focus your energies on nurturing the customers you already have. And what better way to encourage repeat business than offering a loyalty and rewards program? Fun fact: customers LOVE free things.
Smile.io is a Shopify app that lets you build a rewards program, set VIP perks, give away loyalty points, and encourage referrals. When your customers earn enough points (through purchases or sharing on social media, for example), they can use those points to redeem discounts, rewards, and more.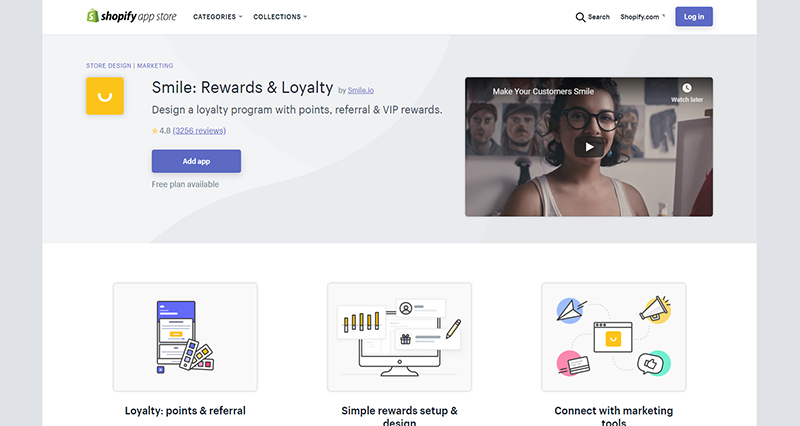 Tool Features
Free trial up to 500 members
Reward accounts for your members
Easy setup and customizable design
One-click app integrations
Tool Pricing
Starter plan at $49/month
Growth plan at $199/month
Pro plan at $599/month
4. Boost Sales
Upselling is a goldmine that's ripe and ready for the taking. This sales strategy is a huge winner because it's personalized—whenever a customer is about to check out their cart, you can swoop in and suggest similar or complementary items based on the items they've picked.
Boost Sales is an app that lets you do just that. You can schedule and upsell bundles, program pop-ups right before checkout, and display relevant products throughout the sales process. Can someone say cha-ching?
Tool Features
FREE 15-day trial
Target upsells based on items viewed and in cart
Smart AI-picked recommendations
Promotions for bundled items
Tool Pricing
Starts at $30/month
3. Kiwi Sizing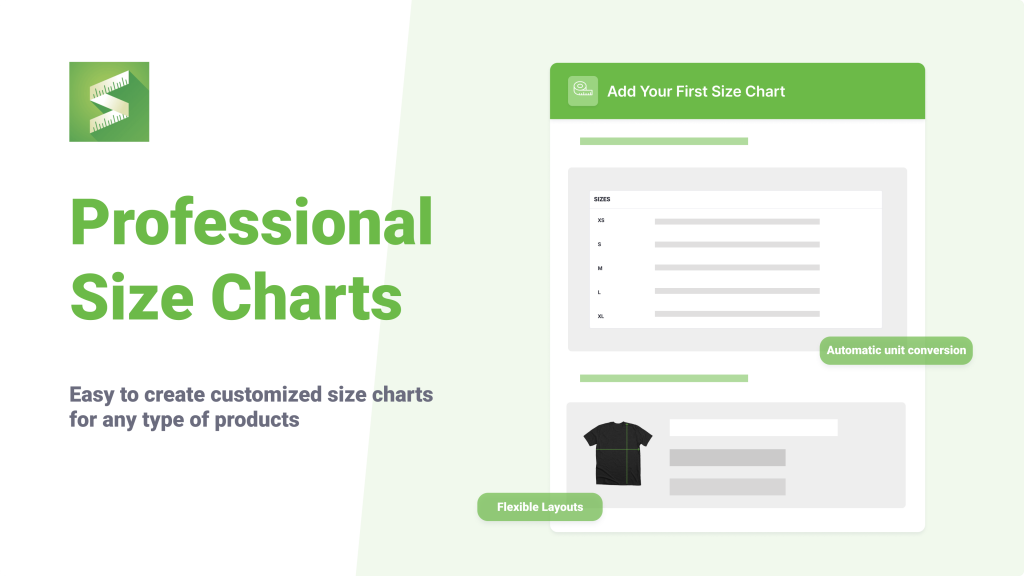 Product size matters, so don't get them wrong for your customers. Kiwi Sizing offers Size Chart (with unit conversion) and Size Recommender to help your clients find the right size without the hassle!
Kiwi Sizing integrates with the most popular ecommerce platforms, such as Shopify, WooCommerce, BigCommerce, 3Dcart, Magento and more. There is a free version for eCommerce beginners to own high-quality size charts with no pressure. As your business grows, you can scale to other solutions at Kiwi Sizing, all in one platform.
Tool Features
Customized size chart and unit conversion tool:

 

From sizing tables, text, images, and videos, the tool helps you create

visual size charts to convert more

.



Fit finder based on machine learning:

Shoppers simply need to enter their weight, height, age, etc., and they will receive sizing recommendations immediately. Moreover, customers will see this fit recommendation on all the product pages they visit afterward.

Size recommender that can be used for any product: From footwear, pet products to snowboards and kids' bicycles, everything is measurable. With customized sizing tools, eCommerce owners will have full control over the inputs and recommendation logic without any prior coding knowledge needed.
Tool Pricing
Free Plan available, Premium Plan starts at $6.99, Ultimate starts at $12.49
2. Yotpo
9 out of 10 customers read reviews before making a purchase. But you don't need that statistic to know that reviews can make or break your business.
Yotpo is a great reputation management tool that tacks right onto your Shopify site. With the app, you can send out review requests to satisfied customers, increasing the number of reviews you can display. You can also moderate the reviews, choose what to publish, and share the best ones on your site.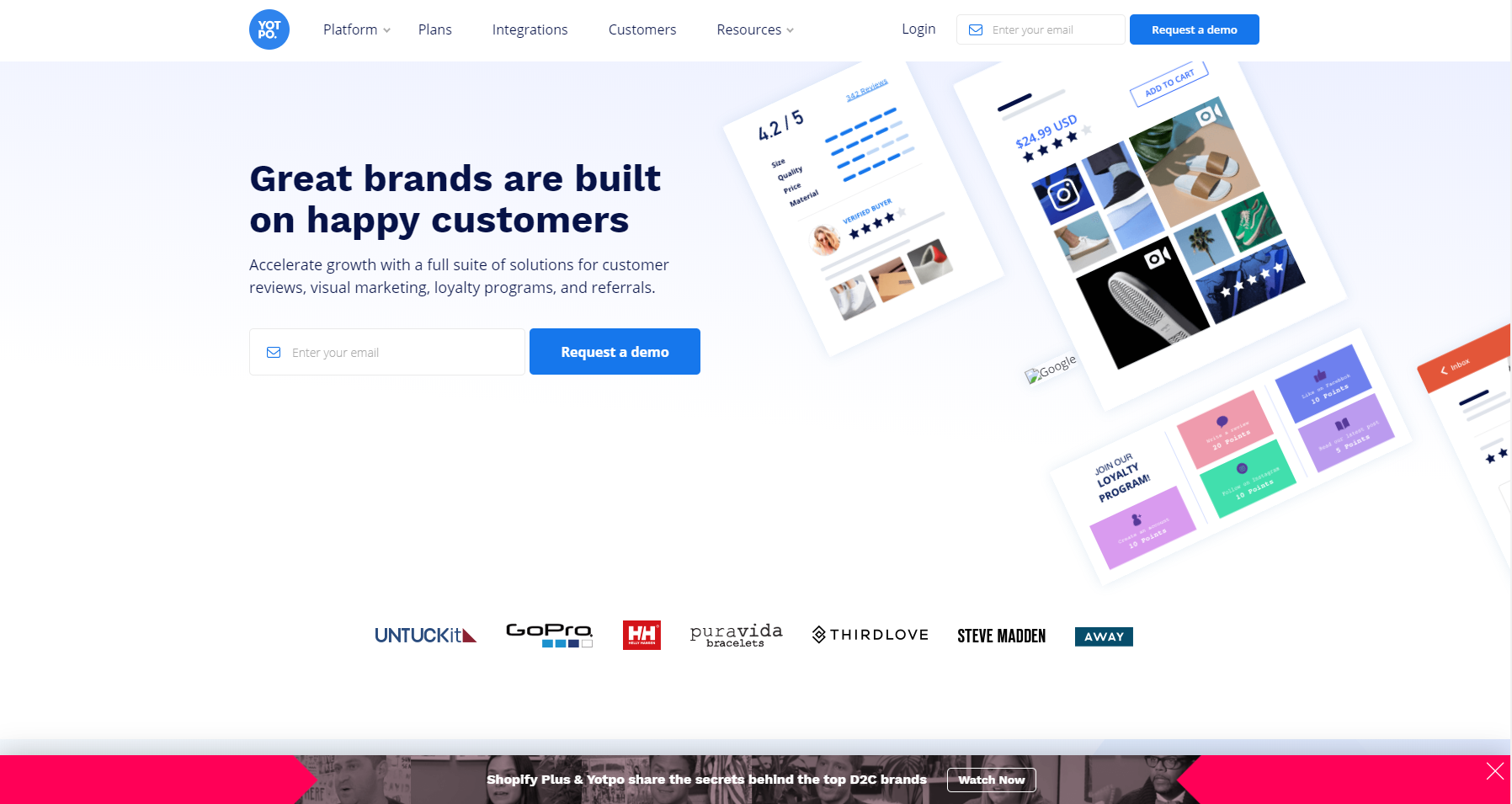 Tool Features
Free up to 50 monthly orderss
Easy review collection and management
Shareable customer reviews
Analytics and customer demographic info
Integrations with other apps
Tool Pricing
Premium pricing is flexible and available upon request
1. Zakeke
If there's one thing that customers love, it's finding the perfect product that fits their personality, preferences, and needs. And one way of guaranteeing a perfect product every time is by giving your customers the option to customize their products.
Zakeke is a Shopify product customizer that allows you to choose colors, add text, and even upload your own images to the design. The drag-and-drop interface and real-time preview makes it easy for customers to design the exact product they want.
Tool Features
FREE 14-day trial
Choose from 250+ customizable products to sell
Responsive, mobile-friendly interface
Easy drag and drop UX
Real-time 3D preview
Access to print-on-demand suppliers
Tool Pricing
Standard starts at $6.99/month for up to 3 customizable products
Premium starts at $6.99/month + 1.9% transaction fee on sold items for up to 3 customizable products
Shopify Tools: The Future Of Online Sales
If your numbers aren't what you want them to be, the right Shopify tools can address your problem areas and boost your sales. Whether that means showcasing your best reviews or rewarding your most loyal customers with cool perks, there's a Shopify tool for you!
Adding a product customizer like Zakeke is a fun and easy way to engage your customers, promote your products, and see your sales skyrocket. Check out this actual product demo and experience the Zakeke difference.