Zakeke, the leading cloud-based visual commerce platform that allows anyone to easily customize and configure products online, at their retail location, and everywhere in between, today announced a new product update to its platform. Take a look at them:
NFTs – Enhanced Products
Get ready to revolutionize your eCommerce game with Zakeke's latest feature: NFT-Enhanced Products! Zakeke's now allows you to offer not only customized and configured products in 2D, 3D and AR but also the purchase of unique NFTs (Non-Fungible Tokens) along with real items. With this feature, you can take your customization game to the next level, offering customers to buy unique customized NFTs right from your eCommerce and a chance to own a one-of-a-kind product that is not only customized to their liking but also has a unique digital identity. This exciting feature opens up a whole new world of possibilities in eCommerce, allowing you to offer a truly unique and personalized shopping experience that is sure to captivate customers. So, get ready to take your eCommerce store to new heights with Zakeke's NFTs-Enhanced Products!
Discover all details and info here.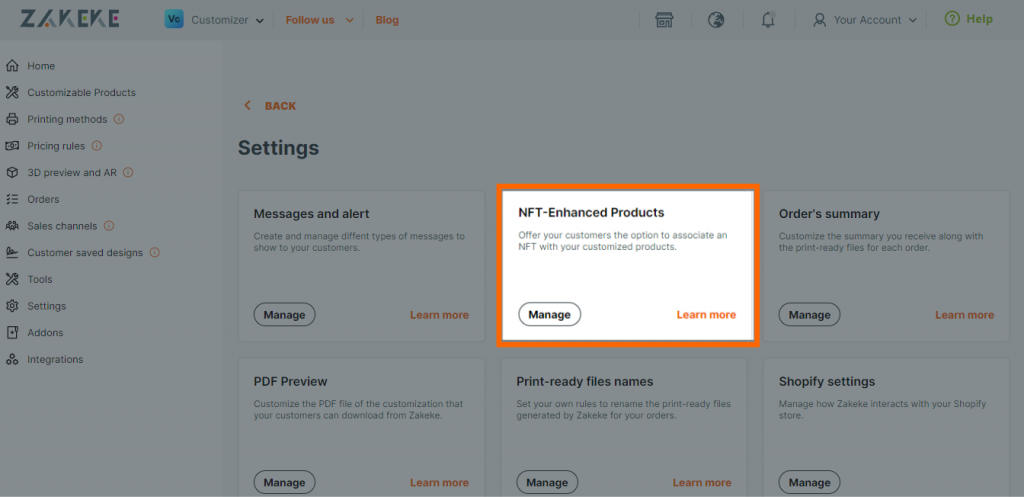 Large Files up to 1GB upload
Zakeke's comprehensive visual commerce solution offers a unique and valuable feature that allows online store customers to upload files that are larger than 50MB and up to 1GB while you receive print-ready files for large-format products such as wall/floor-coverings, banners, and large posters. This feature is particularly useful for customers who need to create custom designs for large-format printing and want to ensure that the final product is of the highest quality without compromising performances and visual results. With Zakeke's new large file upload feature, customers can easily upload their designs, in multiple formats and you receive the original print-ready files that are optimized for the specific product they have chosen. This not only saves time and effort but also ensures that the final product meets the customer's expectations and requirements and the process respect the highest quality to be provided.
Read this guide to check all settings.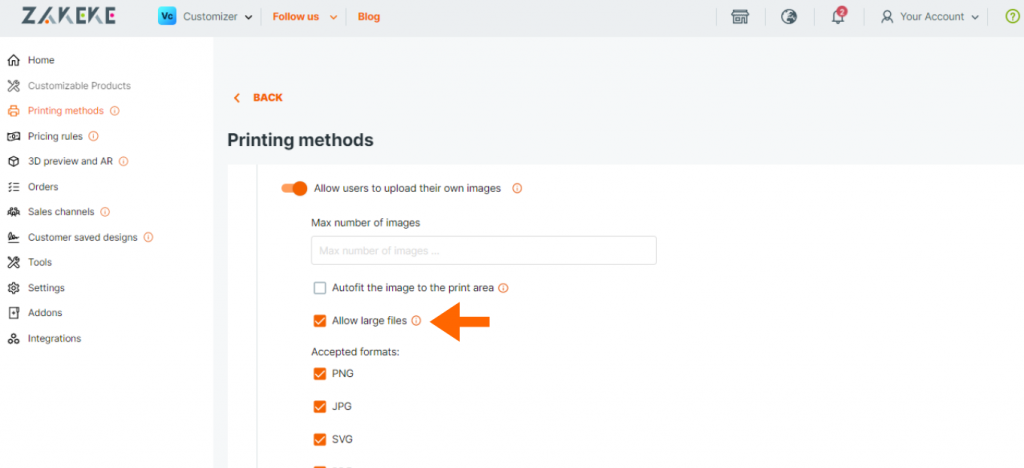 Pre-set configurations for products
With pre-set configurations, you have the ability to define new attribute and option combinations for products inside the Zakeke 3D configurator. These configurations serve as ready-made selections that customers can either purchase as is or utilize as a starting point for further personalization. Pre-set configurations can be defined for all the elements of your products or just some of them, giving customers the freedom to create unique designs based on your defined rules.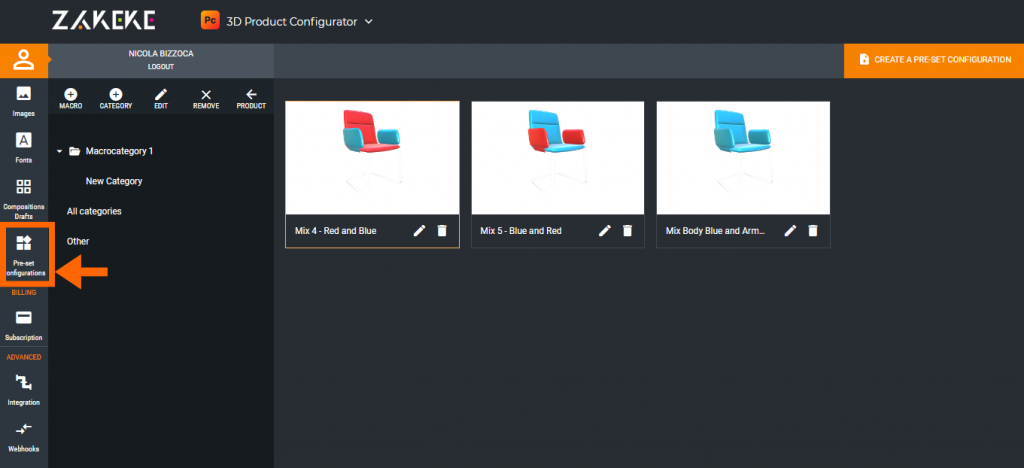 IMPROVEMENTS
New Camera options
Camera rolling, action! You can now link a camera to a step or a customizable area in the designer of the product configurator, meaning that you can make the camera automatically rotate when customers select a step or a customizable area to add a text/image in addition to an attribute or a group of attributes.
Check all detais of cameras and the scene editor here.
Edit design directly from cart for products with pre-designed templates
Make your life better, and your customers much better, that's our goal. That's why we've released the opportunity to edit a product design directly from the store cart even if the product has pre-designed templates made by you. In this way customers will pick it right up where they've left, without losing any detail or modification and, more importantly, without the need to recreate the process starting from the template selection.
Alphabetical order for Pre-designed templates
We've updated the default order for all of your pre-designed templates categories both on your dashboard and for your customers on your product page. From now on, you will find templates in alphabetical order, helping you during search and daily management of this fundamental feature inside Zakeke and your customers will have the same templates order once they start customizing your products. Constant steps towards automation, seamless organization and easy-to-use user interface.
Learn all things related to pre-designed templates here.
Stay up to date and follow us on LinkedIn, Facebook and Instagram