Augmented Reality (AR) is a type of technology that combines the real and virtual worlds using techniques to superimpose computer-generated images into a real-world environment.
AR technology and the future of footwear go hand in hand through improved shopping experiences allowing customers to try on shoes virtually. Adopting AR technology is enhancing the shopping experience through AR shoes try-on options and immersive advertising campaigns.
Increasing customer engagement and touchpoints promotes brand recognition, customer loyalty, and the potential for increased revenue.
How Augmented Reality for shoes works?
Unlike virtual reality, the technology that transports users into virtual worlds, Augmented Reality overlays virtual things into the physical world. In the shoe industry, AR technology is being used in several ways, including design, production, marketing, customization, and customer experience.
AR shoes are presented to customers through an interactive shopping experience, overlaying shoes into the physical world to view and ar try-on shoes before making a purchase.
AR shoes shopping involves interactive 3D images that seamlessly combine computer-generated elements and a real-world view in real time. An AR shoes try-on may also include accurate sizing capabilities. For example, Nike AR try-on features include AR measuring tools that measure a customer's feet down to the millimeter.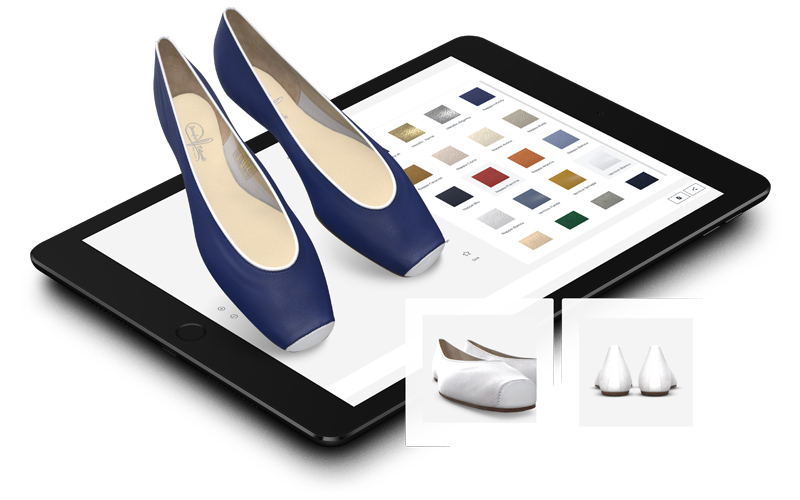 Advantages of using AR for shoes
Implementing AR technology in the shoe industry results in several significant advantages.
First, AR technology transforms the shopping experience through AR virtual try-on features;
In addition to the convenience of virtual try-on, shoes can be customized, and the risk of ordering the wrong size is reduced by measuring features offered by shoe companies like Nike;
3D images when presenting shoes to customers allow customers to view shoes from all sides and angles;
In addition, allowing customers to try shoes, visualize shoes, and essentially see them in real life through digital images layered on top of their real-world view leads to increased sales and reduces the risk of returns;
3D experiences when shoe shopping enhances customer satisfaction, giving retailers a competitive edge;
Another significant advantage of AR technology in the shoe industry involves marketing. Engaging marketing campaigns entice customers to interact with brands through virtual pop-up shops, gamification, and other features.
Applications of AR Shoes
Augmented Reality in the shoe industry is not a passing trend; it is significantly transforming the industry from manufacturing to purchase points. One of the many applications of AR shoes is in the fashion and retail space.
Virtual try-on shoes appeal to almost any shopper shopping for shoes for fashion or fitness. Sports and fitness applications for AR are seen through proper fitting techniques to improve athletic performance.
Some examples of companies already using AR Shoes
Several popular shoe companies already use augmented reality technology to elevate customer experience, promote products using engaging marketing strategies and provide customization options.
For example, Nike offers virtual try-on shoes through Nike Fit, an AR-powered app where customers can scan their feet and receive a recommended shoe size. Other companies using AR in the shoe industry include Adidas, New Balance, Puma, and Under Armour.
Through a recently launched virtual try-on, Amazon customers can use AR technology to try on shoes before purchasing them. Amazon shoppers frequently purchase, try on and return clothing items. However, AR technology has the potential to significantly decrease the number of returns when using try-on features for shoes.
Future of Augmented Reality shoes: what's next for e-commerce?
AR shopping is a game-changer for e-commerce. AR virtual try-on capabilities for shoes expand market reach, particularly for people who prefer to shop online. Shoe reselling platforms like GOAT now use AR technology.
Through ar try on shoes GOAT customers can even try on rare, collectible shoes, creating a fun, interactive experience for shoe lovers. Serving all mobile customers they offer a GOAT tryon feature for Android and iOS users.
Shoe brands jumping into the AR aspect of shoe marketing and e-commerce can explore AR shoes try-on GitHub projects allowing users access to AR try-on technology.
The potential for AR use in shoes, fashion, and many other industries is just getting started. There is an increasing demand and acceptance of advanced technology like AR. It offers cost-effective, engaging marketing and shopping experiences available in stores and online, enhancing customer experience and increasing the potential for sales.
Industries, including eyewear, cosmetics, manufacturing, education, and real estate, are a sample of business industries and sectors that can benefit from augmented reality.
How to get started with AR in shoe commerce: Zakeke
AR is transforming the shoe industry through interactive marketing and shopping experiences. Shoe brands need to adopt AR technology to gain a competitive advantage.
How to get started? This is where Zakeke steps in. Zakeke is a user-friendly platform providing companies with AR technology. Zakeke allows businesses to implement virtual try-on experiences for their customers using 360-degree product views.
Custom branding creates a consistent look and feels, increasing brand recognition and helping establish customer loyalty. Zakeke seamlessly integrates with most leading e-commerce platforms, including Shopify, Magento, Etsy, Wix, and many more.
Ready to take your business to the next level with the power of Visual Commerce? Contact us today to learn more, or try our 14-day free trial to test it yourself.