The jewellery industry is big business in the entire world, for example, according to a recent Statista Research, jewellery industry brings in 1.41 billion GBP in revenue in the UK. AR jewellery try-on technology is one way brands can coax back customers ready to shop again after the pandemic.
Also known as "virtual try-on software", "digital try-on tech", "virtual dressing rooms", etc., Augmented Reality (AR) let shoppers "virtually" try out jewellery, apparel, eyewear, even furniture and more, using an interactive App.
Let's talk more about the use of AR in the jewellery industry, how it works, and a few of its many uses and benefits in the world of ecommerce.
How Augmented Reality is changing the retail industry
More and more retailers are adding AR technology to their online experience to help consumers with the buying process and increase customer engagement.
A Snapchat and Deloitte report reveals AR use in various industries, including ecommerce, is tracking similar in scale to the mobile phone explosion of the mid-2000s. A recent Google Consumer AR Survey found 66% of all shoppers were interested in trying AR in ecommerce.
The use of AR in retail, especially for virtual jewellery try-ons, gives shoppers the power to interact with digital content via an App as if the item(s) was in their own home or office. One easy way to understand AR try-ons is to compare it to a social media filter used to personalise a user's real-time image.
How does Virtual Try-On AR jewellery work? Augmented Reality combines different technologies including AI face detection, tracking, cameras, and more so users can see how an item will look in real life.
This interactive Augmented Reality technology generally works by:
Displaying digital imaging of the selected item;
It then overlays digital content over real-time imaging from the consumer's smartphone or device;
Next, AR merges the two–displaying digital content overlaying the customer's image from the smartphone, as if the item and the shopper are together in the same environment.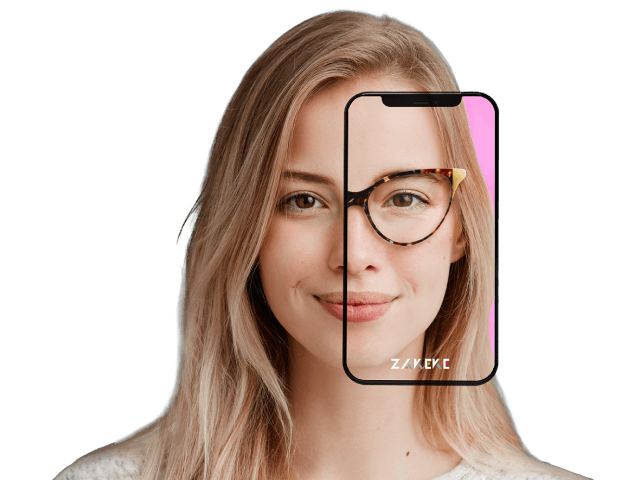 Different ways to use AR in the jewellery industry
High-end luxury items, like jewellery, that have been a harder sell in the past online will see an increase in ecommerce revenue with more use of AR and VR technology by manufacturers.
One way this increase is expected to occur is through more sales of custom products. AR is an especially valuable tool that ecommerce stores can use to highlight customization options to customers. 
AR in jewellery ecommerce stores offers boundless possibilities, but there are two most popular use cases: product configuration and Virtual Try-On.
Jewellery customization and configuration with AR
Product configuration for jewellery is how ecommerce offers large-scale customization to shoppers. Product configuration, leaning heavily on modern modularization tools, lets ecommerce meet specific customer needs.
Many online tools are integrated into online stores, giving shoppers a range of customization options. Jewellery customers can personalize everything from colour, jewellery type or style, finish, and gemstones. Add custom names or monograms, and more.
Meanwhile, AR try-ons camera-enabled devices into virtual showrooms so users can see their customizations in 3D. Shoppers create designs — mixing and matching different elements — then view the result using an AR try-on before hitting "buy."
Virtual Try-On jewellery using AR
Shoppers spend 10,719m GBP on jewellery and watch in the UK alone. An expected increased use of AR try-on jewellery software should drive sales even higher as these apps give a full Shopping Experience to users.
AI and machine learning verifies object or person seen in the device's camera. Then, the app overlays the jewellery image selected. Next, AI tracking and other tools are implemented so orientation, placement, and size adjust as needed. If the person moves the object (jewellery) moves also, as if in the same space.
Let's see an example: if shoppers want to see how a ring or bracelet will look on them, they can activate AR view, and see the ring in AR and 3D. The App device's camera is activated, allowing the app to overlay imagery of the ring or bracelet onto a real-time camera feed of their hand/arm.
You've likely already seen AR try-on at many retailers, such as Tiffany and Co which used virtual jewellery try-ons for ecommerce and social media.
Benefits of using AR for jewellery businesses
Augmented Reality can help jewellery ecommerce stores in many ways:
According to Bain and Co, luxury sales to Gen Z and Gen Alpha will grow 3x faster than other generations from now until 2030. These generations are also more likely to adopt AR and all the last technologies on the market.
Improves Shopping Experiences
Consumers want more choices. AR try-on apps are more efficient. They're a timesaver, giving shoppers across all demographics more shopping options. The use of AR also improves social selling as Apps are used by customers to share looks, and get advice from friends as they shop online.
Better Customer Experience
One challenge for ecommerce is meeting consumers' desire to try-on jewellery items before purchase. Virtual try-ons fulfil this need. Also, shoppers using virtual try-ons are less likely to return items since AR helps them better visualize the jewellery item.
Increases sales conversions
According to Shopify, merchants with 3D & AR content including virtual try-ons saw an increase in conversion rates by 94% on average. Also, since it's easier for customers to shop on websites with AR, higher customer satisfaction is likely.
Data gathering is also available
AR apps also can be outfitted with AI modules gathering data to provide useful shopper insights.
How to get started with AR jewellery
You can start providing your customer with the possibility to customize and see in 3D & AR your jewellery items simply by choosing the right tool: Zakeke.
The time will never be better to start using Zakeke's powerful 3D Configuration and AR tools to bring a more immersive Shopping Experience to your customers. Use AR to provide immersive, interactive visuals that will bring your products to life and increase consumer confidence in your jewellery brand.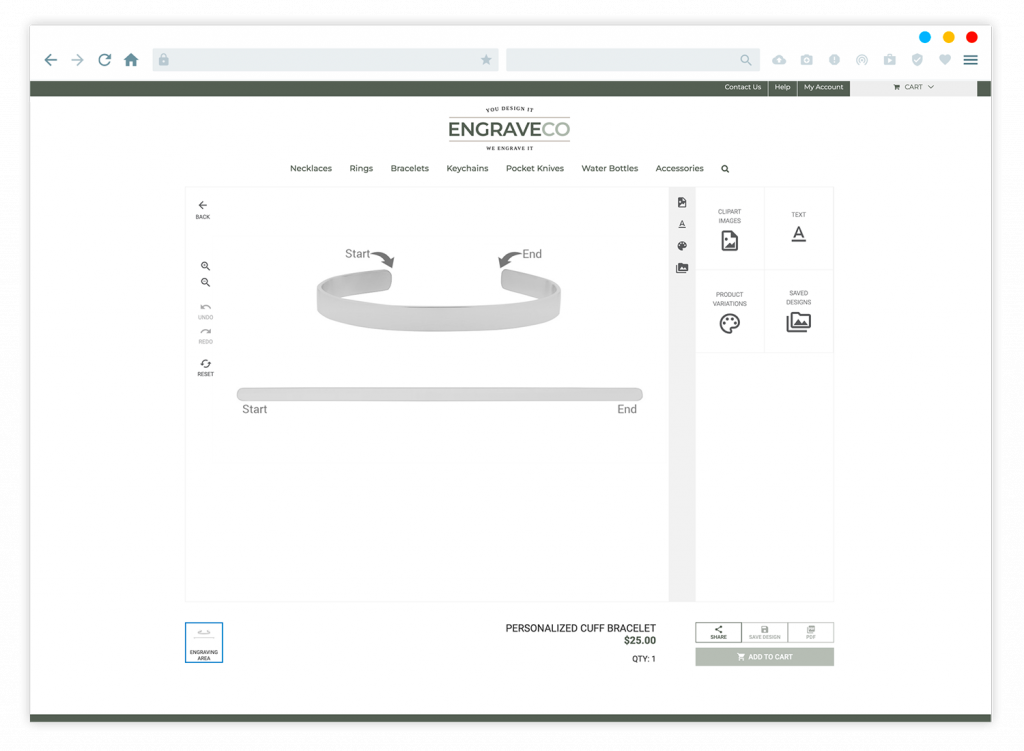 Zakeke is an all-in-one Visual Commerce platform that can increase your sales and conversion rates through the power of 3D Configuration and AR. Easy to set up and implement, Zakeke integrates seamlessly with the most used ecommerce platforms including WooCommerce, Shopify, and more.
So, are you ready to implement powerful Product Configuration and jewellery AR try-on for your ecommerce? Let's start from now with Zakeke!
If you are wondering what you can do with Zakeke, check out our DEMO STORE.