Competition in the eCommerce marketplace is fierce. You need to use effective and scalable solutions that integrate perfectly with the platform you are using to beat the competition. In other words, you need a tool that helps you to immediately meet the needs of your customers, needs that quickly change.
What kind of tool? A Product Customizer & 3D Configurator is the answer. By using such a tool on your BigCommerce store, you will be able to immediately adapt your business to trends, eliminate unsold stocks (as you will only produce the ordered products) and increase customer trust as shoppers can enjoy a personalized shopping experience.
In fact, 40% of online shoppers demand product customization experiences and prefer brands that offer exclusive experiences and are willing to spend 17% more than the average price for a better customer experience.
What is a BigCommerce Product Customizer?
A product customizer is a software application that allows customers to customize the products directly on your online store. In the case of a product customizer like Zakeke, the experience is enhanced by 3D models that allow customers to get in touch with the product, exactly as it happens in store. It offers a new way to interact with products. Customers can view them from any angle, rotate them, zoom in and so on. They can also change material, choose elements, etc. In other words, they can do everything they would do in real life.
Why use a BigCommerce Product Customizer & 3D Configurator?
A BigCommerce Product Customizer & 3D Configurator gives your customers all the tools they need to create exactly what they want to buy. The advantages of implementing a product customizer in your BigCommerce shop are countless. Let us try to list the main ones:
Conversion rate: recent studies reveal conversion rates increase by up to 250% on product pages with 3D models and AR technology and that customers are willing to pay more for the products they have designed and customized. Product customization helps the customer in the decision-making phase. People tend to remember 80% of what they see. That is why 83% of buyers say that the purchase decision is influenced by the quality and quantity of the available product images and 67% of consumers say high-quality visual content is more important than product description or customer ratings.
Cost-Effectiveness: using product customization software helps your business reduce costs too – especially if your business stocks – or dropships – generic items that can be simply configured through a print on demand service. In addition, it eliminates the need to present endless variations of the same product on your site. You simply let your customers get creative.
Return reduction: E-commerce has a higher rate of return than the physical store. It is around 20% versus 8-10% respectively. A product customizer with AR and 3D technologies allows the customer to inspect every detail. The image will be as close to reality as possible, increasing customer satisfaction and thus reducing the return rate.
Customer engagement: Interactive product configurations engage customer and entertain him longer on your BigCommerce store. This increases the chances of that customer will actually buy your product. Product customization lets customer become more attached to the product itself and to the brand.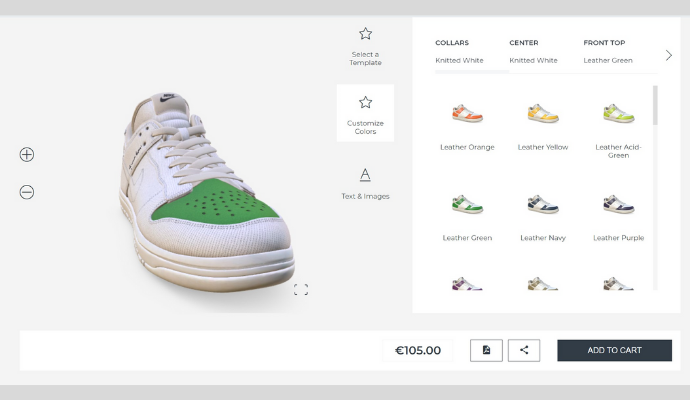 What can you do with a BigCommerce Product Customizer & 3D Configurator?
Options are endless. The only limit is your imagination. To give you a taste of what you can do with a BigCommerce Product Customizer & 3D Configurator visit the demo store where you can see Zakeke in action.
Here are the best features that a BigCommerce Product Customizer & 3D Configurator must have:
3D Configuration: customers have to be able to build their own versions of your products, choosing component, changing elements and materials, customizing colors and more and more.
AR e 3D view: customers have to be able to see the personalized item in their own space in real size via Augmented Reality and see a live and realistic 3D model of the product that they can zoom in on, rotate and interact with. Learn more on the importance of 3D Commerce.
Unlimited configuration options: you need flexibility and scalability. A BigCommerce Product Customizer & 3D Configurator must give you unlimited configuration options. That it to say you have to be able to set multiple colors, sizes and style of the same product; to create templates of editable area of your product instead of letting customers personalize it from scratch; to define rules and restrictions for each design, to make customizable all sides and angles of your product or choose among simple print or all-over print.
Flexible printing methods: you have to be able to set unlimited printing methods for one or more products, sides and variants. You can define settings for your print-ready files that can be used for engraving, embroidery, and personalization methods other than printing.
Omnichannel approach: it is a mistake to think that product customization is only for online store. The trend is to mix traditional shopping with digital shopping in an omnichannel perspective. In other words, creating a unique customer experience, which integrates online and in-store services. Just a tablet to bring product customization in-store.
How to integrate a Product Customizer & 3D Configurator?
Zakeke can help you integrate a Product Customizer & 3D Configurator into your BigCommerce store. Zakeke is an innovative cloud platform that integrates all the best features a product customizer must have. It provides solutions for all types of businesses: from small businesses to the most important international brands. It is one of the world's best product configuration platforms with unprecedented 3D image quality.
Zakeke provides incredible 2D imagery, cutting-edge 3D configuration and augmented reality functions. Take a look at the demo store and see for yourself.
Stay up to date and follow us on LinkedIn, Facebook and Instagram