eCommerce is evolving. New technologies came out and the number of online buyers is increasing. To meet the growing demand for orders, all you have to do is optimize the time and improve the process that makes you waste time. This is the need that prompted Make Badges – a company on BigCommerce – to look for Zakeke, an easy-to-use product customizer for online and offline stores.
About Make Badges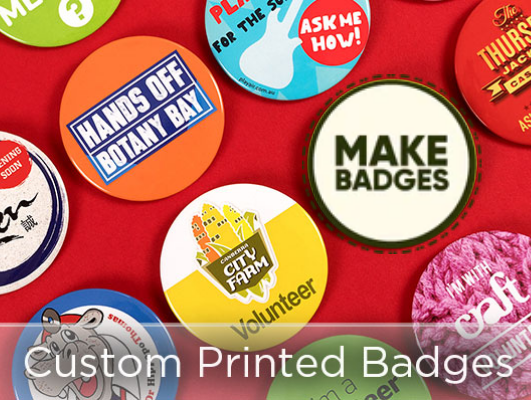 Born in 2004, Make Badges is an online business taking orders from all around Australia. As the name suggests, Make Badges is a company that sell badges that customers can customize. As you can imagine, the category of their customers is potentially countless: small business, large business, schools and universities, local government. Or just people who want badges for birthday, political campaign, or other celebrations.
I started the business probably about 16 years ago, as a hobby. And slowly over the years, it is grown into a larger and more successful business now employing about six. It has been fun to grow the business and see the success and get other people involved.
Paul West – Owner & Director of Make Badges
The Challenge
Manual work was drowning Make Badges
At the beginning, Paul and his team received orders from the customer via email or via an online form on the website. Most of the work was done offline. The Make Badge staff downloaded the design, modified it, resized it, made it compatible with the shape of the badge and sent it to the customer for final approval.
Then they decided to use an eCommerce platform, BigCommerce, but the problem went on.
We have slowly moved to BigCommerce which allowed customers to upload an artwork file, but they didn't get any opportunity to see a preview on the site or do any sort of image formatting, or design work. So, we had to do a lot of that work ourselves offline. This means to spend a lot more time resizing and formatting artwork, and then sending that back to the client or the customer for approval, making any changes.
Small orders were a problem
When all the work is manual, orders that are too small can be a problem. You have to insist with the customer and you risk losing customers. So, Paul began to feel the need to find a tool that would optimize time and thus allow him to accept even minimum orders.
Other product customization tools fell short
Once on BigCommerce, Paul started looking at the evolution of online design tools, but everything was available in Flash. At that moment, they chose another tool before running into Zakeke, but it wasn't exactly what they needed. It was slow, had few features and did not perfectly support various operating systems, browsers, and devices. And customer complaints increased.
We use it for a little while but it was exactly what we needed. The other app we're using before Zakeke was a bit slow. It wouldn't always load on different platforms, operating systems and browsers and different types of devices whether it's mobile or desktop. So, it wasn't always easy to use it.
The Solution
Paul wanted to build something that played nice with BigCommerce and that would scale. He wanted to fulfil more orders in time and keep customer satisfaction high.
A Product Customizer easy to use
Make Badges needed a tool that allowed them to start a self-serve approach for their business. They could not continue to receive client requests, personalize products, and approve designs manually if they wanted to scale.
We were happy to move when we found Zakeke because it has more features than the previous tools we choose and is very easy to use for us and for our customers. Zakeke makes customers able to do a lot of work themselves. And now it's simpler for us to open the file, make sure it's suitable for printing and then send it off to print. But also on the back end, setting up the products was very easy. I like the way you can just skip through the five or six steps in setting things up.
Customer satisfaction first
What was important for Make Badge was to offer the customer a satisfying user experience with an easy-to-use tool regardless of the platform, type of devices or operating systems they are using.
We have less Customers calling up saying that something isn't working, or they can't do something perfect now we're using Zakeke. So that's a good sign. That's less honest problem for us. And One less problem for our customers.
Badges have a circular shape. Therefore, many customers want the text to follow the natural curve of the badge. Finding a product customizer that shows exactly what the text will look like is not so obvious.
A lot of customers like to include text in their designs. The text tool in Zakeke is very good, particularly the way you could do text on a path. The customers could have the text curving up or down on the badge. A lot of our products are circular there. Round in shapes. So it's common for people to want to put text that follows the round curve of the product. So a lot of design tools that we've tested, we always test how well they could do text on a path. And some of them were pretty bad at it. Zakeke is really good at using the text on a path and is very easy for customers to do that as well.
To get satisfied customers, it is essential that they see exactly what the product they are buying will look like. That's why Make Badges is using Zakeke 3D Live Preview.
3D Live Preview also helps customers visualize exactly how their design is going to look on a product.
---

The Result
Make Badges still offers the option to submit your own designs as they did in past, but this tool is mainly used by professionals.
About 30% of order still come like that but 70% of people are using Zakeke. Our future goal is to use only Zakeke.
Make Badges is now more flexible on the minimum order quantity because Zakeke turned out to be a time saver. So, they can satisfy even customers who have small orders to place.
Most of the work is done by the customer and this allows us to process orders more. We don't have to insist on minimum order quantities because there's not as much work involved. Customers can do small runs of one or five or 10 products at a time.
Zakeke allows Make Badges to always have the right print-file formats and to offer the customer a high quality product.
The biggest difference now is that we're able to influence the way customers are providing their artwork to us. In the past, we used to get all sorts of files in all sorts of formats. Not all of them suitable for printing. The way we've configured Zakeke ensures that the customers are providing artwork that is suitable for printing. This is a benefit for us because it is less work for us, but it also a benefit for the customer, ensuring that the product we deliver to is going to be what they expected, and also over the same quality that they would have expected.
SEE ZAKEKE IN ACTION & START 14-DAY FREE TRIAL NOW
Stay up to date and follow us on Linkedin, Facebook and Instagram.