The retail industry has undergone drastic changes in recent decades, and one of the most exciting new trends is the emergence of metaverse retail. As technology continues to advance at unprecedented rates, more consumers are gravitating toward virtual reality and other digitally immersive experiences, which is having a profound effect on the retail market and the retail economy at large.
In general terms, metaverse retail refers to the practice of creating a virtual shopping experience that simulates the look or "feels" of real-world stores. Some popular metaverse examples include the Gucci metaverse, which allows customers to browse and procure virtual versions of the fashion brand's products, and the Walmart metaverse, which offers a more traditional retail shopping experience in a virtual reality environment.
These retail industry trends are expected to continue and evolve, as more brands look to create their own fashion metaverse or metaverse store to engage with customers. In truth, many retail blog websites are already exploring the potential of the metaverse as a new frontier for retail shopping.
As more companies and brands dip their toes into the metaverse market, the metaverse shopping mall will likely become a major feature in future retail stores. And as these brands in the metaverse continue to innovate and push the boundaries of what's possible, who can say for sure what's in store for the future of retail stores?
Understanding the Metaverse
The term "metaverse" describes a virtual realm populated by millions of users and their avatars. The metaverse is a shared space that is completely immersive, interactive, and user-generated. In recent years, several companies have set up shop within the metaverse, so to speak, as a way of providing additional methods for shoppers to browse and purchase goods. Nowadays, the metaverse is a way for retailers to connect with their customers from all over the world and provide them with a truly unique and engaging shopping experience.
Metaverse shoppers have the chance to browse a virtual store, interact with products and make purchases in a highly immersive and interactive way. And all of this can be accomplished with only some basic Virtual Reality (VR) or Augmented Reality (AR) equipment.
One of the key advantages of the metaverse in retail shopping is that it enables companies to provide a highly personalized experience. In addition to creating their own avatars, shoppers can navigate the meta mall at their own pace, interact with other shoppers, get feedback and recommendations from virtual sales assistants, and even share their shopping experiences on social media or with other metaverse users.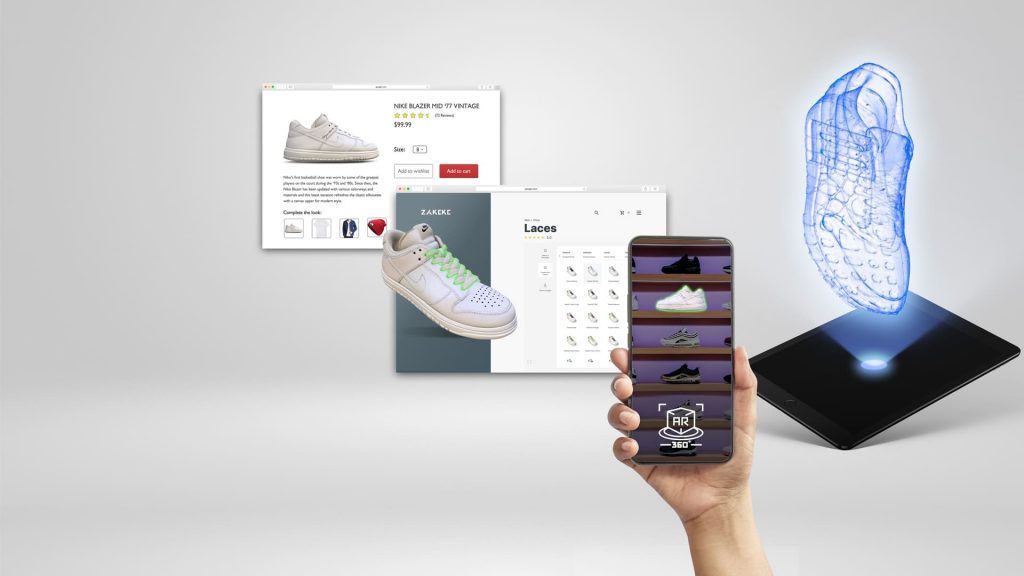 The Metaverse's Impact on the Retail Industry
The metaverse has already had a significant impact on the retail industry and it is widely expected by many to continue to revolutionize the way consumers shop as more brands explore the potential of virtual shopping experiences.
These retail trends in 2023 are driven primarily by increasing demand for personalized, immersive shopping experiences for consumers. The metaverse provides retailers with a unique opportunity to engage with customers in new and exciting ways that are not available in traditional retail channels.
As a result, the metaverse market size 2030 estimates indicate that the industry is projected to reach $1 trillion. And as more brands funnel into the metaverse and other digital landscapes, consumers are likely to see more and more virtual shopping malls, where customers can browse a variety of stores and make purchases in ways they simply cannot through traditional methods.
Companies that are quick to adapt to these new trends and possibilities will likely be more able to provide customers with new, engaging shopping experiences (while simultaneously increasing revenue streams and their market share). Ultimately, consumers can expect that the metaverse will revolutionize the way people shop and experience retail for many years to come.
Summary of the Future of Metaverse Retail
With the major shift towards more virtual shopping experiences, both consumers and businesses are having to adapt to new ways of shopping and selling products.
Consumers, on the one hand, are increasingly seeking out personalized and immersive shopping experiences. Within the metaverse, shoppers can check out digital products and get a real feel for what they are buying, even though they're not physically present in a retail store. Consumers are also getting used to being able to share their experiences in the virtual world and chat with other metaverse users about online retail.
On the other hand, businesses are having to adapt to the metaverse by designing virtual stores and enhancing their online presence. Real-world obstacles to store design do not necessarily apply to digital applications, so businesses must find ways to make the most of their digital space.
One of the major challenges businesses face in this new digital frontier is simply understanding the technologies and infrastructures involved in supporting metaverse applications. This can be a time-consuming and costly process, as the skills to efficiently leverage these technologies are still relatively new.
Another challenge many businesses face is ensuring that the virtual shopping experience in metaverse retail is accessible to everyone, regardless of their location or physical abilities. This means businesses must invest in developing accessible technologies that can support a wide range of devices to provide a seamless, pleasant experience for all users.
The rise of metaverse retail is ushering in numerous significant changes in consumer behavior, business operations, and the retail industry as a whole. While there are certainly obstacles and challenges associated with implementing this new technology, the potential benefits are astronomical – and not yet fully understood.
As more businesses invest in the metaverse, consumers can expect to see a greater shift towards more personalized and immersive shopping experiences that forever transform how the retail industry operates.