In a time of mass-production and global consumption, consumers are looking for new ways to express their individuality. It used to be that you could go into your local shop and find unique items that very few others would also have. With the advances in technology however, finding unique items has become more challenging with products and styles being dispersed globally and made accessible to the masses.
Shying away from conformity, consumers are now looking for brands that can offer, through product customizers, new solutions that can provide them, online and offline, with the individuality they are looking for.
We are Moving into the Age of Personalization
To satisfy the desire for personalized and unique items, brands have begun to offer consumers the opportunity to design custom products both online and in store. This trend towards personalization has been occurring across the luxury market, with brands like Burberry, Louis Vuitton, Gucci, and Ralph Lauren all offering some form of personalization services.
A strategy of personalization is not only effective for satisfying consumer needs, but it is often a highly strategic and profitable venture for brands themselves.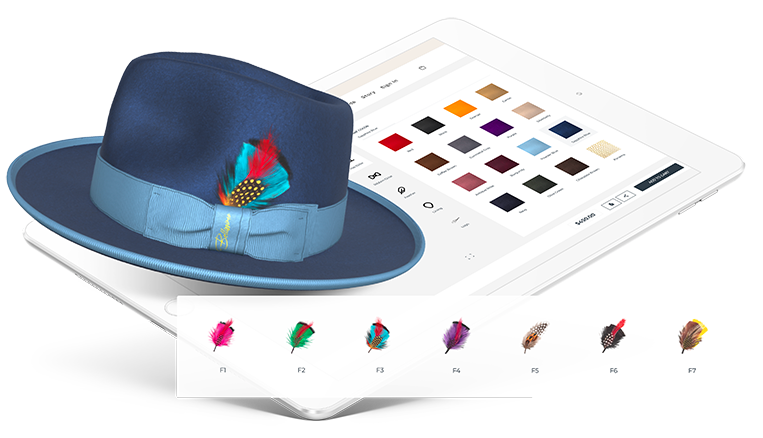 Increased Engagement
To create a customized item, the consumer must play an active role in the design process and increase their overall engagement with a brand. In an environment where consumers have endless choice, engagements are one of the most valuable assets a brand can have. The process of customization allows brands to form deeper relationships with their consumers and use their increased engagements to strengthen brand loyalty. This opportunity is invaluable for brands wanting to differentiate themselves, increase average customer spend, and grow their market share.
More Word-of-Mouth Referrals
When a consumer can design their own product, they are more likely to have a strong emotional attachment to the product itself. The consumer will have a pride of creation and ownership, making them more inclined to show-off and discuss the product with their peers. This desire to share will increase word-of-mouth advertising for a brand. Similarly, the strength of the consumer's emotional attachment can help encourage other consumers to put their own spin on a brand's product.
Higher Price Tags
With 1-in-5 consumers willing to pay 20% more for a personalized item, personalization can generate a significant revenue stream for brands. By developing a business plan that strategically leverages both mass-market and personalized products, brands can strategically increase profits while also satisfying consumer needs.
How to Leverage Technology for Personalization
When it comes to integrating personalization services into a brand's business strategy, technology will play a key role. Consumers not only expect the opportunity to customize products, but they also expect a seamless and high-quality customization experience. Equipped with the right technologies, brands can easily satisfy consumers expectations and provide an exceptional, unique product and a memorable brand experience.
Augmented Reality (AR) & 3D Configuration
When designing a customized product, the conceptual or digital picture a consumer has of the product is not always the same as what it will look like when held in their hands. By leveraging an AR viewer or 3D configurator, brands can provide customers with a more accurate representation of what their final product will look like. Through virtual-try-ons and detailed views of the product, customers will know exactly what to expect. Offering this level of service will not only improve customer's satisfaction with the final product but it will also elevate the entire customization experience.
For optimal use, an AR viewer or 3D configurator should be made available on both a brand's website and in-store locations. This will allow for a more seamless execution and allow brands to cater to customers no matter how they choose to shop.
Choosing the Right Technology Partner
Products are not all created equally, and neither is technology. To ensure the tech experience reflects the quality and identity of the brand, choosing the right tech partner is essential. Brands should look for a tech partner that fully understands their customization needs as well as the behaviours and preferences of their target customers. This will ensure the final product is created with the customer and brand in mind.
The Future of Personalization
As personalization becomes more mainstream across luxury brands, developing future growth strategies and roadmaps will be critical for on-going success. Brand's that are looking to implement personalization should consider the following future trends and opportunities when building out their personalization strategy.
Data Collection
As more and more customers shift towards purchasing customized products, brands will be able to collect valuable data on consumer behaviours and preferences. Tracking and monitoring the types of products customers are choosing to customize will help brand's plan out their product lines and offer additional personalized services that align with current behaviours.
Implementing Personalization Across the Business
Offering customized products is just one piece of the personalization puzzle. For truly great results, brands should consider how they can implement personalization across all business departments. This might include implementing customized communication strategies, offers, product recommendations and experiences. By creating a comprehensive personalized strategy, brands will be able to extend the efficacy of the personalization strategy and increase brand loyalty and affinity with consumers.
Merging goals of scalability and individuality is the challenge for brand's looking to excel at personalization. By creating and implementing processes, systems, and technologies that enable the co-existence of both scalability and individuality, brands will be able to capitalize on the shift in consumer preferences, build their brand loyalty, and re-affirm their position in the market.
Zakeke works with clients in diverse industries ranging from fashion to paper products in integrating tech solutions into any e-commerce store. Get ahead of personalization and schedule a demo today.
If you are wondering what you can do with Zakeke, check out our DEMO STORE or start the FREE TRIAL.