E-commerce platforms like Shopify have changed the game. Gone are the days where you need to hire your own web developer to put up an online shop—you can simply sign up to Shopify, upload your products, and start selling to customers in just a few minutes.
Even better, you can enhance the shopping experience with third-party apps. One of the biggest trends in e-commerce today is the use of product customizer apps to give customers the exact product they want.
In this article, we're going to list our top 5 Shopify customizer picks and tell you how you can go about finding the right one for your needs.
What Is A Product Customizer App?
A product customizer app is a third-party (a.k.a. NOT designed by Shopify themselves) add-on that allows customers to customize their products before they purchase them. Depending on the app, they can choose different colors, add images and text, and much more.
The most common customizable products are mugs, t-shirts, tote bags, phone cases, business cards, stickers, and caps.
Benefits Of A Product Customizer
Express Individuality
Customers love it when they can put their personal touch on a product. They get to have a unique and truly one-of-a-kind item. Naturally, customers will flock to brands that give them a platform to express themselves in the way they want.
Enhance Engagement
When customers are involved in the design process, they form a connection to your products and your brand. Providing a personalized and streamlined shopping experience is a great way to encourage customers to come back to your business again and again.
Improve Sales
Customized products make for wonderful birthday, anniversary, and Christmas gifts, so you can expect a bigger share of the market. Plus, you can charge more for each customization option.
Personalization also makes customers more likely to buy something and less likely to return it, which means higher profits for your business.
Factors To Consider When Looking At Product Customizers
Integration
The first thing you have to look at is whether or not the product customizer you want is actually compatible with your e-commerce platform. Some incredible apps are limited to WooCommerce or Magneto, and you don't want to waste your time checking out something that won't work for you.
The best way to go about it is by checking the Shopify app store. This guarantees that you'll have a product customizer that actually works with your online shop.
Available Products
How many customizable products do you want to sell? 1? 5? 100? No matter what the number is, keep it in mind when shopping around for customizers. Some apps will charge the same regardless of the number but will have a higher starting price. Others may be cheaper but impose a limit on how many products or orders you can have.
There's no one-size-fits-all solution here. You might need unlimited product options; you might need just a few. More is not always better, especially if you're shelling out a lot of money for product options you don't even use.
Customer Service
If your shop is an important source of income for you, the last thing you want is for it to be glitchy or non-functional. In an ideal world, your product customizer should work 100% of the time.
But in the real world, even the best apps break down and malfunction once in a while. When that happens—and it will happen—you'll need the developer's customer support to be on top of things.
Before signing up, check if support is part of your package. It is included in most, but some apps only provide support for premium plans.
Reviews
You wouldn't make such an important purchasing decision without doing your research first, would you? Reviews are a great place to read beyond the high praise of the product description. You get real feedback from real clients. Take your time and look at everything—the good, the bad, and the ugly. This will help you make a better, more informed decision.
The Best Shopify Product Customizer Apps
Zakeke
Zakeke is an easy-to-use product customizer that integrates with Shopify. It is the first and only customizer offering real-time, 3D preview.
Zakeke has a sleek, intuitive user interface that makes it fun and easy for your customers to design their own products. They can choose from your design library, modify the item with options, or even upload their own designs.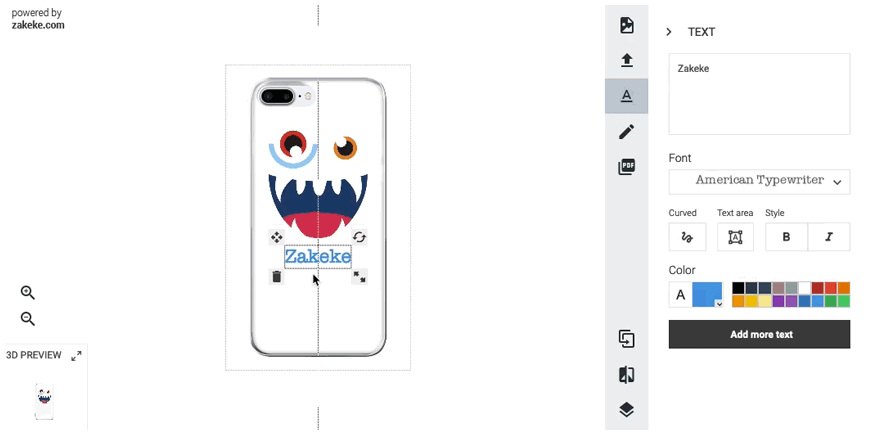 Customers can choose to change the colors, add text, or decorate the product with images. The real-time 3D preview allows your customers to view the item before hitting "add to cart". This ensures that they get the exact design that they want, without any messy back-and-forths.
Most shops push their own products, but you can use Zakeke even without your own inventory. How does that work? With Zakeke, you have access to print-on-demand companies like Printful and CustomCat. When a customer fills out an order, it's automatically processed, fulfilled, and shipped by the supplier.
The packages are priced based on the number of customizable products you want. This might be limiting for shops who want hundreds of products, but great for those who just want to offer a select few.
Features
14-day free trial
Real-time 3D preview
Fast & intuitive user interface
100% mobile responsive
Cloud-based
Responsive customer service
Integrates with print-on-demand services
Pricing
Standard – Starts at $6.99/month for up to 3 customizable products (depending on your platform)
Product customization
Mobile version
Unlimited storage
Free updates
Print-ready files
Daily helpdesk
Integrated print-on-demand & drop shipping services
Premium – Starts at $6.99/month* for up to 3 customizable products (depending on your platform)
*plus 1.9% transaction fee on all sold products
Everything in the Standard package
3D preview
Product customization and image editing tools
Increased image upload size
Advanced price matrix

Print-ready files

Remove "powered by Zakeke"
And much, much more
Qstomizer
Qstomizer smoothly integrates into Shopify—it's compatible with multiple themes and is pretty easy to configure. It also supports multiple product types like stickers, flyers, and business cards. Even better, it's mobile-friendly, meaning your customers can shop on your site from their phones or tablets.
There are endless design options with Qstomizer. Customers can add their own images or even pull photos from Instagram. They'll have access to a selection of filters and fonts they can use to prettify their products.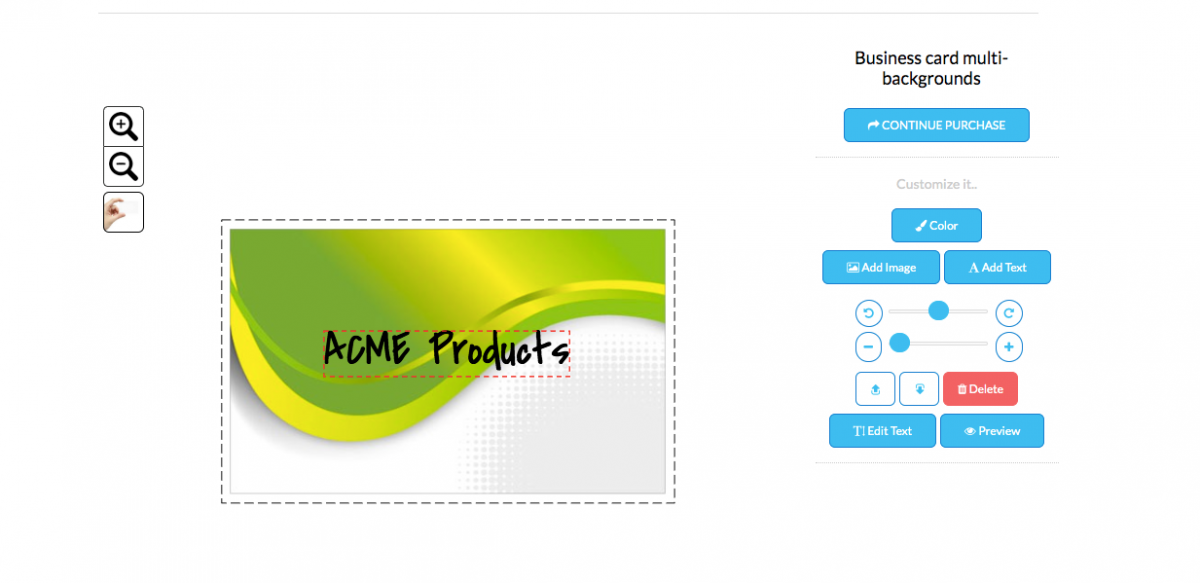 But there are a few disadvantages to using Qstomizer. Their basic package is pretty pricey compared to other apps, and it doesn't even come with customer support. Even then, the short free trial period means that you have limited time to test it out before you make a decision.
Still, we have to admit that the professional plan is a pretty good deal for shops who can make the most out of unlimited product options.
Features
7-day free trial
Cloud-based app
Instagram integration
Responsive and mobile-friendly
Support for multiple languages
Pricing
Basic – $19.99/month
Up to 10 customizable products
Up to 20 orders per month
Up to 1GB for customer images
Advanced – $29.99/month
Up to 20 customizable products
Up to 50 orders per month
Up to 2GB for customer images
Remove Qstomizer logo
Professional – $49.99/month
Unlimited products
Unlimited orders
Unlimited customer images

Remove Qstomizer logo

Priority email support
Product Customizer
Product Customizer is as simple and straightforward as its name. You get unlimited customization options for each of your products, including drop-down menus, text inputs, and even file uploads. This gives your customers a lot to work with.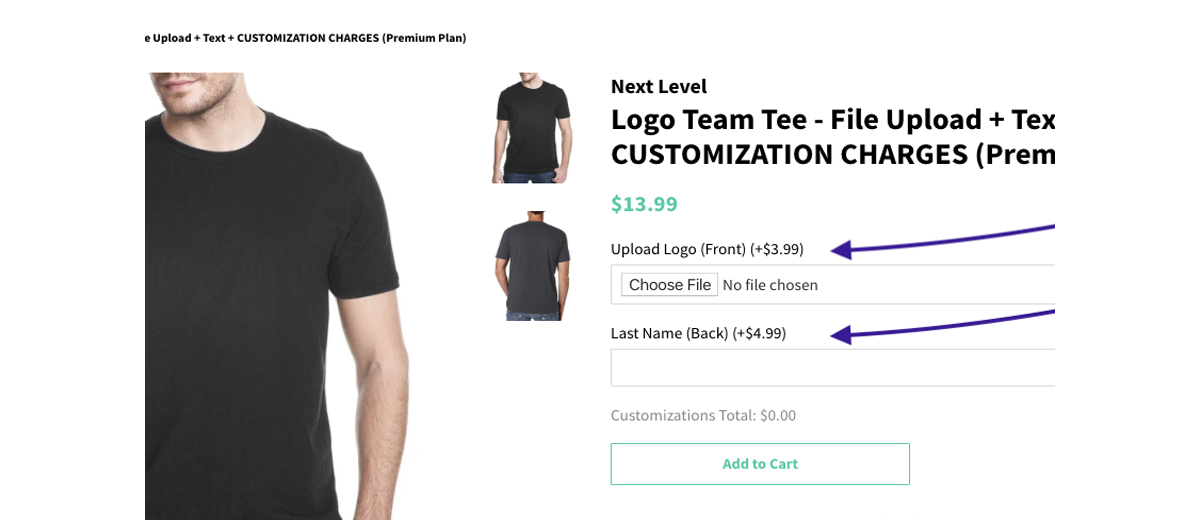 One of the best things about Product Customizer is that you can easily search and filter products as well as make bulk changes and apply them to a large volume of items.
The downside is that there isn't a 3D preview, so customers won't get to view their design in real-time. The upside is that pages tend to load faster because of this, and it makes for a more seamless customer experience.
Overall, we'd say that Product Customizer has its limitations, but it's a great starter option.
Features
14-day free trial
Unlimited customization options
Bulk customization
Responsive customer support
Pricing
Basic – Starts at $9.99/month
Unlimited inputs, dropdowns, and uploads
Free installation and email support
Premium – Starts at $19.99/month
Everything in the Basic package
Increase prices for product variations
Show or hide customization options
Premium Plus – Starts at $99.99/month
Everything in the Premium package
Priority phone support
Dedicated account manager
Customify
With the cheapest package being absolutely free, Customify is definitely the most affordable option on this list. It is limited in terms of storage and the number of products you can offer, but you still get access to the app's incredible customization options.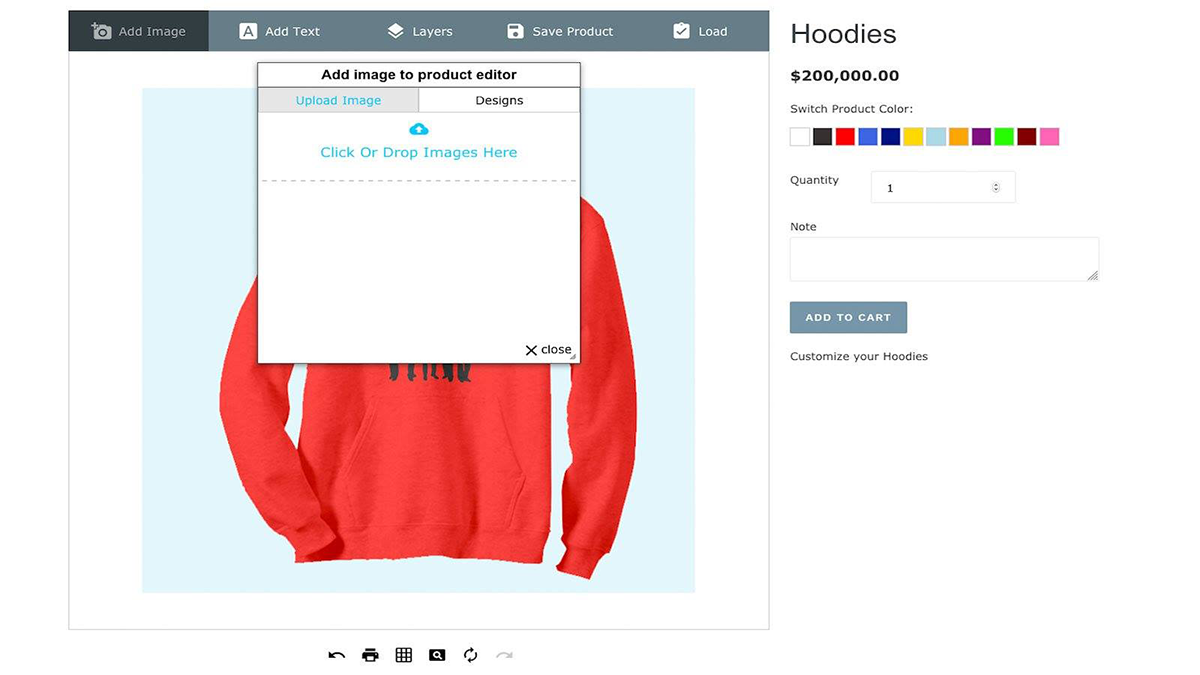 The drag-and-drop interface is surprisingly easy yet comprehensive. Customers can upload images from Facebook, Instagram, or their own computer. And not only can they change fonts and colors (standard for a customizer), they can change the opacity as well.
Customify has one of the larger offerings on this list (up to 400 products), but it does cost a pretty penny. Even small-sized shops will find the free and basic plan limiting in terms of how many products they can actually sell.
Features
Up to 400 customizable products
Version for every browser and device
Drag-and-drop interface
Pricing
Free
Up to 10 customizable products
Up to 30 orders
Up to 256Mb for customer images
Standard email support
Basic – $5/month
Up to 100 customizable products
Up to 200 orders
Up to 5GB for customer images
Standard email support
Professional – $30/month
Up to 200 customizable products
Up to 500 orders
Up to 15GB for customer images
Standard email and phone support
Ultimate – $50/month
Up to 400 customizable products
Up to 1200 orders
Up to 50GB for customer images
Priority email and phone support
Offering personalized products is a great way to increase engagement and significantly improve your sales. It's also incredibly easy too, regardless of whether you have your own inventory. By just using a product customizer you could be selling customizable items in a matter of minutes.
We personally found that Zakeke is the perfect option for most online shops. They offer a wide product range, flexible packages at every price point, a beautiful and intuitive UI, and responsive customer service.
Stay up to date and follow us on LinkedIn, Facebook and Instagram