Zakeke, the leading cloud-based visual commerce platform that allows anyone to easily customize and configure products online, at their retail location, and everywhere in between, today announced a new product update to its platform. Take a look at them:
Engraving Effect Output
From now on, if you're using the Engraving effect on your product, in addition to the standard effect output file, there is also a PDF (named with the suffix _effect_vector) which is the vector version of the final output with all the effects applied and vectorized. Huge update for Engraving businesses!
Learn more in this guide
Display Options available for Advanced Pricing
From this brand new section inside the Advanced Pricing Rules feature, you add extra information explaining and detailing your price rules for your customers, such as:
label showing a final price composed by product price + customization charge
label showing the product price and customization charge as separated values
label showing only the customization charge
To all those labels is possible to add a Price Description with all the information you might require your customers to understand. Check all details here.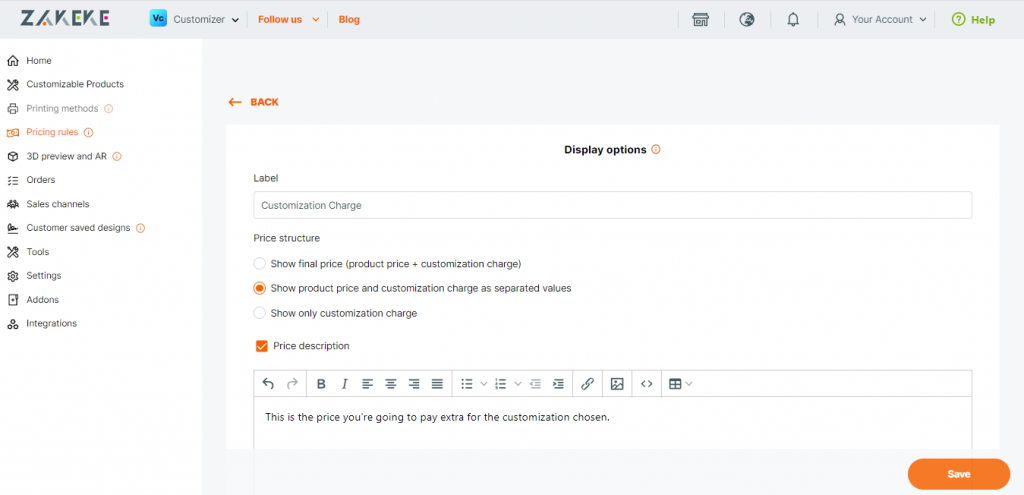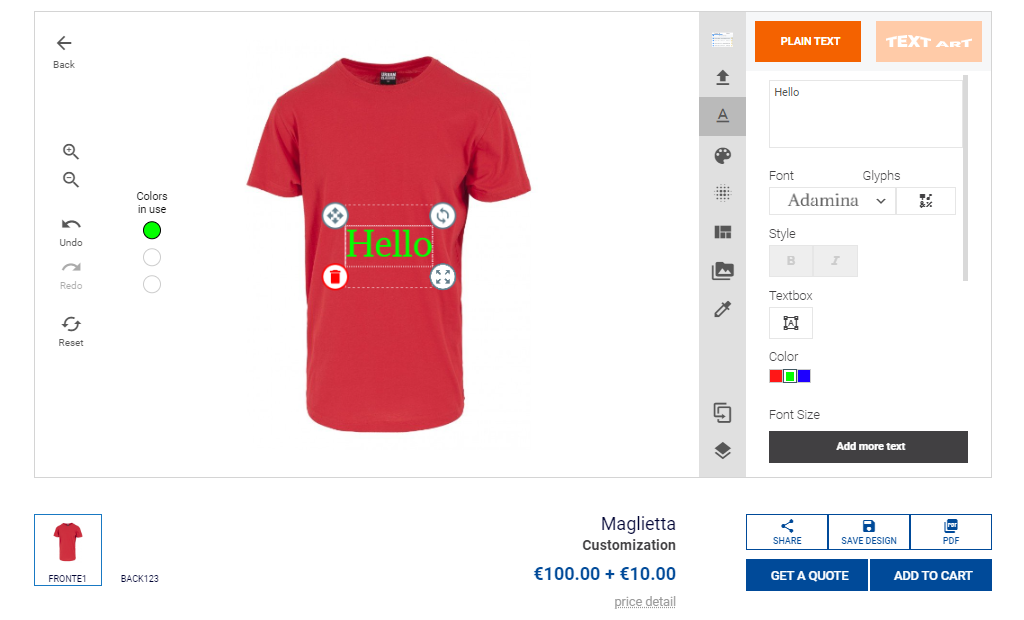 More power to Translations
We're global, just like your business, and we speak your tongue, so we're happy to say that it's now possible to be more independent managing and adding languages to your Zakeke account, translate pre-existing text elements of our default Back-Office and UI, and also translate custom text elements added by you, such as product variants, image categories, tools' names, images and clipart names, etc.
Multilanguage power, coming to you at full speed! Read more here.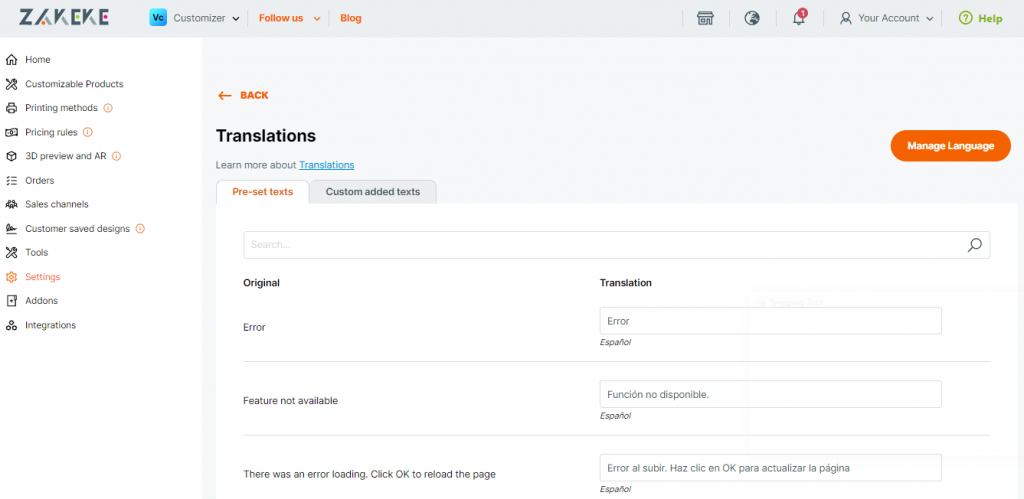 Manual orders
You can now create manual offline orders from the Orders dashboard.
You can select a product, indicate the order number and the customer email, generate a link to the customizer for the customers to complete the design, validate the order and get print files directly inside Zakeke, without the need to be directly connected to an e-commerce backoffice. You can then send multiple emails to the customer, edit the customer email, set the order as on-hold or see its details. More flexibility for your business and for your customers, wherever they are.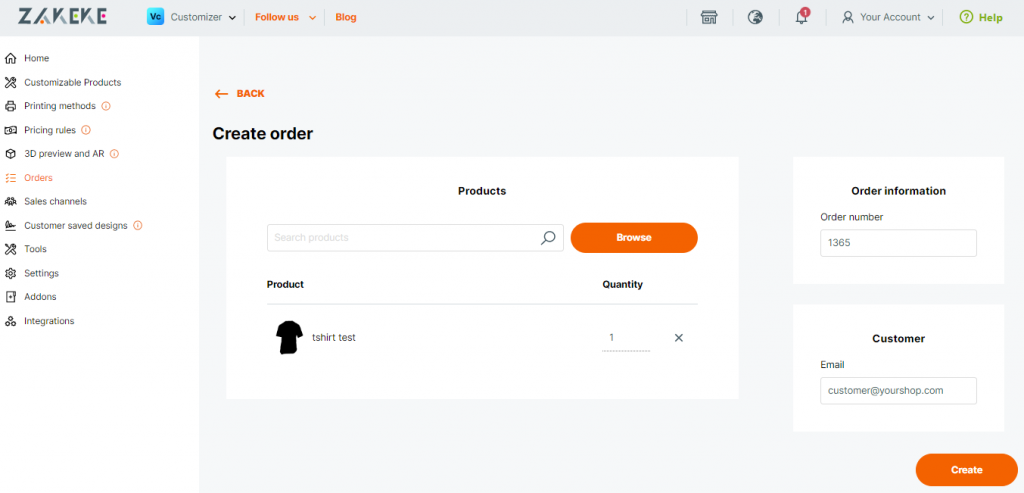 Dropdown menu for Bulk Variations Form
Another important update, you can now decide the design of the Bulk Variation Form: in addition to the default grid on desktops we added the opportunity to use a drop down menu, the best option if you have a large number of attributes, ensuring an improved experience for your customers. Mobile view remains only with dropdown menus, no matter your choice inside the app. Discover more details here.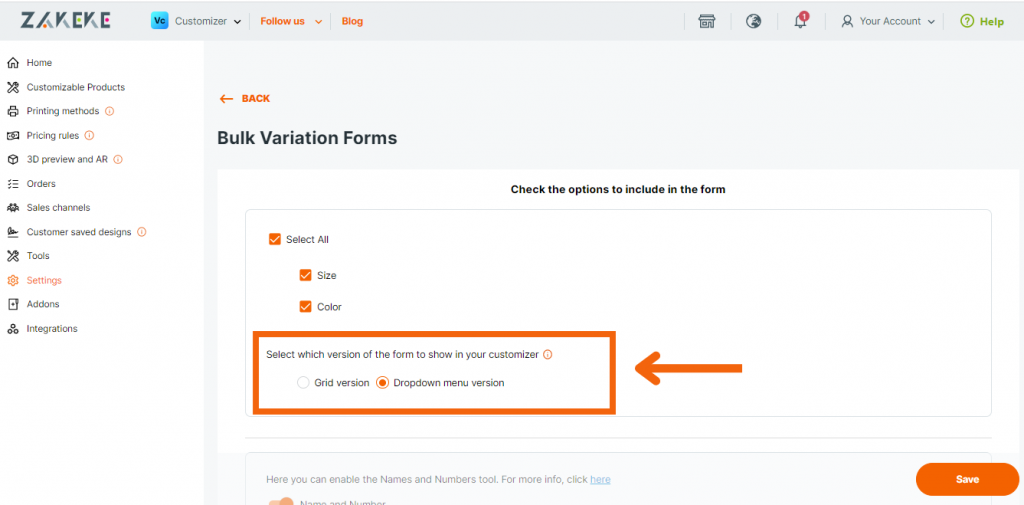 Optional manual measures for images
With Zakeke you can show the design's total size or the size of each element of the design to your customers while they make it, now you can enable customers to manually enter sizes for images. Your customers can manually enter sizes for the base and height of the images (other than being still able to resize the images by using the resize tool). This is particularly effective for products and customizations that need to be precise to the millimeters.
Check all details here.
More automation, less manual work on Textures
Up until now, whenever you had to upload a texture for your products inside Zakeke, you needed to replicate this operation for both mobile and desktop. Not anymore. With this last update, Zakeke now converts and adapts the texture even on mobile, letting you decide if the quality is high enough or if it's still necessary to manually upload the texture for mobile. Your texture, your choice (but more automation, that's a fact!). Discover more here.
Names and Numbers, the feature released in October of 2022, that allows your buyers to add multiple variations of a product to their cart and customize some fields while using the same design is now available on Prestashop and Woocommerce. Read this guide to learn how to setup this feature on your store.
Cart edit for Names & Numbers
You can now let customers edit their choices while using the Names and Numbers feature directly inside the shopping cart through a link that takes them back to the customizer. So less mistakes for them and less manual edits for you. Sounds about right.
IMPROVEMENTS
Faster AR on iOS
Apple users, enjoy this improvement in terms of speed and quality of output for the AR usage on your mobile phone (well, you too merchants of the world enjoy this as well!).
Mobile friendly improvement for Orders page
We released an improvement in terms of usability on mobile for the Orders page, so no more hussle checking orders coming in from your mobile device, cool right?
Stay up to date and follow us on LinkedIn, Facebook and Instagram