Even though the stay-at-home orders and mandatory nationwide isolation have subsided, many of the habits and practices that society adopted during the height of the COVID-19 pandemic have shown every sign of sticking around. One example of this is the increased popularization of online shopping and e-commerce.
While there are people who are happy to be able to go back to a store to buy their groceries or other essentials, there is a large group of people who are still all-in on the convenience of having their products delivered right to their doors.
Because of this, many businesses are finding themselves needing to constantly adopt new technologies and techniques that make their online websites easier to navigate and more engaging for their customers. This is where the importance of product visualization comes in.
The importance of improving Customer Experience
Think about it this way, if your business's previous selling point was that it was the local retailer and it was easy and convenient for our customers to get to, find their items, and go home, shopping at home has taken away this selling point for your business. Now consumers can shop from anywhere and have things delivered to them.
So, how are you going to get them to shop with you rather than your competitors online? Simple. Focus on your customers themselves. Work on creating a more unique and memorable customer experience. This will separate you from your competitors and increase the likelihood of maintaining your customer loyalty. But how can you do this?
In a brick-and-mortar store, customers are able to inspect products from multiple angles and make more informed decisions about whether or not they want to make a purchase. This can be difficult to do online — especially if all a customer has to use are a few static pictures and – maybe – a size guide. One incredibly useful tool that you can use is to offer more detailed product visualization options for your products.
The importance of Product Visualization
While artistically photographed 2-dimensional images of your products may be a good way to initially grab the attention of a customer, if this is the only visualization you are offering, your customer may be filled with more questions than answers. This can leave them hesitant to actually make a purchase — which is not the goal. So, how can you improve your customers' confidence in your product and in their purchasing decisions?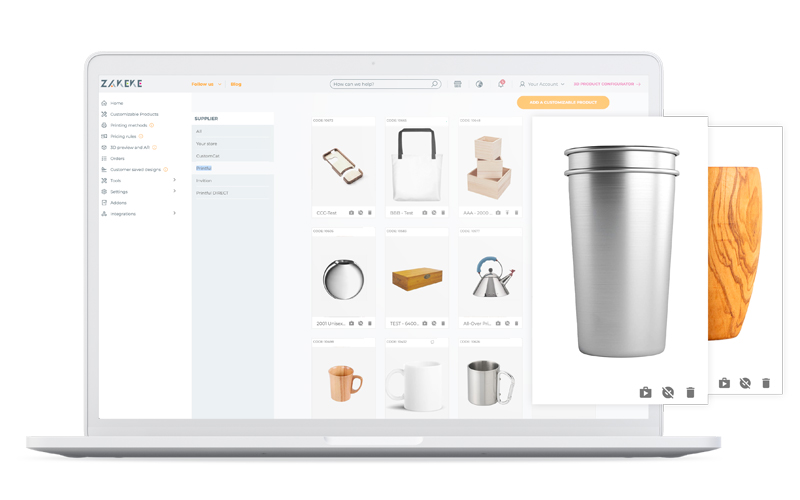 Offering a 3D visualization of an object where customers can easily view, zoom in, rotate, and otherwise interact with the object in a more meaningful way can be an incredible boost to the customer experience and allow your customers to feel much more comfortable making a purchase. Humans interact with the world in 3-dimensions, so by offering 3D and non-static views of your products, your customers will be able to more intuitively understand what they are and what they are going to actually look like when they get them delivered.
A platform like Zakeke can help you to create this fully customized and engaging product experience that allows your customers to easily interact with and inspect your products more like they would be able to do in a traditional brick-and-mortar store (only better because they can do it from the comfort of their own homes). Zakeke software can easily integrate into your existing workflows, and it works seamlessly with popular e-commerce platforms — like Shopify and WooCommerce.
What are the benefits of 3D Product Visualization?
There are a number of benefits of 3D product visualization that your business can use to ultimately increase your sales and customer retention:
3D visualization is much more intuitive to your customers because, as humans, they are used to interacting with objects in 3-dimensional spaces. So, online shopping that simply relies on 2-dimensional images and flat measurements can oftentimes lead to a number of misunderstandings and dissatisfaction when an item is finally shipped;
3D views of products can be much more easily understood by your customers and lead to much more satisfaction when the item is finally delivered because there will be no surprises;
Using 3D visualization software in your e-commerce you are also creating a much more engaging and interactive experience that your customers are much more likely to remember and seek out again when they are looking to purchase another product — which can lead to better customer retention;
3D product visualization services, like Zakeke, are easy to implement, and if you have them implemented into your own website, you can dramatically reduce the cost of offering customizable products without having to give up any of your customization options. In other words, you can more effectively give your customers what they want without having to break the bank.
For this reason, many businesses are finding that 3D visualization companies, like Zakeke, can be an essential tool moving forward in the continually competitive online marketplace.
How to do 3D Product Rendering
The word "rendering" comes from art. In the art world, a painter would "render" a face (or another painting subject) which means filling in the details that make the 2-dimensional painting look like a real face — this would be adding shadows, highlights, and otherwise making the face look like a face and not just a series of skin-toned blobs on a canvas.
In software, the process is quite similar to the art process. You take the basic model of your product (3-dimensional model), and you start bringing in those details that make the image look less like a series of points and flat surfaces and more like whatever product you are offering your customers.
Oftentimes, without going through the rendering process, your customer may not know what to make of a 3D model, so not only does rendering make a product visualization more appealing to your customers (thus increasing their desire to purchase it), it can also be essential to making your product visualization understandable.
Not only visualization: benefits of 3D Product Configurator
What is a 3D product configurator, and what does this type of technology do for your business? Some of the benefits of 3D product visualization for e-commerce stated above require the use of a 3D product configurator to work. Namely, any type of e-commerce customization options that you want to offer your customers will require the use of one of these configurator tools.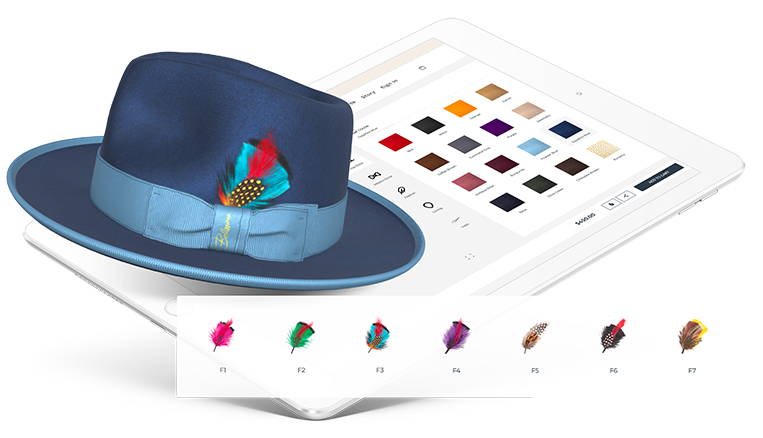 This is because a 3D product configurator is a piece of interactive software that allows you to customize a product — based on the available configuration (or customization) options — online. In other words, if you are selling home goods and you have a kitchen cabinet that can come in different types of wood, different finishes, and maybe even have different numbers of shelves or drawers, you could use a 3D product configurator to allow your customer to create the cabinet exactly as they want it to look.
This product configurator will also allow your customers to be able to see the product from all angles, zoom in, and view details. This can help them feel much more confident about their purchase and lead to fewer returns because they know what they are getting before it arrives. Using this kind of 3D product configuration tool and Augmented Reality technology can lead to up to a 250% increase in conversion rates. In addition to this, these tools can provide a more immersive and engaging shopping experience for your customers, which can separate you from your competitors.
How to choose the right Product Visualization software
Since businesses are seeing such an incredible improvement in their customer retention and satisfaction when they use product visualization tools and services that help them to create more engaging product views, it is no surprise that the number of product visualization services and software solutions is increasing as well. However, this increased number of options on the market can make it difficult for a business — especially one that is new to the idea of product visualization software — to know which solution may be the best for them.
Luckily, there is an easy way to know what solution may be the best for your business, and this is simply looking for the solution that offers all of the features and tools that you need to upgrade your shopping experience.
For example, you may be looking for a solution that offers the best product rendering services in addition to 3D modeling and customization options. If photorealistic product rendering is what you are aiming for, you will need to ensure that you are looking for a high-quality solution. However, you will not want to overlook some other features of a software platform like Zakeke — such as the ability to create customizable products and the ability to integrate with common e-commerce platforms.
Product Visualization Examples and industries' applications
As the focus of businesses of all industries and sizes continues to shift further and further onto the customer experience, it is becoming even more important for businesses to adopt technologies and solutions that allow them to improve the customer experience. One of these solutions is to improve product visualizations, to make them more detailed, interactive, and overall engaging for customers.
To do this, you can use specialized 3D furniture rendering services, general online customization options, or dedicated platforms like Zakeke that can help you to create unique and memorable customer experiences every time.
There are a number of visualization platform examples that you can choose from, just ensure that the one that you are choosing offers a range of services and features for different businesses (custom product configurations, embroidery and engraving, etc.). This can be great if you are thinking about expanding your product offerings and reaching more customers in the future.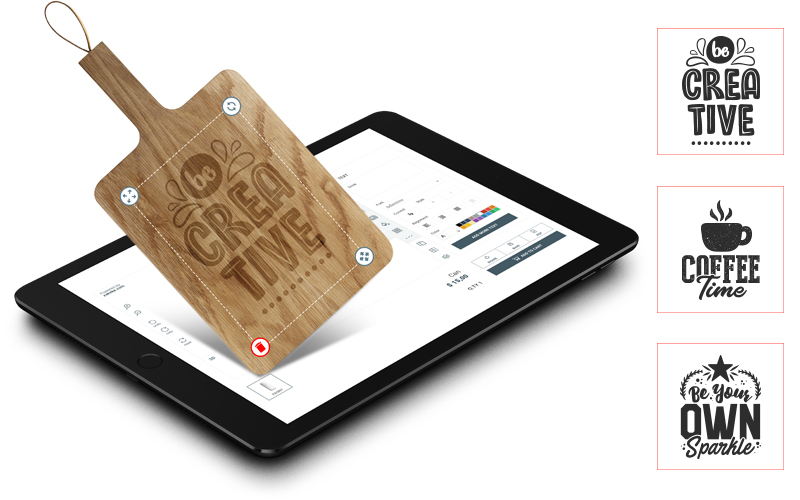 Want to implement a 3D product visualizer for your brand?
Get in touch with us today or book a demo here. We can help you move your brand to the next level with product customization and visualization and help your customers visualize how they'll look before checking out with 3D and AR.
If you are wondering what you can do with Zakeke, check out our DEMO STORE.
Stay up to date and follow us on LinkedIn, Facebook and Instagram