As technology continues to evolve, businesses from all industries need to keep up with these advancements constantly or risk losing their customers to their competition. Over the past years, one of the biggest technological advancements has been the improvement and popularization of 3D visualization software and Augmented Reality (AR).
Now, you may have heard of augmented reality as it continues to become more and more influential in social media as well as marketing efforts, but if you have not, essentially, AR uses existing objects in our environments and digitally enhances them in real-time.
Augmented Reality vs Virtual Reality
It is important to distinguish between augmented reality and virtual reality — especially because a number of people get these two concepts mixed up or use them interchangeably. While both types of technology enhance your view with augmented digital images, virtual reality completely replaces the natural world you are in with these images.
In other words, if you were to think about it in terms of well-known games (pretending, of course, that all you can see is the screen itself and none of your surroundings), augmented reality would be Pokémon GO, and virtual reality would be Grand Theft Auto (GTA).
An example of augmented reality would be when you are looking for a new pair of glasses, and the online website you are buying them from allows you to "try" them on by allowing access to your phone camera. They will then enhance your phone's camera view by showing you what you would look like with those glasses.
There are, of course, a number of other use cases of AR 3D software, and businesses of all kinds can benefit from implementing this kind of software into their repertoire by providing a more unique and personalized experience for their customers as well as allowing them to see the items they are purchasing in more detail.
Since web AR visualization software solutions can be such a valuable addition to your business's product descriptions and advertisements, it is no surprise that there are a number of solutions available on the market today that can help you become a leader in augmented reality marketing before all of your competitors are doing it too.
How to use Augmented Reality in your e-commerce
You are likely wondering why augmented reality technology is so important today and what it means to use AR in your business. Well, in respect of importance, augmented reality is essentially the new big advancement in technology, and for a society that heavily values technology and its advancements, AR is simply the best way for you to appeal best to your target audience.
AR technology enhances customers' experience with your products and gives them a better idea of what they are buying and makes them feel more confident about that decision. AR for your online products can dramatically increase customer engagement, increase the likelihood of sales, improve customer satisfaction and retention, reduce the number of returns and enhance your brand identity.
So, now that you know some of the benefits of AR technology for your business, you may be wondering how to make augmented reality a part of your online shopping experience. Luckily, there are a number of tools and software solutions, like Zakeke, available on the market today that can help you to do just this.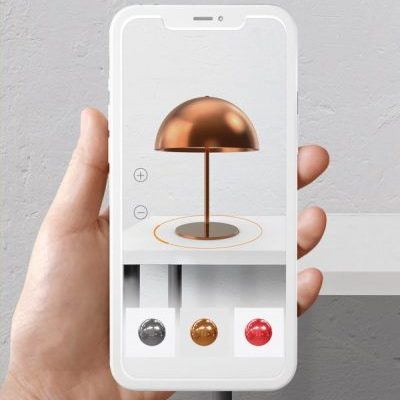 But what exactly does implementing AR into your online store mean for your website? Essentially augmented reality can be used as a way to help your customers view your products more clearly and thoroughly. This can help them to feel more comfortable with their purchase decisions because they will know exactly what they are purchasing before they do so.
This is much like being able to pick up and inspect a product in person in a traditional brick-and-mortar store and can ensure more confidence in their purchases and fewer returns of your products. Additionally, AR views of your products can help your customers to see what the product will look like in their environment in real time. For example, if they are looking to buy an armchair, they can see what it will look like with their other furniture and ensure that it is what they are looking for before they purchase.
Web AR examples: Flex Arcade case study
Before diving into some examples of Web AR, it is important to know exactly what this term means. Basically, Web AR is a technology that allows you to easily view and share AR experiences over the internet — without a specialized app to view the AR experience — on multiple devices.
This is incredibly valuable in the world of e-commerce because not everyone is going to have the same apps downloaded on their devices and many people will not want to download an app simply to view a product when there are other businesses that allow them to view those products without having to download anything.
So, what is a good example of where a Web AR framework, like Zakeke, has been used well? We can talk about one of our customers, Flex Arcade, who sells customizable arcade cabinets and was able to use Zakeke's platform to offer easily customizable 3D models of their products that the customer can personalize themselves easily online.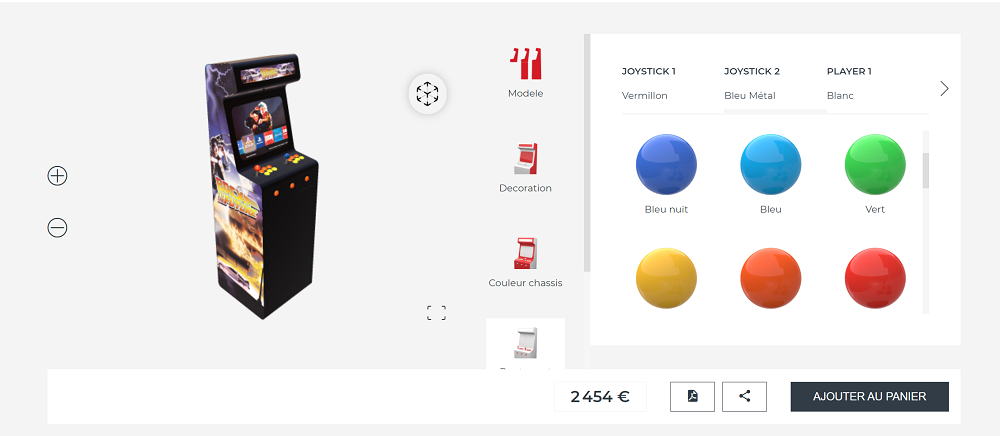 Before using Zakeke, Flex Arcade's team had to do all of the customization themselves and they were drowning in the manual work that entails. But today, Flex Arcade is one of many successful augmented reality examples that use the technology to not only make their customers happy but also lessen their internal workload as well.
How to choose your AR Visualization software
Since augmented reality software can be so incredibly useful for businesses of all sizes and industries, it is no surprise that there are more than a few different platforms and tools available that can help a business to create these AR-enhanced online storefronts.
Now, while having a number of different options can often be a good thing because it means that you can be more selective in the software or platform you choose, it can also be difficult to know which one of those options is going to be the best AR software for your business.
One mistake that people often fall into when it comes to selecting a new software solution for their business is that they pick the solution that other businesses have deemed "the best" without doing any research of their own. This can be problematic because all businesses are different and what may be the best AR software for other businesses may not be the best solution for your business.
So, to avoid falling into this trap, it is extremely important that you do your own research and determine what tools and features you are looking for in a solution before you adopt new software. For example, if you are looking for a solution that helps you to create unique 3D views and AR viewing options for your product catalog, a solution like Zakeke may be a great option for you.
Zakeke allows you to create an innovative and engaging digital product catalog that uses interactive 3D models rather than static pictures. This allows your customers to easily interact with and experience your products more fully before making a purchase — which can lead to fewer product returns. Zakeke's 3D and AR viewer is also compatible across all platforms and with all of the most popular browsers so that you can feel confident that your interactive views will load instantly on any device.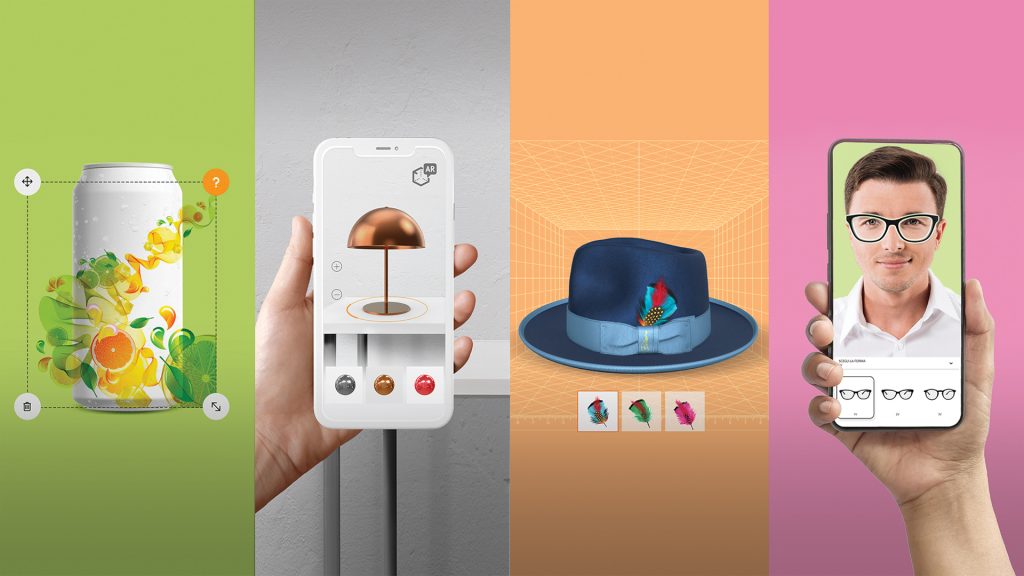 Augmented Reality toolkit: what you need
If you are considering implementing an augmented reality view of your products into your online website, you'll likely want to know what you need to do to successfully use AR visualization software to create a more interesting product catalog for your customers. But, before getting into the features that you should be looking for in a software solution for your website, it is important to address the state of AR/VR software development.
As mentioned earlier, AR and VR are very different from each other, but when it comes to software development, they do utilize a lot of similar technologies. Luckily for businesses of all kinds, the number of AR/VR software solutions is likely to continue increasing as the technology continues to evolve and become more and more advanced as virtual and augmented reality labs continue to create more realistic real-world integrations.
This means that if you are considering adopting AR software for your business, this is probably the best time to do so. Now is a great time to start implementing these types of technologies because they are still relatively new when it comes to their uses in e-commerce and because of this, if you are able to use them effectively you can be ahead of the curve and gain an advantage over your competitors who may not be using them just yet.
So, what should you look for in the best augmented reality apps? Essentially, you'll want to look for a solution that helps you to create 3D and AR product views and provides easy integrations with the most common e-commerce platforms — such as Shopify and WooCommerce.
To find a solution you can Google "web AR visualization software" and you'll likely receive a number of options to choose from, like Zakeke which provides seamless integration with any e-commerce platform and helps you to create an online product catalog that is innovative and engaging.
If you are wondering what you can do with Zakeke, check out our DEMO STORE.