To survive in competitive markets, it is necessary to be good at understanding where the market is going. Offline commerce is increasingly heading towards eCommerce. Most shopping today is done online. Expanding the business to meet the needs of new shoppers and looking beyond the product range to attract new customers: these are the trends that prompted Silent Pool Distillers – a company on BigCommerce – to look for Zakeke, an easy-to-use product customizer for online and offline stores.
About Silent Pool Distillers
Silent Pool Distillers is a British Company born in 2014 in the heart of the Surrey Hills. Drawn by a common passion for craft distilling, a group of friends led by Ian McCulloch came together to create a new kind of distillery, producing handcrafted, artisan spirits with uncompromising quality.
After analyzing various eCommerce platforms, they choose BigCommerce. Thus, during Covid-19 eCommerce became an integral part of their business.

The Challenge
Offer an innovative experience
The eCommerce allows Silent Pool Distillers to reach more customers. So when it becomes an integral part of their business, they realize they can expand their user base even further. Why not allow customers to customize the labels of some products? An excellent idea for gifts or gadgets during celebrations.
 "We recognised an opportunity to provide custom labels on some of our products for customer gifts and events such as celebrations"

Steve Bottomley – Technical Coordinator of Silent Pool Distillers
They didn't have a problem to solve but a new market to reach. So they think of Product Customization to offer their customers a unique, engaging and personalized experience. They needed an easy-to-use tool that integrated seamlessly with the services they already used.
The Solution
A Product Customizer easy to use
Silent Pool Distillers wanted to build something that played nice with BigCommerce. After researching the available apps, they choose Zakeke. The Product Customizer integrates seamlessly and quickly with BigCommerce and responds to all the needs they have.
We have been using Zakeke now to enable customers to create their own labels for some of our spirits. The app was simple enough to set up and a subsequent revision has made operation even simpler. When we have had a query, Zakeke support has been very responsive.

Silent Pool Distillers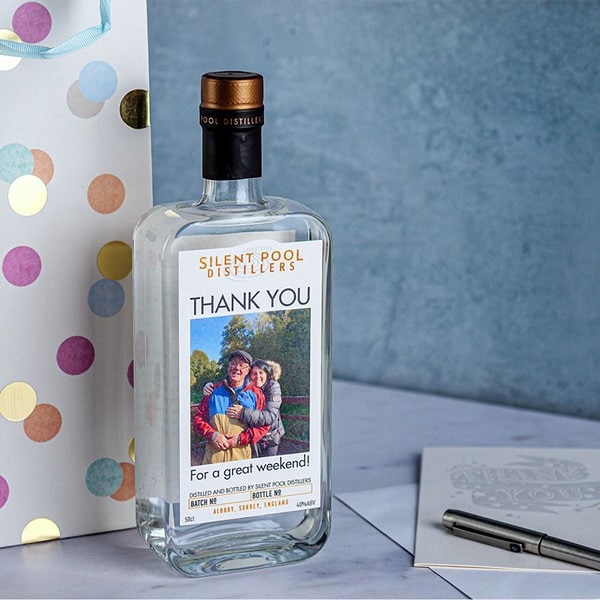 Zakeke does exactly what Silent Pool Distillers needs. Through an intuitive and user-friendly interface, customers can customize the labels by inserting text, adding images and changing the color.
For Zakeke, ease of use is also for sellers. It is a plug & play solution easy to install and configure. Also, if you need it, the support team is always on hand.
We find the installation moderately easy. Zakeke is important to us for the integration with exisisting systems and workflow

Steve Bottomley – Technical Coordinator of Silent Pool Distillers
Results
A valuable addition to product range
Silent Pool Distillers describes Zakeke as a "useful addition to an existing product range". While custom-labeled bottles are not their main business, they have seen an increase in sales. Sales continue to grow as now it is possible to participate in more events and celebrations.
While this isn't core to our business, we have seen a steady flow of sales and expect this to grow as customers can participate in more events and celebrations.

Silent Pool Distillers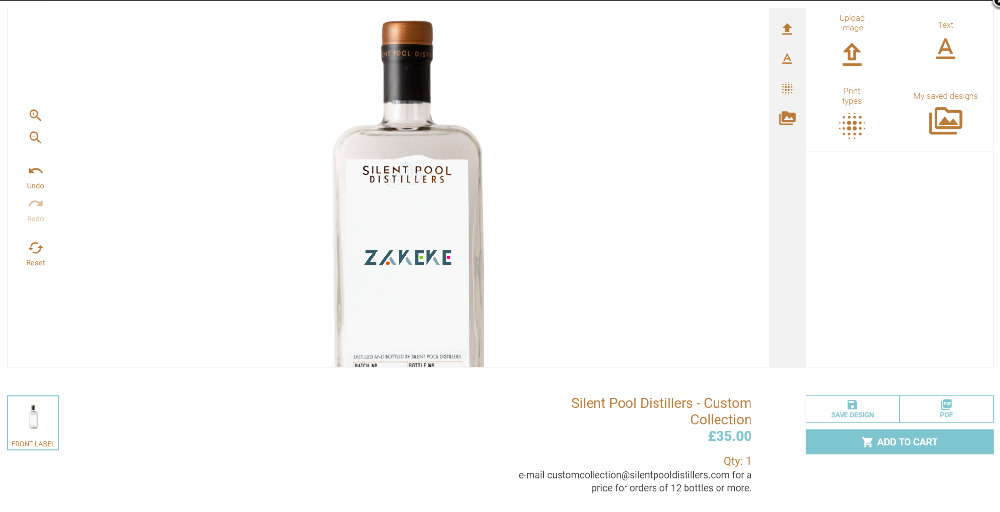 Zakeke adds value to the Silent Pool Distillers business. Among the features of Zakeke, workflow automation stands out. The whole process is automated. The seller just has to download the print file and prepare the product. Manual work is almost zero. No manual intervention thus leaving the seller to focus on other activities
We can offer orders for custom label products without the need for manual intervention in the order process.

Steve Bottomley – Technical Coordinator of Silent Pool Distillers
Online sales of Silent Pool Distillers increased by 5x in 2020 thanks to the personalized experience offered by Zakeke as well.
Looking beyond and seizing the opportunities behind the challenges are the weapons to grow your business. With the lockdown causing pubs and restaurants to close, Silent Pool Distillers has stepped up its efforts to generate more revenue by selling customized products to the customer on BigCommerce.
Stay up to date and follow us on LinkedIn, Facebook and Instagram